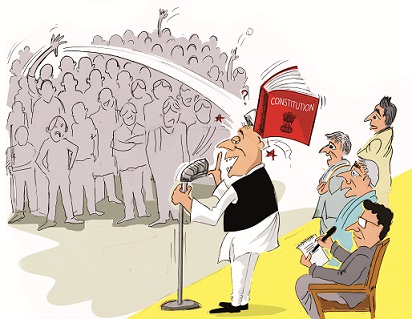 Politicians and journos have often been at the receiving end of
defamation laws. A case in the Supreme Court hopes to limit the
potential of this legal weapon, which can be used to curb free speech
By Venkatasubramanian V
---
The constitution guarantees freedom of speech and expression to every citizen. But seeking its full potential involves facing challenges of various kinds, some within the constitution itself. Defamation is one of the grounds which justifies restricting this freedom.
By making defamation an offense, the law aimed to protect the right to reputation. But whether or not particular words are defamatory is a question of fact, not law.
Experts suggest that a statement must be read as a whole and in its particular context to test its defamatory character. But trial courts, most often, were swayed by the claims of plaintiffs that their reputation suffered, and invoked Section 499 of the IPC in order to harass the defendants.
A case currently being heard by the Supreme Court seeks to limit the potential of defamation. The lead petitioner in the case is BJP leader and former union minister Subramanian Swamy.
He has been waiting for this historic opportunity so that he can test the constitutionality of legal provisions making defamation a criminal offence punishable with imprisonment—as enshrined in Sections 499 and 500—for more than two decades.
To Swamy, each such opportunity unfolded when those complaining of his allegedly defamatory remarks dragged him to the courts, invoking the punitive power of these provisions. But they had always backed out or made peace with him in order to avoid the extreme possibility of the courts striking down these draconian provisions.
All these changed, however, with Swamy filing a petition in the Supreme Court last year, challenging the constitutionality of these provisions. It is to his credit that his lead petition is now joined by 24 other petitioners of various political hues, including Congress vice-president Rahul Gandhi, Delhi CM Arvind Kejriwal and journalists.
The case is being heard by a two-member bench of Justices Dipak Misra and Prafulla C Pant. It is being assisted by two court-appointed amicus curiae, senior advocates K Parasaran and T Andhyarujina.
Each petitioner in this case is prompted to approach the court, praying relief from either an existing or potential bully who has used or is likely to rely on these legal provisions to curb free speech. That their tormentors are active in politics and public life shows how fragile Indian democracy has been reduced to because of these provisions.
The current spate of challenges to the defamation provisions has been prompted by complaints of defamation launched against Swamy, Rahul Gandhi and Arvind Kejriwal. They were filed by Tamil Nadu CM Jaya-lalithaa, an RSS worker and union minister Nitin Gadkari, respectively.
However, the legal provisions do factor in exceptions to avoid punishing those who may not have actually intended to de-fame or distort facts. Section 499, for instance, targets only those making or publishing any imputation with an intention to harm or with the knowledge that such imputation will harm the reputation of the other person. Section 500 seeks to punish the defamer with a simple imprisonment for a term which may extend to two years or with a fine or both.
Drafted in 1860, Section 499 IPC carries 10 exceptions which, at least on paper, mitigate its rigor. But the exceptions are not apparent to the court immediately; therefore, the defendant is asked by it to claim exceptions during the trial, leaving him with no option but to suffer the process as a punishment.
So what are the exceptions?
The first one makes it clear that it is not defamation to impute anything which is true concerning any person if it be for the public good, and that whether or not it is for the public good is a question of fact.
The second exception says that it is not defamation to express in good faith any opinion whatever respecting the conduct of a public servant in the discharge of his public functions, or respecting his character, so far as his character appears in that conduct, and no further.
The third exception protects expression in good faith any opinion about the conduct of any person touching any public question.
A journalist has no special status under defamation laws in India. Although the press enjoys freedom of speech and expression under Article 19(1)(a) of the constitution, defamation is a ground for a reasonable restriction under Article 19(2).
In March this year, the Bombay High Court dismissed Rahul Gandhi's petition to quash a criminal defamation case filed against him in 2014 by Rajesh Kunte, an RSS activist. Rahul Gandhi had made some remarks in an election speech regarding the involvement of RSS members in Mahatma Gandhi's assassination, in Bhiwandi, near Thane, in March 2014. Kunte alleged that his statement harmed the reputation of
the RSS.
Rahul Gandhi's lawyers told the high court that he did not intend to harm the reputation of the RSS. They argued that since Gandhi's assassination was in the public domain, and if Rahul Gandhi made a statement on that question, it would be covered by the third exception of Section 499 IPC. The Supreme Court granted a stay on the defamation proceedings against Gandhi.
The UN Human Rights Committee (UNHRC), which administers the International Covenant for Civil and Political Rights (ICCPR), has stated that defamation laws must be crafted with care to ensure that they do not, in practice, stifle freedom of expression.
It has suggested that even when defamation is handled as a civil matter, as it should be, civil penalties must not block freedom of expression and be designed to restore the reputation harmed.
A consultation with experts organized by the Law Commission of India last year reve-aled that the penalty of imprisonment up to two years prescribed in Section 500 is clearly disproportionate. Criminalizing criticism in this disproportionate fashion has a chilling effect on speech, the participants said.
In the ongoing case, the Supreme Court has observed that political debates may not come under the definition of criminal offence of defamation.
In their submissions before the Bench, both Swamy and Rahul Gandhi pointed out that truth is not a complete defence in criminal defamation. This is at odds with the national motto of Satyamev Jayate. Truth is always for the public good, but the accused who has spoken the truth is subjected to har- assment. This includes summons, obtaining bail or otherwise suffering arrest or detention, attending all hearings of the case, engaging a lawyer involving considerable expenditure and being made to wait for the trial to proceed to the stage of defence evidence. In other words, even if the defendant is innocent, the process itself will turn out to be a punishment. And if acquitted after proof of truth, there is no compensation. This is wholly irrational, unjust, unfair and arbitrary, they told the Bench.
PP Rao, counsel for Rahul Gandhi, told the Bench that Section 499 IPC, ex-facie inhibits free speech and is a serious restriction on the fundamental right conferred by Article 19(1)(a).
A restriction which excessively invades the right or goes beyond the requirements of public interest cannot be regarded as reasonable restriction and would be arbitrary, he told the Bench.
Swamy, who argued the case himself, told the Bench that by criminal prosecution, the real danger is critics are turned into criminals and this will chill robust public debate due to fear of arrest and the social odium from criminal prosecution. If a law impacts in this way for lack of access to adequate evidence that is fit for a court, then it erodes Article 19(1)(a) unreasonably. Section 499, by requiring good faith in criticism of public officials, diluted Article 19(1)(a) unreasonably, he explained.
As India has ratified the ICCPR, it is obligated to comply with Article 19 (of ICCPR) and Resolutions of the UNHCR to abolish criminalization of defa-mation, and thus delete Sections 499 and 500 of the IPC, he further submitted.
Along with these sections, Section 199(2) of the CrPC is also under challenge. It empowers the Sessions Court to take cognizance of an offence of defamation against a public servant.
Specifically, Swamy raised two contentions before the court.
One, Sections 499 and 500 IPC travel beyond the restriction clause under Article 19(2) of the constitution, for that really constricts the freedom of speech beyond reasonable limit.
Second, the very purpose of Article 19(2), as would be evident from the debate in the provisional parliament in 1951, which inserted it in the constitution through the First Amendment, was not meant to put such restrictions.
Therefore, Swamy said such an enormous restriction cannot be thought of under Article 19(2) to support the constitutionality of the provisions. Further, it will violate the concept of the rule of law, he stated.
The central government, however, defended the draconian provisions on the ground of necessity. The government told the court that Article 19(2) itself imposes the restriction and, therefore, the submissions of Swamy are unsustainable.
The government, thus, relied on the word "defamation" being there in Article 19(2) and it being there in Section 499 of the IPC, which not only defines defamation but provides enormous safeguards by way of exceptions, to buttress its stand.
Andhyarujina told the court that in view of the accent given under Article 19(1)(a) to freedom of speech and expression and in view of the development of free speech and expression in the last few decades, the debates in the provisional parliament may be of some help.
The terms "defamation" or "incitement" found in Article 19(2), he said, have to be read disjunctively. Both are in separate compartments; incitement to an offence would have criminal capability whereas defamation as per Article 19(2), when properly understood and appreciated, would give rise to
civil liability.
K Parasaran, on the other hand, was of the view that the first part of Article 19(2), which says "nothing in Article 19(1)(a) shall affect the operation of any existing law", would protect Sections 499 and 500 of IPC, as they were part of the IPC when enacted in 1860. Article 19(2) was inserted in the constitution in 1951 through the First Amendment.
Parasaran further submitted that freedom of speech and expression possibly has to be controlled so as not to include the concept of defamation as defined under Section 499.
Reputation, that is, kirti, is the greatest treasure of man and, therefore, no citizen has a right to defame another; as the existing law is protected, it is to be seen whether apart from freedom of speech and expression, other Articles in Part III of the constitution are violated, he told the Bench.
Despite Parasaran's prima facie defence of the draconian provisions, the court may have to find an answer to the question whether they satisfy the test of reasonableness, and whether they restrict speech only to the extent necessary to achieve their stated objectives.
If the provisions are found to be broadly and vaguely worded, then the court may conclude that they have a chilling effect, which could encourage self-censorhip.
In the landmark case of R Rajagopal vs State of Tamil Nadu, (1994) the Supreme Court has held that in cases involving defamation of public officials, it has to be shown that the speaker either knew it to be false, or acted with reckless disregard to its truth or falsity.
But the Rajagopal case, according to observers, has led to an imbalance between criminal and civil defamation. Criminal defamation, it is pointed out, is more draconian than civil defamation, which was held inconsistent with free speech.
Under Section 499, the accused must not simply prove that his statement is true—he must also prove that it was made in "public interest". As the speaker could not decide this issue beforehand, it would lead to self-censorship, and chill even legitimate speech, which was the precise concern that led the court in the Rajagopal case to modify the civil law of defamation, according to Gautam Bhatia, a Supreme Court lawyer assisting one of the petitioners in the case.
In many countries, criminal defamation has either been struck down as unconstitutional or diluted with sufficient safeguards to neutralize the chilling effect.
Criminal prosecution for defamation has been abolished in the US, Britain, Singapore, Sri Lanka, Maldives and most of Africa. The UK decriminalized defamation in 2010 and enacted Defamation Act, 2013, to strengthen civil remedies.
The defamation regime in India has certain unique characteristics, not present in other jurisdictions.
Therefore, the outcome of the case in the Supreme Court will show how much the Indian judiciary is willing to borrow from other countries in order to strengthen its free speech jurisprudence.