Person, while in good health, should be able to decide whether he/she wants a ventilator when sick
The Supreme Court on May 1 took up a sensitive issue of personal preference of a person who could have certain rights as to how he/she can be treated in the case of serious illness.
It was a petition from Girish Trimbak Gokhale, seeking directions to frame guidelines so that a person, while he/she is in good health, can choose not to be put on a ventilator in case of serious illness or accident.
It was a case of personal rights, and the bench comprising Chief Justice JS Khehar and Justices DY Chandrachud and Sanjay Kishan Kaul observed that "considering the sensitive nature of the matter we allow the petitioner to hand over a copy of this petition to ministry of health to consider."
The issue would now be dealt with in the right corridors and if need be a law may be passed.
The matter was disposed of.
Farmers' suicide: Petitioner seeks time to file report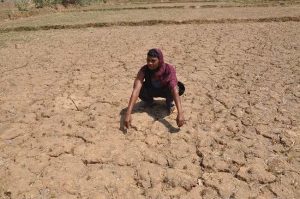 The Youth Kamal Organisation of Punjab had filed a PIL in the Supreme Court on May 1, asking the court to issue a Writ of Mandamus directing the central government to take action in preventing the increasing number of suicides by farmers across the country. The PIL also sought a court directive in the implementation of the recommendations of the MS Swaminathan Committee report.
On May 1, the petitioner told the bench of Justices Madan B Lokur and Deepak Gupta that he needs time to file his report on the persisting situation of farmers in various districts and villages and the steps taken by government.
The petitioners have maintained that the government has failed miserably in this regard. The court gave the petitioner four weeks.
Matter to be listed after the vacations.
SC wants police report on why road construction still disrupted
There have been obstructions in the construction of the Eastern Peripheral Highway, passing through Uttar Pradesh, Delhi and Haryana, with villagers creating roadblocks. The petitioner, MC Mehta (filed by amicus curiae), in his appeal on May 1, especially referred to the 25 km stretch passing through Ghaziabad, where villagers are obstructing construction, according to counsel Indu Malhotra.
The petition said that if this was the case, the June 2018 deadline would be missed.
In its last order, the apex court had directed state governments to provide security cover to the workers and builders and to speed up the acquisition process by holding a meeting with all villagers who are opposing the project.
When on May 1 the counsel for the petitioner said not much had changed on the ground, the court ordered that the SSP should be present in court on the next date with status report as to what steps have been taken by the police in view of the last order.
Matter has been listed for May 5.