Above: Punjab CM Capt Amarinder Singh is being accused of doling out favours while appointing state law officers. Photo: UNI
Generosity knows no bounds among state governments, especially when it comes to doling out posts to influential people and their relatives. Punjab has taken it to an extreme level   
~By Vipin Pubby in Chandigarh
Nepotism is part of the Indian ethos. Doling out favours to those in important positions is quite common among state governments and they do so with impunity. While this does not take away from the qualifications of those who get the job, it is nonetheless helpful to get a lending hand from the government to push one's case.
In Jharkhand, the wife of Justice Ratnakar Bhengra of the Jharkhand High Court is a top official with the National Highways Authority of India. Similarly, Justice Aparesh Kumar Singh's brother, Rupesh Kumar Singh is a standing counsel for the state electricity board. The wife of Sunil Kumar Barnwal, who is secretary to CM Raghubar Das, is a standing counsel for the government. The same goes for ex-chief secretary and state food commissioner Sudhir Prasad's wife, Chandraprabha, who too is a standing counsel.
Meanwhile in UP, Yogi Adityanath's government has okayed the appointments of five additional advocate generals. Among them are Neeraj Tripathi, West Bengal Governor KN Tripathi's son, for the Allahabad High Court, and Vinod Kumar Shahi, son of Justice KD Shahi, for the Lucknow bench. Raghvendra Singh, who is the new AG of UP, is a former BJP MP from Shahabad.
However, Punjab takes nepotism to the extreme. Its chief ministers have been generous in doling out favours to relatives of the high and mighty and Parkash Singh Badal had taken this to new heights. His successor, Capt Amarinder Singh, who had promised clean governance, appears to be following in his footsteps. The recent list of such appointees includes nominations as additional AG, deputy AG, and assistant AG. While some have been included on merit, the fact that many "well-connected" persons are on the list is a giveaway. Among the 121 names announced by the Punjab government, there is Rameeza Hakeem, wife of AG Atul Nanda, relatives of some politicians and at least six former judges. This is the first list; the government had announced it will appoint 154 persons in total.
Besides Hakeem, who has been appointed additional AG, there is Sukhmani Bajwa (daughter of Fateh Jang Singh Bajwa, a Congress MLA), Deepali Puri (wife of Amarinder's officer on special duty (OSD) Sandeep Sandhu of the Amritsar camp office), Manjari Nehru Kaul (daughter of Justice (retd) RK Nehru) and former Chandigarh mayor Anu Chatrath (daughter of former Punjab AG Gopal Krishan Chatrath).
Others include Amandeep Singh Gill (son of Justice (retd) Mehtab Singh Gill), Abhay Pal Singh (son of former chief secretary Jai Singh Gill), Anu Pal (sister of serving high court judge Justice Lisa Gill) and Harmeet Singh Grewal (son of former AG, GS Grewal).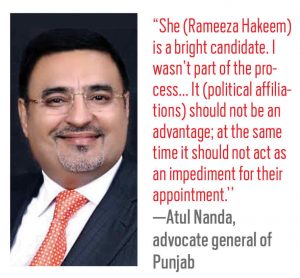 Haryana Congress leader Kuldeep Sharma's daughter Lavanya Paul, Justice (retd) TS Doabia's son IPS Doabia and Justice (retd) MS Sullar's relatives, Devaki Anand Sullar and Harman Deep Sullar, are also on the list. Besides, there is Sidakmeet Sandhu, a relative of Trinamool Congress leader Jagmeet Brar.
When AG Nanda was asked about the selections, he said these were done by an independent panel based on a laid-down criterion. On his wife's appointment in his office as additional AG, he said: "She is a bright candidate. I was not part of the process of selection."
Asked about the high number of relatives of influential persons in the list, he said being the relative of a judge or a politician should not debar them on merit. It should "not be an advantage; at the same time, it should not act as an impediment for their appointment".
The appointments so far include 25 additional AGs, 49 assistant AGs, 30 deputy AGs, and 17 senior deputy AGs. An official spokesperson of the government said the number of law officers would be brought down from 215 to 154. No deadline has been fixed for naming advocates for the rest of the vacancies.
The spokesperson said the state government, acting on the recommendation of the AG, has decided to overhaul the legal team in pursuance of the Supreme Court directives as per the provisions of Section 3(2) and 3(3) of the Punjab Law Officers (Engagement) Act, 2017. These pertain to a new set of conditions of eligibility which includes experience and minimum earnings, for one to be eligible for the posts of additional and assistant AGs, etc.
Chief Minister Amarinder Singh refuted allegations of favouritism in law officers' appointments and claimed it was done on the basis of merit. He said all appointments were cleared without any bias and solely taking into account the candidates' proficiency and experience.
As per norms, additional AGs are paid a monthly remuneration of Rs 1.40 lakh, while deputy AGs receive about Rs 43,000 and assistant AGs about Rs 28,000, besides perks and privileges. They are allowed private practices, except in cases where the state is a party.
Earlier, the panel of counsels finalised by the Punjab government for defending its cases in the Supreme Court and other courts outside Chandigarh included Chief Justice of India JS Khehar's son Tarunvir Khehar, retired Kerala Chief Justice VK Bali's son Puneet Bali and relatives of judges of the Supreme Court, Delhi High Court and Punjab and Haryana High Court.
The panel which was finalised on March 30 this year included a total of 76 legal experts. It included names of Supreme Court judge Ranjan Gogoi's son, Raktim Gogoi, Supreme Court judge AK Sikri's son Saket Sikri, former Supreme Court judge Justice Ashok Bhan's son Akshay Bhan, former Punjab and Haryana High Court judge Justice HS Bedi's son Jasjit Singh Bedi, Rajasthan High Court chief judge Justice Pradeep Nandrajog's relatives Sudhir Nandrajog and Aman Nandrajog, Delhi High Court judge Justice GS Sistani's son Gurmehar Sistani, and Punjab and Haryana High Court judge Justice SS Saron's son, Sangram Singh.
Congress politicians on the panel of counsels include Abhishek Manu Singhvi, Kapil Sibal, P Chidambaram, Salman Khurshid and Manish Tewari. It also had eminent lawyers like Ram Jethmalani, Fali S Nariman, Gopal Subramaniam, AK Ganguli, KK Venugopal, Indira Jaising and Dushyant Dave.
—Inputs from Rafi Sami in Jharkhand
and Khurram Nizami in Lucknow