Above: Cartoonist G Balakrishnan was arrested for lampooning the Tamil Nadu government for failing to prevent the suicide of a farmer and his family. Photo: Facebook
With the arrest of G Bala, reports have emerged that it was ordered at the behest of bureaucrats, leading to fears that they could misuse provisions of various acts for vendetta
~By R Ramasubramanian in Chennai
The arrest of popular cartoonist G Balakrishnan alias Bala on November 5 evoked condemnation from journalists, opposition parties and judges in Tamil Nadu. Bala was arrested for lampooning the Tamil Nadu government on his Facebook page for its failure to prevent the suicides of a farmer, his wife and two children. All four set themselves ablaze outside the Tirunelveli district collectorate on October 23. The family was pushed to this extreme step after repeated harassment by loan sharks and had reportedly petitioned the collector to take action, but to no avail.
Pictures of the family in flames sent shockwaves throughout Tamil Nadu and Bala's cartoon showed the chief minister, collector and superintendent of police standing almost naked around the burning body of a child and covering themselves with currency notes.
As the cartoon went viral, a police complaint was lodged by the Tirunelveli district collector and Bala was arrested. The police booked him under Section 501 (printing or engraving matter known to be defamatory) of the IPC and Section 67 (punishment for publishing or transmitting obscene material in electronic form) of the Information Technology Act. He was granted bail.
The arrest was condemned not only by journalists and opposition parties, but by a retired judge of the Madras High Court, K Chandru, who told India Legal: "Tamil Nadu is constantly arresting people for what I describe as perceived offences. This includes offences such as distributing handbills, addressing meetings, indulging in agitations and staging theatre performances critical of the AIADMK government's policies. The Tamil Nadu government headed by Chief Minister Edapaddi Palanisami is actually fighting a fratricidal war for survival. Still, it has created what amounts to a police state. Officials, particularly the police, given a relatively free hand to deal with crime, are showing little regard for rule of law and displaying their strength by suppressing even small protests."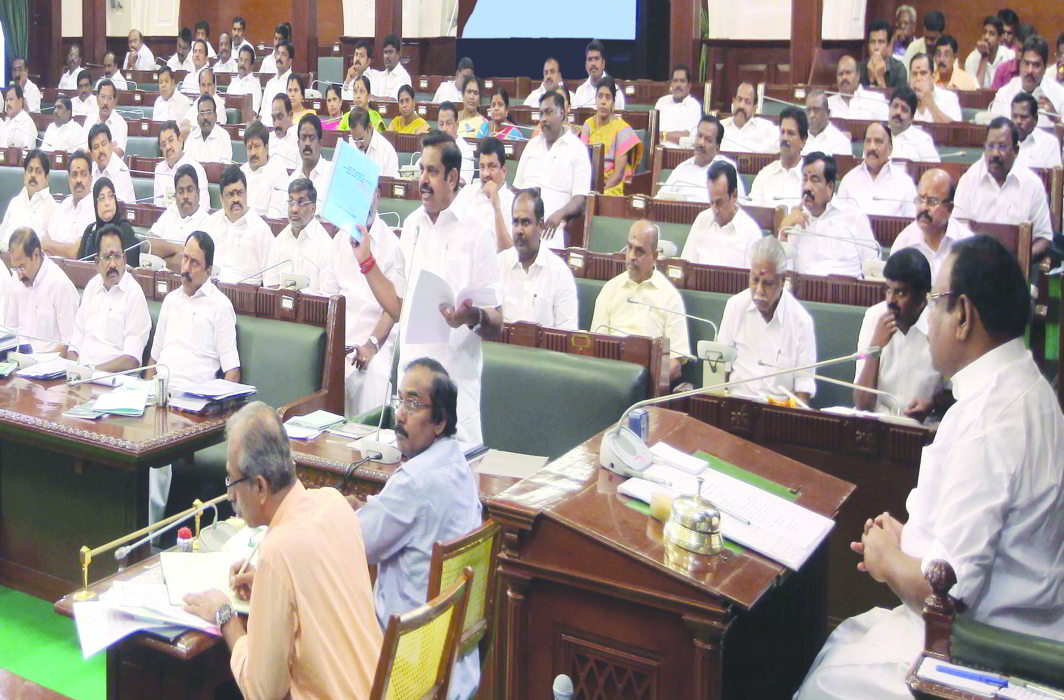 Justice Chandru added: "Bala's relatives were not informed of his arrest, nor was he allowed to contact anyone. This is a clear violation of the Supreme Court's guidelines in the DK Basu vs State of West Bengal case, where specific guidelines were laid down for making arrests, including the right of every person to know why he was being arrested. While the cartoonist's arrest was carried out on the basis of a complaint lodged by the Tirunelveli collector, he was booked under offences related to defamation under Section 501 of the IPC and obscenity under Section 67 of the IT Act. I am not clear how these two provisions are applicable to the cartoon."
Controversy's Children
Cartoonist Bala is not the only one to have courted trouble. Others have been similarly targeted. 
Aseem Trivedi: His cartoons created during the 2011 anti-corruption movement invited a sedition charge under Section 124(A) of the IPC from the Maharashtra Police. One of them portrayed parliament as a commode and another showed the national emblem with wolves instead of lions. The then chairman of the Press Council of India, Markandey Katju, defended him, saying he had done "nothing illegal" but he was jailed before he got bail.
RK Laxman: The legendary humorist's cartoon showing a beggar holding a bowl before a garlanded Indira Gandhi was termed "educationally inappropriate" by the SK Thorat panel set up by NCERT in 2012. It was removed from textbooks.
Ambikesh Mahapatra: The Jadavpur University chemistry professor was jailed in 2012 for circulating anti-Mamata Banerjee cartoons via email. He had forwarded a caricature of Satyajit Ray's film Sonar Kella that showed Banerjee and Mukul Roy, then a Trinamool parliamentarian, discussing how to get rid of fellow MP Dinesh Trivedi. He was later exonerated by the Calcutta High Court.
Lokmat cartoonist: In 2015, Marathi newspaper Lokmat published an article with a cartoon, which showed the words "Allah" and "Prophet Muhammad" in Arabic inscribed on the body of a pig. It accompanied an article titled "ISIS cha paisa (ISIS money)". This led to massive protests. The offices of the newspaper in four places were attacked and an FIR registered against the cartoonist and the editor. The latter apologised.
—By Sucheta Dasgupta
Though Tamil Nadu has seen defamation cases being filed against journalists in the past, actual arrests are a new trend. When Jayalalithaa was the CM, she would only file defamation cases against journalists, not arrest them. Senior journalists suspect that these arrests have been cleared by bureaucrats without taking Palanisami into confidence.
Kavitha Muralidharan, a senior journalist, said: "I have always differed with many of Bala's cartoons. His cartoons of DMK president M Karunanidhi were in bad taste. But I strongly disapprove of his arrest. It is unwarranted and shows the high-handedness of the government. In fact, I was told by some senior IAS officers that during Jayalalithaa's tenure, any defamation case or action against journalists and cartoonists had to be cleared by her. Even if a minister wanted to file a defamation case against a journalist or a cartoonist, it had to be cleared at the chief minister's level. But Bala's case was cleared by bureaucrats. This is more dangerous than defamation cases because it gives wide scope for bureaucrats to unleash police action on the media, including arrests, custodial interrogation, etc."
This was corroborated by Tharasu Shyam, a senior journalist who personally knew Jayalalithaa. "I condemn this arrest. I am not passing any moral judgements on the quality of the cartoons. This arrest is against several judgments of the Supreme Court. I, too, heard from some bureaucrats that this arrest was not sanctioned by the highest authority in the state, the CM. But I doubt that the CM was not taken into confidence over this arrest. Whatever be the case, if the arrest was carried out at the behest of bureaucrats, it is a dangerous precedent as they will now quell any dissent."
Ironically, this high-handedness comes at a time when Chief Minister Palanisami is battling for his political survival.