In an attempt to save numerous vulnerable people, the centre has circulated a new draft witness protection scheme. How strong is it and does it really provide foolproof security?
~By Sucheta Dasgupta
Mystery surrounds the recent deaths of Jabalpur Medical College dean Dr Arun Sharma and Aaj Tak journalist Akshay Singh who was investigating the Vyapam scam in Madhya Pradesh. Days earlier, MR Gopinatha Pillai, father of 2004 Ishrat Jahan encounter victim Pranesh Pillai, died in a road accident. He was a petitioner in the encounter case which is going on in the Gujarat High Court. Similarly, in the Asaram Bapu child rape and murder case, three witness murders took place in 2014 and 2015.
All these unnatural deaths bring into question the safety of witnesses, which has been a huge hurdle in the dispensation of justice in India.
Keeping this in mind, the centre, in consultation with the Bureau of Police Research and Development and NALSA (National Legal Services Authority), framed a draft witness protection scheme. The scheme has been marked to different state governments for suggestions and comments.
In the Asaram case, four men—Mahendra Chawla, former personal assistant to Asaram's son, Narayan Sai; Naresh Gupta, father of late Akhil Gupta, one of the murdered witnesses; Narendra Yadav, a journalist for Dainik Jagran and Karamveer Singh, the father of an alleged minor rape survivor of Asaram—petitioned the Supreme Court in 2016 seeking protection against death threats and attacks which they claimed they had survived. "We do not want to die," their petition read.
Chawla lives in Haryana, the other three in Uttar Pradesh. Besides protection, they sought an SIT probe into the disappearance of witness Rahul Sachan, a former aide of Asaram, who had survived an attack in February 2015, but was now feared dead.
Among those already killed in the case were Asaram's Ayurvedic physician Amrut Prajapati, gunned down in Rajkot in June 2014, Akhil Gupta, his cook, shot in Muzaffarnagar on January 12, 2015, and Kirpal Singh, an employee of a transport firm, whose owner's daughter had lodged a rape complaint against Asaram, also shot on July 10, 2015.
In response to their plea, a bench of Justices AK Sikri and Ashok Bhushan on March 24, 2017, ordered the Uttar Pradesh and Haryana governments to provide full protection to the witnesses. "You must have a scheme for the protection of witnesses. It is high time," it observed. The apex court order came as counsel Utsav Bains, appearing for the witnesses, told the bench that Uttar Pradesh was doing naught for their security.
Pursuant to this order, a scheme was drafted and circulated among state governments on March 22. Comments and suggestions have to be submitted by May 31.
The scheme has three salient features. These are:
(a) the decision of whether to grant protection to a particular witness will be processed by the legal services authority instead of the police in a bid to depoliticise it
(b) the budget required to protect a witness will be made up partly by state government funding and partly collected from fines and costs imposed in criminal cases
(c) a panel of policemen will decide the level of threat perception and the category of protection to be provided to the witness.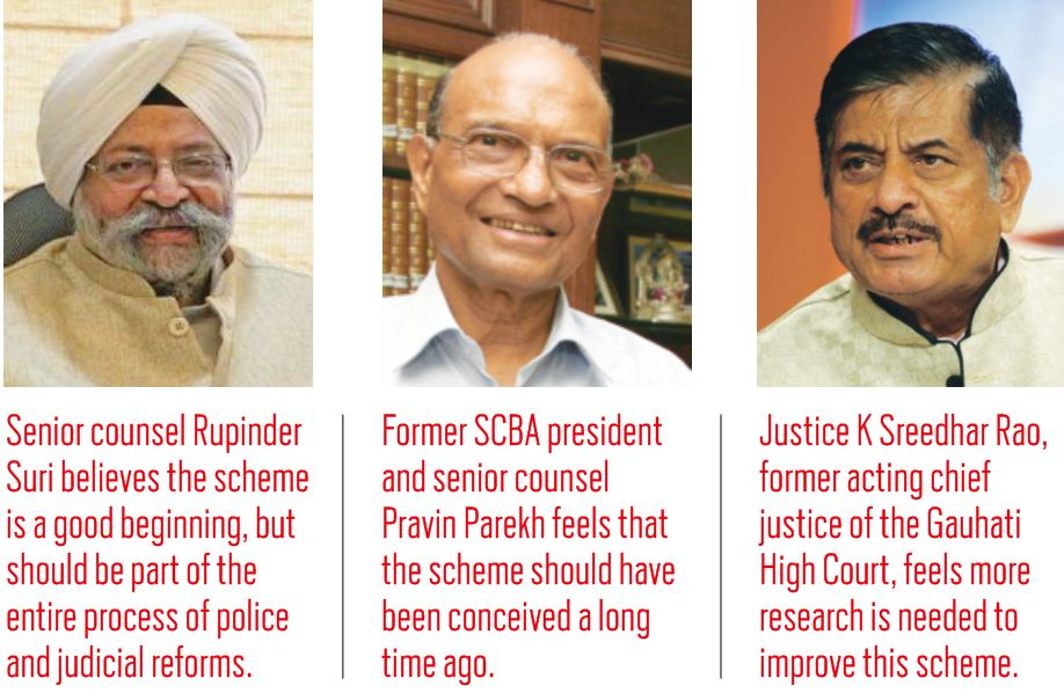 Among the protection measures are ensuring that the witness and accused do not come face to face during the trial, monitoring of email and telephone calls, having the telephone company assign the witness a different phone number, installation of security devices at the witness' home, concealment of the identity of the witness, assigning emergency contact numbers to the witness, patrolling around the witness' home, temporary change of residence of a witness, escort to and from court in a government vehicle, holding of in-camera trials, allowing someone to accompany the witness during recording of statement and deposition, specially designed courtrooms with live links, one-way mirrors, screens and separate passages for witness and accused, expeditious recording of deposition and awarding periodic financial aid to witnesses for relocation, sustenance or starting a new profession if desired. In appropriate cases, upon request by the witness and based on the threat perception by the police, he/she will be conferred a new identity. A new identity will mean a new name, profession and parentage with supporting documents acceptable to government agencies.
However, the new identity should not deprive the witness of his/her existing educational, professional and property rights.
In case a witness has lodged a false complaint, the State Legal Services Authority can initiate recovery of the expenditure incurred from the Witness Protection Fund.
Six-time Supreme Court Bar Association president and senior counsel Pravin Parekh has welcomed this move. "It is a much-needed scheme. It should have been conceived a long time ago. However, I have a word of caution. This scheme will not be successful unless there is systemic reform and a holistic approach is taken," Parekh said.
The draft, however, is far from thorough. Sidharth Luthra, senior advocate in the Supreme Court, said the measures to ensure that protection is provided to witnesses under this scheme are not well-defined. "An obvious question that comes up on reading this draft is this—Who will be entitled to protection under this scheme? Is it the witness? Is it his family? Is it anyone from the investigating agency? That parameter has not been set," he told India Legal. Indeed, the term witness is defined in the scheme merely as "someone who possesses information or document about a crime regarded by the competent authority as being material to any criminal proceedings and who has made a statement or who has given or agreed or is required to give evidence in relation to such proceedings".
Luthra suggests that the threat perception and security level categories in the draft should be linked to the four-tier X, Y, Z and Z+ categorisation of the ministry of home affairs for easier implementation.
"And there should be administrative support and a legislative and regulatory framework to ensure that protection is provided. If security is breached, it should be made punishable, there should be legal consequences," Luthra said. "The scheme is in a nascent form. It is, no doubt, a good idea, but must be polished and fine-tuned. The financial and administrative support is of crucial importance and must be put in place for it to be a success as it is in the West," he added.
In the US, the hugely successful Federal Witness Protection Program—or Witness Security Program (WITSEC)—instituted in 1971, has literally given new lives to over 18,000 witnesses as of 2016. The government spends upwards of $10 million annually to run this programme. The returns make it meaningful as trials involving WITSEC have an 89 percent conviction rate. A large proportion of these witnesses are former criminals, but recidivism is low—a little over 10 percent—which is another marker of the success of this programme.
In India, meanwhile, the situation is radically different. As Justice K Sreedhar Rao, former acting chief justice of Gauhati High Court, told India Legal: "Witnesses turn hostile for two reasons—monetary considerations (they are bribed) and because there is no assurance of safety. In cases of serious crime, nobody in the vicinity is prepared to depose; before recording of evidence takes place, the witness turns hostile."
He felt that more research is required to develop and improve this scheme. In the absence of the right measures, financial grants going into the scheme run the risk of being misused.
Senior counsel Rupinder Singh Suri also believes that though this scheme is a good beginning, it "cannot be prepared in isolation and has to be made part of the entire process of police and judicial reforms".
He told India Legal: "At the present stage, the police should not be tasked with preparing the threat analysis reports for witnesses. In far too many cases, the threats come from none other than the police. I suggest the legal services authorities have their own force to implement this scheme." He said some of the lacunae in the scheme were glaring. "How much budget is required is not mentioned in the scheme," he said. "Its success would depend on how quickly the trial gets over. If it continues for eight-nine years, one by one all witnesses would turn hostile. This is especially when documentary evidence is not involved. Ideally, trials in such sensitive cases should get over in three years."
He had some more suggestions for this scheme to be successful—a  provision for online application and submissions for those who do not want to come to court, counselling for witness' families who often hold them back from giving testimony, and monitoring and upgrading the threat status in case a prisoner's sentence gets commuted.
A close look at the term witness as defined in the scheme shows that it logically includes the whistleblower, people who alert the authorities to corruption, abuse of power or crime against a public servant. The whistleblower has some protection on paper in the form of the Whistle Blowers Protection Act, 2014, but this law came under severe criticism as scores of witnesses continued to disappear or be killed.
A strong new initiative will thus extend vital support to these courageous individuals and act as a spur for the speedy disposal of cases.