Above: Muslim women offering sweets to each other in Lucknow following the Supreme Court order on triple talaq. Photo: UNI
In a landmark judgment, the apex court has freed thousands of Muslim women from the regressive practice of instant divorce and given them hope of a life of dignity and empowerment
~By Ramesh Menon
When Allahabad-based Rizwan Ahmed dropped his wife, Shayara Bano, at her parent's home in Kashipur, Uttarakhand in October 2015, he had little inkling that in two years she would hit the headlines of every Indian newspaper and magazine. She had been married for 15 years and it was not the best of marriages—half-a-dozen abortions, incessant dowry demands, frequent domestic abuse and living with Ahmed's threats of how he could easily divorce Bano by repeating talaq three times. She lived in constant fear. Within a few days of her returning to her parents' home, she received a letter from Ahmed. When she read the contents, her mind went numb. It had just three words: talaq, talaq, talaq. Her already fragile world shattered into pieces. Her mind raced to the past when she was a chirpy sociology student and life seemed promising. But it had shattered to smithereens. Supported by her brother, she decided to put up a fight. She petitioned the Supreme Court in February last year seeking a ban on the practice of triple talaq. Last week, a beatific smile lit up her face when the top court of the country declared triple talaq unconstitutional.
She herself was surprised at how she mustered the courage to fight this regressive practice. But the moment she did it, she found tremendous support from Muslim women and feminists. Under Islamic law, triple talaq is a process that takes 90 days and cannot just be executed in a few seconds by repeating talaq thrice. But Ahmed had resorted to the triple talaq system that was accepted among the Muslim community in India, where just uttering these three words was enough for instant divorce.
The Quran has no mention of a procedure where instant divorce can be granted, but Muslim clerics and the largely patriarchal Muslim male pushed it forward, giving it social sanction.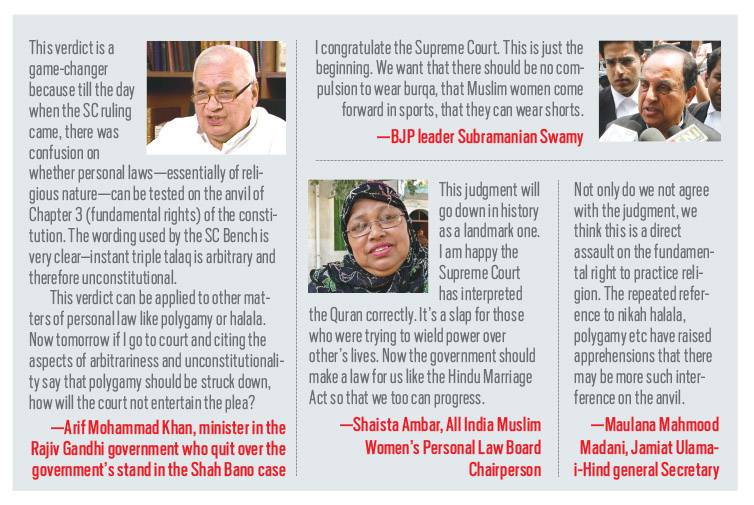 On August 22, in a landmark 395-page judgment, a five-judge constitution bench of the Supreme Court which had judges from five different communities, termed the practice of triple talaq as void, illegal and unconstitutional. It put a six-month stay on this practice and said that the parliament should enact a new law. If the law did not come into force within that period, the injunction would continue.
The judgment cited 19 Muslim countries that had abolished the practice. Justice Kurian Joseph said that merely because a practice had continued for long, it cannot be made valid as it was against the basic tenets of the Quran. "What is bad in theology is bad in law as well," he said.
Undoubtedly, this would be one of the most momentous judgments in recent years, one that will be remembered by thousands of women who have had to suffer because of this age-old practice. Islamic scholar Maulana Wahiduddin Khan said that triple talaq was not a principle of Islam but was the ruling of some jurists, who should no more justify the practice. Salman Khurshid, who was appointed amicus curiae in the case, said: "What is sinful and bad in theology cannot be good in law. That is why, what is sinful cannot be part of practice."
Despite having one of the largest Muslim populations in the world, India had allowed a practice that is not prevalent in Muslim countries like Indonesia, Pakistan, Turkey, Iran and Afghanistan. Asmita Basu of Amnesty India said that triple talaq was a discriminatory practice that violated women's right to equality and had devastated the lives of many Muslim women.
One of the fears among male-dominated Muslim cultural and religious organisations was that if the government was allowed to have a say on triple talaq, it would later also tamper with Islamic personal laws. In fact, the argument that their religion was under threat was used to instill fear in the community. Clerics and Muslim organisations went from village to village to get women to sign saying that they had no objection to the practice. Many who did so were illiterate and had no idea of the consequences. Others had no choice as they were so scared of how the men in their families would react. It was then left for the educated Muslim women to carry on the fight.
"Fundamental rights more vital than personal laws"
An important question in the triple talaq case was whether personal law can override statutory provisions and deprive a citizen of protection given by the constitution.
About two decades back, in a case in which a similar question had arisen, the Bombay High Court ruled that personal law cannot take away the protection given to a minor Muslim girl under the provisions of Section 363 of the IPC. A minor girl, aged 14-15, living under the lawful guardianship of her parents was kidnapped by a relative and forced to marry him. When he was prosecuted, his defense was that the girl had attained puberty and was free to marry a person of her choice.
The division bench, consisting of myself and Justice HH Kantharia, held that while the marriage may be valid, as soon as the girl was taken away from the legal custody of her parents without their consent, the offence of removing her from lawful custody came in. Protection granted to all minor girls below the prescribed age cannot be taken away in the name of personal law. Considering that the accused married that girl and they now have a child, only a fine was imposed.
The Supreme Court has in the triple talaq case, reiterated that the fundamental rights of a citizen cannot be taken away by any religious practice contrary to basic human values.
—Justice N Chapalgaonker, former judge, Bombay High Court
Among them were gutsy women like Zakia Soman, Noorjehan Niaz, Afreen Rehman and many others. They rallied behind Bano, started their research, mobilised victims on one platform and found new strength. Zakia Soman set up the Bharatiya Muslim Mahila Andolan in 2007 with Noorjehan Niaz and documented thousands of heart-rending stories of nearly 30,000 Muslim women, most of whom were victims of triple talaq. Both Soman and Niaz told India Legal that they had made it their life's mission to ensure a better, equitable future for Muslim women and stop the patriarchy of Muslims organisations dominated by men. There are only 40 women in the 301-member All India Muslim Personal Law Board (AIMPLB).
The centre's stand was that triple talaq was not a basic and integral part of Islam and quashing it would not shake the foundation of the religion. It must not be seen from the prism of majority versus minority community, it said.
The Shahi Imam of Delhi's Jama Masjid, Syed Ahmed Bukhari, pointed out that had the AIMPLB cared to address the problems of women who suffered from the practice, the case would not have reached the Supreme Court. The AIMPLB had initially told the Court that it would issue an advisory in the marriage contract to avoid the practice. When that did not cut any ice, it said that those resorting to the practice would be socially boycotted. But there was seemingly no empathy for the women who would suffer from the continuance of such a practice.
The Supreme Court rejected the contention of Muslim organisations like the Jamiat Ulema-e-Hind who held that the source of Muslim personal law was the Quran. Arif Mohammad Khan, arguing for the All India Women Personal Law Board, said: "Three pronouncements of talaq in one go is not valid and is a practice from pre-Islamic Arab era and is not integral to Islam. The whole Shariat law has been distorted as Shariat is the holy Quran and not the opinion of clerics. Triple talaq and nikah halala is nowhere mentioned in the Quran."
It now remains to be seen if the government will move towards bringing a Uniform Civil Code. It is awaiting a report of the Law Commission. In its poll manifesto, the BJP had said that it wanted to bring in the Uniform Civil Code. With the triple talaq judgment, it now seems determined to push it through. It will use the Law Commission's report to make the first move. The government has a golden opportunity now to reform personal laws in consultation with organisations of all religions to make sure that equal rights for men and women become a reality in areas like marriage, divorce and alimony. The government can grab that window of opportunity to unleash progressive reform.
Bano's battles are not over. She now proposes to fight for the custody of her two children, Irfan, 13 and Muskan, 11. Then, she wants to complete her MBA from Moradabad University and stand on her feet to give a new life to her children. Many other women like her now have a chance to dream again.