The arrest of a former top official of the Badminton Association of India for sexual crimes exposes the murky underbelly of an organisation that controls a sport which has given India two Olympic medallists
~By Sujit Bhar
Over at Delhi's Siri Fort complex, some of the best badminton players in the world are battling it out in the $325,000 India Open World Superseries. They include Olympic medallists Saina Nehwal and PV Sindhu along with world No 4 Carolina Marin of Spain and defending champion Ratchanok Intanon of Thailand in the women's draw and top class players in the men's draw as well. Officials of the Badminton Association of India (BAI)—the national body for the sport—are basking in the limelight, even as the perfidy of some of its top brass adds a new meaning to Badminton racket.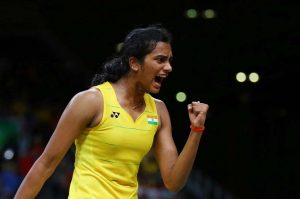 On March 24, Lucknow police arrested former BAI secretary Vijay Sinha from his home on charges of sexually harassing and financially exploiting under-aged female trainees at the Babu Banarasi Das UP Badminton Academy where Sinha was treated as a VIP. The police were acting on an FIR lodged at the Gomti Nagar police station in Lucknow district by Jang Bahadur Singh, chief of security at the academy, at the behest of the Uttar Pradesh Badminton Association (UPBA). The FIR (No. 0252 of 21.02.2017) names three persons as suspects/ accused. They are Nishant Sinha (executive secretary), Vijay Sinha and Karan Shrivastava. Nishant, who is the son of Vijay, is absconding.
The BAI clearly knew what was coming; Sinha had been expelled from the Association in January, 2017. The official statement said: "Sinha is facing a judicial inquiry with regard to the charges of embezzlement, misappropriation, fraud, nepotism, favouritism, misconduct, harassment of players."
Irregularities within the Badminton Association of India
Misuse of power: Examples
Das Gupta became president of BAI and changed its headquarters without completion of legal formalities required under law.
The treasurer never signed on cheque.
Misappropriation in PBL funds:
Franchises given to relatives and associates in Season 1 favour some owners such as Sahara, Hyderabad, Mumbai and Delhi.
Franchise for the first Premier Badminton League was given to his nephew Sanjay Govil. Govil's company's name is Infinite Solutions.
Rajesh Saxena, joint secretary, UPBA, gets his salary from the BAI, this being a blatant disregard for rules.
Players are not being paid on time for Badminton World Federation winnings.
The BAI has given fake affidavits in various judicial proceedings and forums.
Das Gupta made commercial gains from the national academy, national and international events. He engaged in personal commercial branding in the name of BBD. The president uses badminton events to promote his own business initiatives without giving anything back to the BAI.
Government guidelines are not being followed by the state associations. Most of the state officials are being protected by the president and secretary, as the state association officials are supporting them in the BAI elections.
The following are some of his supporters:
 TPS Puri – VP BAI, Chandigarh Badminton Association
OD Sharma – J&K Badminton Association
Punniah Choudhary – CEO, AP Badminton Association
Pradeep Gandhe – Maharashtra Badminton Association
S Muralidharan – Kerala Badminton Association
SA Raval – Gujarat Badminton
That seems like the height of irony. That same charge could well be applied to other members of the BAI, which has been buffeted by a litany of charges to do with nepotism, misconduct, and corruption. That includes its president Akhilesh Das Gupta (see box). Serious allegations are most likely to be brought soon, against Das Gupta—a Rajya Sabha MP, former Union minister and former mayor of Lucknow—who is currently enjoying his moment of reflected glory at the Siri Fort stadium. In a PIL, prepared by Sakshi, an ex-employee of the Indian Mercantile Cooperative Bank Ltd., Lucknow, of which Das Gupta was chairman and Sinha once was CEO and secretary, she alleges that Sinha and Das Gupta (son of Banarasi Das, former Chief Minister of Uttar Pradesh) were involved in a banking scam amounting to nearly Rs 100 crores.
The proposed PIL, a copy of which is available with India Legal, appends some data, purportedly supporting the allegations.
The Reserve Bank of India (RBI) had, in 2009, filed a criminal case against the bank's chairman—when Das Gupta was not chairman—and had also imposed a Rs 5 lakh penalty (See box).  It had also ordered the appointment of an administrator, superseding the board of directors. What the proposed PIL alleges is basically this: Das Gupta and Sinha had been hand in glove in several questionable dealings for a long time. They had siphoned off Rs 95.78 crore through "bogus loans" from the said bank. It is also alleged that Das Gupta allowed the bank to invest in the stock markets, against banking rules, and incurred losses which the bank had to absorb. It is also being alleged that the money thus siphoned off has been invested in several of Das Gupta's businesses, including educational institutions and hotels.
Age factor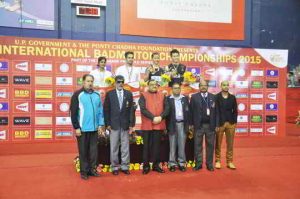 Names of BAI officials who are over 70:
TPS Puri, vice-president (DoB: 27.10.1940) – 76 years, 4 months
Punnaiah Choudary, secretary, tournaments (DoB: 1.7.1944) – 72 years, 8 months
SA Raval, chairman, coaching & development committee (DoB: 19.5.1941) – 75 years, 10 months
S Muralidharan, chairman, court officials' committee (DoB: 18.01.1945) – 72 years, 2 months
Manik Lal Saha, executive committee member (DoB: 15.02.1940) – 77 years, 1 month
MC Sethi, executive committee member; (DoB: 15.1.1941) – 76 years 2 months.
India Legal could not reach Das Gupta on his cell phone, and sent a detailed e-mail questionnaire for his reply to try and get his version of the charges. Till the time of going to press no reply had been received from Das Gupta. In January, Das Gupta, exercising his emergency powers as head of BAI, had sacked Sinha as secretary. This was during the ongoing probe against Sinha and his son regarding sexual harassment of players at the academy. The crux of the issue is that the sexual harassment case was known to Das Gupta almost four years before the sacking. After Sinha's arrest, he talked to the press in the presence of the police. He has said on record that Das Gupta had a hand in several of his corrupt practices. Sinha claimed Das Gupta wanted him out of the federation. "I have submitted a medical certificate signed by the CMO of the state. I did this because I knew something was cooking. You don't need a medical certificate to carry on the honorary duties of a secretary general. But all this is done to keep me out," he said.
The RBI'S Position
Replying to an RTI application by Sakshi, an ex-employee of the bank who has taken it upon her to expose the supposed misdeeds of the management, the RBI had written back to her on December 16, 2010. The letter (in possession with India Legal) says the following:
"A few major irregularities were observed in functioning of the Indian Mercantile Bank Ltd., Lucknow, during the course of inspections conducted by the regional office of RBI. As a consequence of the irregularities noticed, monetary penalty of Rs 5 lakh for violation of RBI directives/ guidelines was imposed upon the bank. The Bank [RBI] has also filed criminal complaint against the Chairman and the concerned Board of Directors in connection with violation of guidelines and irregularities committed by the bank as pointed out by Inspection Team in its inspection report conducted with reference to the bank's financial position as on March 31, 2007 and a case has been filed in the court of Chief Judicial Magistrate, Lucknow on December 1, 2009. Further the board of Directors of the said bank has been superseded and an Administrator has been appointed by the Registrar of Co operative Societies, UP."
Incidentally, Das Gupta had taken over the reign of BAI after the arrest of incumbent VK Verma over corruption charges. Das Gupta has had a chequered and parallel political career. He was with the Congress and was nominated to the Rajya Sabha in 1996 and 2002. He was a minister for steel in the Manmohan Singh cabinet. In 2008, he switched to the BSP to keep his Rajya Sabha status alive. In November, 2014, he quit the BSP after party chief Mayawati alleged that he had offered her Rs 100 crore to renominate him for the Rajya Sabha. Das Gupta denied the allegation. In January, 2017, he rejoined the Congress.
OVERAGED PLAYERS
The BAI secretary Sinha, in fact, had been involved in an earlier case investigated by the CBI on overaged players being fielded by BAI. An inquiry named specific players: Chirag Sen, Laa Talar, Akash Yadav and C Rahul Yadav. Incidentally, this report was sent by the CBI to Vijay Sinha, when he was secretary of the BAI (record show it was received on 6/10/2016) and is India Legal's possession. It conclusively proves the fraud these players have perpetrated in hiding their real age, thereby benefitting at tournaments as well as in securing plum sponsorship deals from the likes of Air India and others. PSUs such as Air India have a policy of supporting promising athletes. Another irony: In June 2015 the BAI had issued guidelines to curb this menace.
Family favours
Largesse offered by Das Gupta to his kith and kin
The BAI funded tickets for the family members and friends of Das Gupta to the 2012 London Olympic Games. And this is a big one: Money from all sponsors, including Yonex, was being used for personal gains.
There are some "honorary" members at the BAI, who draw salaries.
Within the Babu Banarasi Das University (BBDU) in Lucknow, of which Akhilesh Das Gupta's wife Alka Das is chancellor, was a natural water body. This was covered up for commercial purposes. At that time Akhilesh Das Gupta was the mayor of Lucknow.
Funds were arbitrarily transferred from the BAI to the BBDU
In 2010, the Uttar Pradesh Badminton Association revived the post of the chairman and Akhilesh Das Gupta was elected to the post. Indian Olympic sports bodies do not have provision for a chairman's post. At that time his right hand man Sinha was his secretary. It was Sinha who had told the media then that Das Gupta had been in that post earlier, but had resigned in 2004 due to "certain guidelines".
High Constitutional authorities have been hosted at top hotels by Das Gupta, ostensibly for some gain.
OVERSTAYING OFFICIALS
It's not only players who are overage. There are six BAI officials, including the vice-president and the tournament secretary who are over 70 years old (see box). The oldest is Manik Lal Saha, Executive Committee Member, who is 77 years, 1 month old. There is no law in the BAI that talks about an upper age limit, but the Lodha Committee recommendations regarding an age limit of 70 years in the BCCI are now being applied to all sporting bodies across the country. The president of the BAI has a maximum tenure of three terms, whereas other office bearers like secretary and treasurer can hold the office for two subsequent terms. This has not been adhered to.
THE JUNKETS
In 2014, the BAI sent a "team" to Tokyo, financed by Japan, to take part in a tournament of the Youth Sports Exchange Programme. The CBI has found that in the 23-member team, seven were officials' wards and close relatives, including the daughter of BAI president Das Gupta. Even the private tutor of his daughter tagged along for free. That CBI probe covered Das Gupta, as well as office bearers of the Delhi Capital Badminton Association (DCBA). Charges were of nepotism in selection of the team. This report has been placed with the sports ministry. Selection for this "team" was random, with no trials being conducted.
That wasn't the end. Here are some other glaring incidents:
Vinayak Agrawal, son of Shankar Agrawal, IAS UP Cadre, was appointed manager of the team for the Swiss Open tournament in 2015-16.
Poonam Sehgal, an employee with DCBA, went as team manager to the Commonwealth Games, Glasgow.
Jeo Nawab, a property dealer based in London, who also holds the curious post of director BAI (UK and Europe), was appointed as manager of the Indian team.
Here, the obvious change can be in separating power centres. In the BAI, the president is also the chairman of the selection committee. This is a big farce being played out. The important position of selection committee head should be given to some top player, or an eminent ex-player with full authority. Apart from sending his daughter to Tokyo on the junket, Das Gupta made her a part of the UP badminton team for the Junior Nationals in 2013 at Chandigarh. She had never played before. He didn't stop at that—he made his son, Viraaj Sagar Das, Associate Vice-President in UPBA. His nephew has been given the Delhi team in the PBL.
INDECENT PROPOSAL
The FIR against Sinha talks about incidents in which Nishant had allegedly enticed some female players with "special coaching" opportunities after everybody had left the academy. He had also proposed that the players get physical with him and more. The players had thereafter stayed away from him. However, there is a catch. The FIR was filed on February 22 (see picture on pg 16), while the occurrence of the offence was on January 23, almost a month before that. Was this FIR just an afterthought? One has to keep in mind a very important aspect in this. Sinha was no more than a titular head of the academy. The academy is directly controlled by Das Gupta. The security man Jang Bahadur is also employed by Das Gupta's other institutions, and is loyal only to das Gupta. After his arrest, Sinha openly described how Jang Bahadur had "thrown" his things out.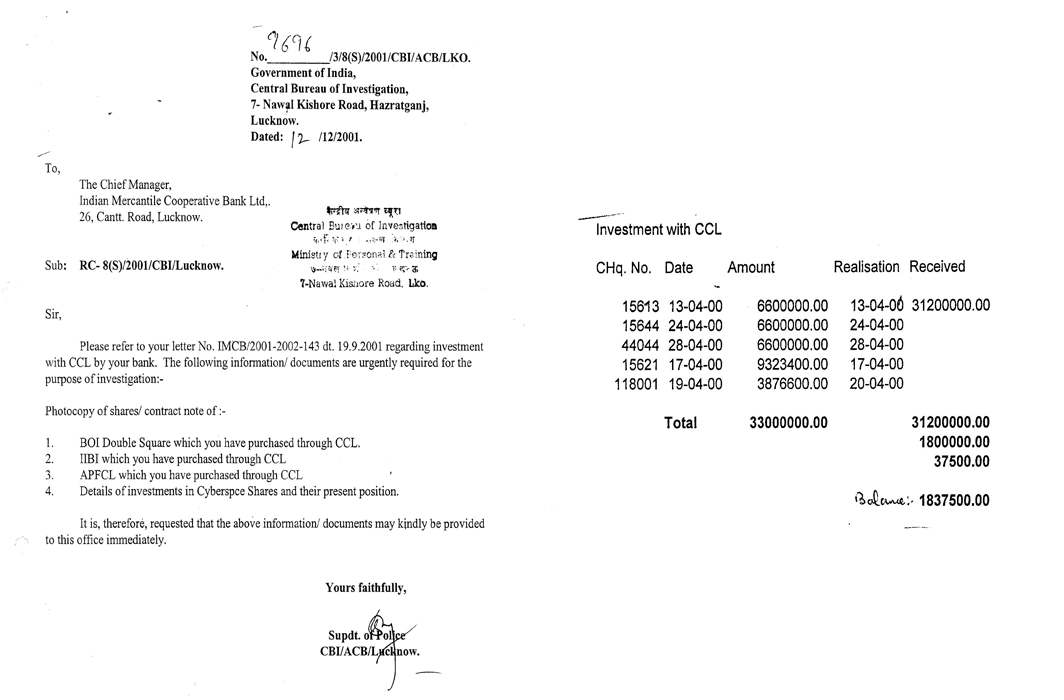 THE BANK "SCAM"
If the rest were petty, blue collar crimes, if allegations in the PIL have to believed, this was a graduation to white-collar deals. Sakshi, the ex-employee, seems to have taken it upon herself to force an expose. Here it must be clearly stated that she had initially filed the PIL with the Allahabad High Court (No. 16856 of 2011). The court did not entertain the PIL because "it lacks territorial jurisdiction". While Sakshi gave her lawyer's address, she herself is a resident of Punjab. That raised questions of "maintainability".
Irregularities within UP Badminton Association
The Deputy Registrar of Firms, Societies and Chits, Lucknow Mandal, Lucknow, Ajay Gupta, in his Order of 2017 (No. 10327/10/I-60580, Dated February 3, 2017) has maintained that the UP Badminton Association office bearers have been carrying on their work at the association illegally. No election has been held at the association since 1983, and according to rules, if elections are not held every three years; the association becomes time-barred. This, technically, means that all office bearers thereafter have been appointed illegally and have been working in their positions illegally. By inference, therefore, all decisions taken by them, including financial ones, are liable to scrutiny and could fetch stringent legal action.
While Sakshi is expected to resubmit her PIL at an appropriate court soon, the details of the original PIL speak volumes.
Sakshi's original PIL states that the method of siphoning money from the bank was through "loans" given to bogus recipients, most of whom did not even provide statutory information such as PAN. The loans were made in several tranches, and add up to Rs 95.78 crore. The PIL alleges that Das Gupta and his wife Alka (obviously with the connivance of Vijay Sinha), channelled this money to their other profitable organisations, such as educational institutions and hotels. She has also alleged (with certain documents appended) that the bank diverted funds for speculative investment in stock markets, completely disregarding RBI and SEBI banking regulations.
Here is how the "scam" developed, as per allegations made in the proposed original PIL:
(NOTE: While the RBI has already found irregularities and has taken action, the specific allegations mentioned here have yet to be examined by a court. We produce what has been said in the original PIL, without comment).
Here are some selected sections:
1989: Akhilesh Das Gupta got licence No. UBD-UP-922-P for running a banking business in Lucknow.
1989-1997: Chairman Das Gupta (he remained chairman till 1998) allegedly siphoned off `24.97 crores "in cash", raising bogus loans. 
1997-2002: In 1998 Alka Das Gupta (Akhilesh's wife) became chairperson of the bank.
1999-2000: Sakshi looks at documents and finds that Rs 24.97 crore loan had jumped to Rs 47.70 crore. Her inference was that the excess had again been siphoned off "for personal use".
2000-2001: It is alleged that as per "verbal instructions" from Das Gupta, Sinha (then CEO and Secretary) and Jitender Kumar Agarwal (then senior manager of the bank) started investing the bank's money in the "share market". It is alleged that "they did day to day trading/insider trading against banking norms."
It is alleged that nearly Rs 30-40 crores were diverted in this manner, out of which, Sakshi has said, Das Gupta pocketed Rs 10 crore and the bank took in the losses. The investible amount was taken out, again, through the bogus loan route.
25.03.2001: It is alleged that as per instruction from Vijay Sinha the bank raised a secured loan of Rs 75 lakh (loan acc No. 1927) in the name of one AK Johari. Sakshi says that Johari never applied for the loan, because he was in CBI custody at that time. She also states that the shares pledged were the same shares they had bought on the stock market.
2001-2002: The "loan" amount had reached Rs 75.92 crores, says Sakshi.
3.11.2001: It is alleged that the bank submitted a false resolution and false statements, on the basis of which the RBI, unknowingly, gave the Certification of Scheduled Bank.
28.12.2001: It is alleged that a person, Raj Kumar Ram, was made chairman. Ram, it is said, had no idea of the "misdeeds" of the said duo.
2002-2003: Loan amount shot up to Rs 95.78 crores, it is alleged.
312.3.2007: RBI finds irregularities.
17.6.2009: Registrar of Societies dissolves the board of the bank at the RBI's instructions and an Administrator is appointed.
That is where it stands at the moment. It would be left to the authorities, including the RBI, the Registrar of Societies, and other investigating agencies to get to the bottom of the issue. There is also the CBI case involving the Tokyo trip and Das Gupta's involvement.
Incidentally, it is during his long reign as BAI chief that the sport in India has taken giant strides. So it was said of BCCI before the Lodha Committee stepped in and changed the management.