Above Photo: UNI
The confrontation in Doklam area is not just about Indian intrusion into a disputed territory near Bhutan. It is about India showing that it can no longer be taken for granted. Will it fulfill the obligations of Article 2 of the India-Bhutan Friendship Treaty?
~By Colonel R Hariharan 
Although it has been over five weeks since the face-off between Indian and Chinese troops started in the strategically important Doklam area in the India-China-Bhutan tri-junction, there is no sign of easing of tensions. It all started in mid-June when Indian troops joined the Royal Bhutanese army to physically prevent Chinese PLA engineers from constructing a road in the disputed area.
When the news hit the Indian media with visuals of Indian and Chinese troops scuffling with each other, China's state-controlled media let loose a barrage of propaganda, misinformation, threats and reminders of PLA prowess. The provocative tone of the op-eds on such a subject in the Communist party tabloid, Global Times, is nothing unusual. But when Xinhua and China Daily also joined the chorus, reminding India of its 1962 defeat, it probably was an indication that the Doklam standoff may well be part of a larger campaign to "cut down India to size".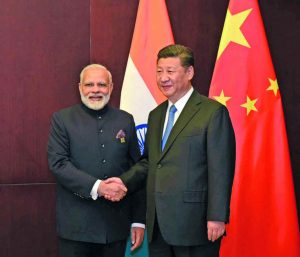 This should be seen in the light of growing Indo-US defence cooperation, particularly after Prime Minister Narendra Modi met President Donald Trump for the first time in June. This resulted in India acquiring state-of-the-art military equipment and augmenting defence capabilities in sea, air and land. Also, India indicated that it would not sacrifice its national interests and territorial sovereignty in Pakistan-occupied Kashmir in order to join the Belt and Road Initiative which Beijing had convened. India had no other option but to stay out of the summit after the China-Pakistan Economic Corridor (CPEC) not only violated Indian territory, but qualitatively changed its strategic equation with both countries.
The Doklam standoff is not merely related to Indian intrusion in 269 km of disputed territory along the Bhutan border. It is a moment of truth for India as well as China in furthering their relations peacefully. India's patchwork relations have come a long way since Modi spread out the red carpet to Chinese President Xi Jinping. India has become more assertive and articulate in stating its case at international forums, whether it is China's selective approach to Pakistani terrorism or its admission into the Nuclear Suppliers Group.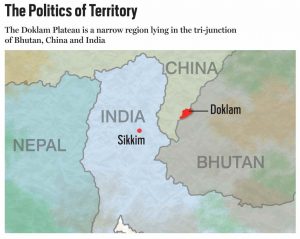 The standoff is already impacting Indo-China relations at the bilateral, regional and international levels. Even when both sides decide to cool their rhetoric and sit down to devise a face-saving measure, we can expect this to influence relations at the strategic, economic and political levels.
President Xi is looking for a second term in office from 2018. The Congress of the Communist Party of China (CPC) in September 2017 will decide this. By all indications, he would probably be re-elected. During the first five-year term, he carried out sweeping reforms to eradicate corruption in the CPC, PLA and the government. His contenders have fallen by the wayside. He has emerged as the most powerful leader of China after Mao Zedong and Deng Xiaoping and controls all three arms of China—the party, PLA, and the government. So he cannot afford a loss of face by simply shaking hands with India after its troops entered Doklam Plateau.
High expectations were built when Modi embarked on his jhoola strategy to win over Xi during his visit to India in September 2014. Xi also seemed to reciprocate it. Despite sticking to their national agendas, both showed maturity in not allowing the compulsions of realpolitik to allow their relations to drift. Though the Doklam incident has the potential to reduce it to an aspirational level, sheer economic compulsions, where overall trade between the two countries is $70 billion a year, may force them to bury the hatchet. Wars are expensive and counter-productive.
But not to be missed in the Doklam incident is China's use of a national strategy where psychological warfare was waged using multi-media, propaganda and legal props. This was evident when sober Chinese media like Xinhua played down the stand-off initially, but slowly changed their tone after the Modi-Xi meeting on the sidelines of the G-20 summit at Hamburg three weeks ago failed to ease the tension. Their meeting, despite the smiles, hearty handshakes and five-minute exchange of pleasantries, showed that India and China were not on the same page on finding a solution to the Doklam gridlock. Their mutually appreciative references to each other's contribution to BRICS indicated that their act was carefully calibrated to prevent relations from being strained further.
After G-20, there was no stopping the Chinese media and it went into an overdrive with a cleverly plotted propaganda campaign. It carried veiled threats of an imminent attack on India and probably even planted fake news of 158 Indian troops killed in clashes in Pakistan's TV channel Dunya (later denied by the Chinese). It also had reports of a massive build-up of PLA troops and movement of armaments and testing of new tanks for fighting in Tibet. Even a routine military exercise was painted to show as a preparation for war, with a reminder to India of its defeat in 1962. The Chinese media campaign was mixed with fact and fiction, appeals to patriotism, citing of international law to interpret boundaries and treaty obligations, raising the five principles of Panchsheel and interspersing these with reports of PLA's prowess and the dangers of India "day dreaming".
Most of these stories were faithfully reproduced in India's free media, which carried wide-ranging op-eds advising the government not to give an inch of territory and not to go to war as it would kill the country's development agenda. Some defence analysts like Lt Gen Harcharanjit Singh Panag reminded the Chinese of the high costs of a similar adventure in 1967 in the same area along the Sikkim border. That's when the Chinese lost 400 lives while Indian losses were barely one-fifth of it.
Overall, the Chinese seem to have won the propaganda war because Indian media stories were reactive or mere reproductions of Chinese statements. This is the price democratic societies pay for protecting freedom of expression. In times of war, this can hobble India, unless it takes the impossible option of blocking Chinese media.
There was also the orchestration of foreign policy objectives which suited China's system of governance. There were the usual blow hot, blow cold statements from the Chinese foreign and defence ministries. For example, Chinese Foreign Minister Wang Yi's statement on July 25 that Indians had "admitted" to entering Chinese territory and the "simple solution" was for its troops to "conscientiously withdraw" indicate that "withdrawal" was the core issue for China. Its foreign ministry spokesman, Lu Kang, elaborated it in a media briefing a day later: "…the crux of the incident is that the Indian border troops illegally trespassed into Chinese territory and the solution….is for Indian troops to pull out unconditionally. This is a precondition basis for any meaningful dialogue between the two countries." On the other hand, Chinese defence ministry spokesman Col Wu Quan warned India not to "push your luck" and underestimate the PLA. "China's determination and resolve to safeguard national security and sovereignty is unshakable," he added.
Intrusion of troops into disputed territory between the borders of both countries is not uncommon because it is part of showing their claim to the territory. The Chinese often flaunt their military muscle by intruding into India's border, particularly when its leaders visit India. Even when Xi was on his maiden visit to India in September 2014, Chinese troops had intruded nearly one-and-a-half kilometres in sizeable strength across the Line of Actual Control in Ladakh. Similarly, a few days before Chinese premier Li Keqiang was to visit India in May 2013, there was a face-off when Indian troops stopped intruding Chinese troops in Ladakh.
But the Doklam stand-off is not like other intrusions. This was the first time India entered Bhutan's disputed area in aid of Bhutanese troops.  The Chinese seemed peeved that India intruded into Chinese territory with impunity and muscled into a bilateral issue between China and Bhutan.  All these years, China had been accustomed to India playing down Chinese intrusions.
This time, India showed that it could not be taken for granted and that it would support Bhutan to fulfill the obligations of Article 2 of the India-Bhutan Friendship Treaty 2007. Article 2 states: "In keeping with the abiding ties of close friendship and cooperation between Bhutan and India, the Government of the Kingdom of Bhutan and the Government of the Republic of India shall cooperate closely with each other on issues relating to their national interests. Neither Government shall allow the use of its territory for activities harmful to the national security and interest of the other."
In fact, uncontrolled entry of Tibetan grazers and Chinese soldiers in Doklam Plateau had figured during 24 rounds of border talks between China and Bhutan. Indian troops went in to support the Bhutanese army which had protested when the Chinese started constructing a road through the Dolam (Bhutanese name for Doklam) to the tri-junction area. The tri-junction is close to the Siliguri corridor, a narrow 21-km strip of land that provides the lifeline between the North-east and the rest of India. China has a history of providing arms to insurgent movements in the North-east. So there was no question of India allowing the Chinese to occupy Doklam Plateau as it would compromise the security of India and Bhutan.
Clarifying India's stand in the Rajya Sabha, External Affairs Minister Sushma Swaraj said that any unilateral altering of the border by China would amount to a "direct challenge" to India's security. She said they brought bulldozers and earth excavators to build a road and their "intention is to reach the tri-junction of India-China-Bhutan…. If there is to be sit-down talks, then both countries should withdraw their soldiers". This was India's bottomline.  Indications are that China would reciprocate by defusing an explosive situation.
Indian troops are placed in a tactically advantageous position in the Doklam Plateau which overlooks Chumbi Valley in Tibet. So it may not be prudent for the Chinese to fight a battle there. But that does not prevent its troops from indulging in muscle-flexing. They also have the option to create another confrontation along the Arunachal-Tibet border like they did in 1987 at Sumdrong Chu overlooking Tawang. Unless, the situation is eased off diplomatically, these may well remain the military options for China.
India and China have working modalities in place to handle such situations and avoid armed confrontation. This arrangement had been working reasonably well because both sides want to maintain peace along the border. Ajit Doval, India's National Security Advisor (NSA) who was in Beijing to attend BRICS, discussed the issue with his Chinese counterpart and other leaders. Moderate sentiments seeking to avoid a conflict in social media increase hopes that the NSA will succeed in a plan to ease the confrontation at Doklam Plateau.
Perhaps the weakest link in our ability to wage war is the amorphous and opaque national security decision-making process. In times of war, if Finance Minister Arun Jaitley has to handle the defence ministry as well, he would need to become a superman to excel on both fronts. Both the ministries have a heavy backlog of work and after years of tinkering with patchwork solutions, they suffer from non-performing assets of a dubious value. It is baffling why Modi, who has been keen to carry out structural reforms and systemic improvements in many of the ministries, has not done so in defence. The reforms carried out so far are too few and too slow.
Unless there is a full-time defence minister accountable to the nation, in times of war we may well face a repeat of 1962. This disastrous war is an example of "the three ways in which a ruler can bring misfortune upon his army" to quote Sun Tzu's classic The Art of War. Sun Tzu's list includes:
Hobbling the army by "commanding the army to advance or retreat, being ignorant of the fact that it cannot obey;
"Attempting to govern the army in the same way he administers a kingdom being ignorant of the conditions which obtain in the army. This causes restlessness in the minds of soldiers."
Employing the officers of the army "through ignorance of the military principle of adaptation to circumstances. This shakes the confidence of the soldiers".
Can we change this style if we are serious about the nation's security? Let us hope so.