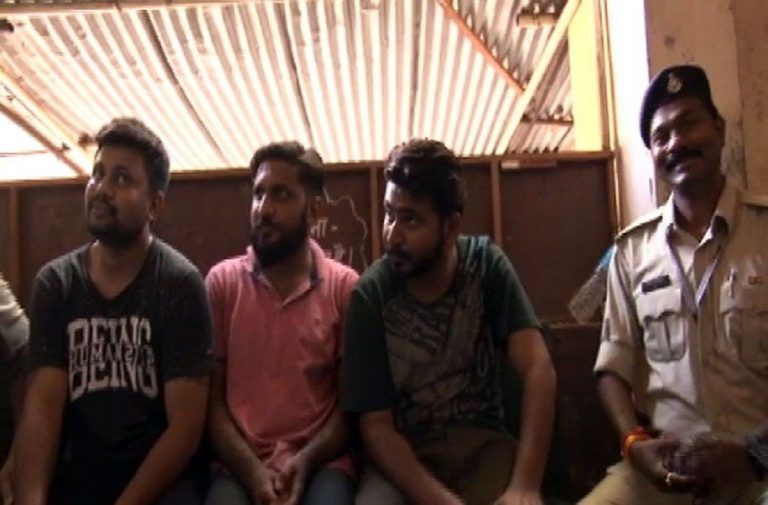 Above: Javed, Bhavil and Shah Rook, the accused in the call centre scam, in police custody
In an alarming trend, fake call centres have sprouted in various cities and swindled $900 million from Americans by threatening to implicate them in crimes, thereby giving a bad name to India's BPOs
By Rakesh Dixit in Bhopal 
Tech-savvy Indian charlatans are stealing the data of American citizens with impunity. The Indian police has busted numerous fake call centres in Noida, Vadodara, Gurugram, Ahmedabad, Indore and Mumbai which were operating under the garb of BPOs and swindling US citizens of millions of dollars. They did this by sending fake voice messages in American-accented English and threatened to implicate them in crimes such as money laundering, drug trafficking, tax evasion, etc.
The latest such racket was busted by the Madhya Pradesh cyber crime cell in Indore on June 11. A 15-member cyber cell team conducted raids on two fake call centres in the posh Platinum Plaza location and arrested 80 people.
These youth, mostly from North-East India, were employed by Javed and Rahil, owners of the call centres, to blackmail US citizens. The police also arrested Javed and two other masterminds, Shah Rook and Bhavil, from Indore. Rahil is absconding and his location has been traced in the US, according to the police.
Additional director general (cyber cell) Purushottam Sharma reportedly said that of those arrested, 61 were men and 19 women. All were from Nagaland and Meghalaya. According to the cyber cell officers, in the last one year alone, the two call centres duped nearly 2.5 lakh US citizens.
Javed confessed that he had swindled a US citizen of $26,800 in a single day. During interrogation, the accused revealed their modus operandi which was, more or less, the same as other rackets busted in the past three years. Most of the accused in these cases were from Nagaland, Meghalaya, Rajasthan, Gujarat, Maharashtra, UP, MP, Manipur, Delhi and Haryana.
Callers from the two call centres would pose as US vigilance agency officers and tell Americans through voice messages that there were problems with their social security numbers and solicit money to fix these. Some US citizens would be told that they had committed tax offences and would have to pay to settle the cases. They would be threatened and told to either fight the US Internal Revenue Service in court and face a fine as a "tax defrauder" or pay immediately as an "out-of-court settlement".
The call centre employees would call the US citizens on direct international dialling or Magic Jack Application. The call centres uploaded software in which the employees typed a message in their system and it would be converted into a voice call. Bulk messages would be sent to 10,000 US citizens in one go.
When this message reached the mobile or landline number of US citizens, a female voice would be heard in an American accent. That would hoodwink the US citizens into trusting the message. Those who opened it would hear a voice saying that their numbers were detected in money laundering, drug trafficking or some other offences. Then the call recipients would be advised to contact a toll-free number—8007678409—for further enquiry, with a warning that if they didn't follow the advice, their social security number would become dead and legal action would follow.
Fearing legal hassles in US courts, many victims would call the toll-free number. Agents of the racket would pick up the call and ask the callers to settle the case by coughing up a certain amount of money to be deposited in a particular bank account. There were several fake account holders in the US who would assist in the racket.
Once the trapped Americans deposited the money, it would be sent through the hawala route to Ahmedabad and converted into Indian currency. This would then be deposited into a bank account of the racket's masterminds. In fact, it was only last year that a Pennsylvania-based man who had helped coordinate a fraud was sentenced to 14-and-a-half years in prison.
Rahil and Javed of Ahmedabad started the call centres a year ago in Indore. Both came to the city after the cyber police crackdown against bogus call centres in Noida, Mumbai and Guwahati. At Platinum Plaza in Indore, they rented two flats and set up two call centres of 25 seats and 50 seats.
Work would start after 9 pm and the main doors would be shut soon after the employees entered the flats.
Javed (28) is a resident of Hill Park residency in Ahmedabad. He told the cyber cell that he got into this crime from 2014. After dropping out from Class 8, he became a salesman for mobile SIMs and dongles.
Here he came into contact with one Mustafir who used to run a BPO in Ahmedabad. Mustafir told Javed how he had duped a US citizen through ISD trunk line, posing as an agent from the US revenue services division. He told his American prey that there were irregularities in his tax pending case which were detected in his social security number.
Mustafir's exploits inspired Javed to start blackmailing on a larger scale. He sold his house in Ahmedabad for Rs 40 lakh and added Rs 30 lakh more to open a BPO. He recruited young boys and girls, mostly from the North-East for the fake call centre. Bhavil (29), another prime accused, is a resident of Blind School, Mount Abu in Rajasthan. The third key player, Shah Rook (25) is a resident of Al Mubarak Residency in Ahmedabad. Indore resident Sunny Chouhan who helped Javed and Rahil set up the call centre is absconding and is believed to be in the US.
Those arrested told the cyber cell during interrogation that four more fake call centres were operating in Indore. On their tip-off, police teams raided the call centres, but the owners had fled by then. In one of the centres which was working out of a hotel, the owner, Kewal Sandhu, fled with his baggage to Ahmedabad. A cyber cell team tried to nab him at the airport but he managed to dodge them.
The police have gathered all information about the owners and they will be arrested soon, said the SP, cyber cell, Jitendra Singh. A hunt has begun to arrest the owners of the four call centres—Minesh, Hardik, Siddharth and Kewal Sandhu. All the call centre owners are linked to Sunny Chouhan. Sunny helped them set up call centres in the name of BPOs and helped them cheat US citizens.
The main source of the blackmailing was stolen data. This included personal information of US citizens such as landline and mobile numbers. The police recovered data of 10 lakh US citizens from 100 computers, 100 mobile phones and software seized from the call centres in Indore. The cyber cell is getting the computers and software examined by expert teams and has contacted the FBI for help in the investigation as it surfaced during interrogation that many of the racket's agents and those engaged in money transfer through fraud were US bank account holders. The victims would be asked to transfer money to these bank accounts.
Singh said the cyber cell would coordinate with the FBI to ensure that the victims get a chance to lodge complaints. Attempts would also be made to get the FBI to arrest other accused who are in the US. The cell has intimated to the FBI the progress of the investigation.
Singh said even if one duped US citizen lodged a complaint, the MP police would take strict action against the cheats. He claimed that the cyber cell has enough evidence to get the accused punished. "We have seized full record of those US citizens who were made to cough up money."
The cyber cell sources said they got information from a private US investigation agency that cyber crooks in India, posing as vigilance officers, had swindled $900 million from US citizens in the last five years.
India is home to a vast number of back-office operations for North American and European companies. Thousands of call centres in India provide services to these firms—processing everything from utility payments to credit card bills.
While such business arrangements help western companies cut costs, there have been frequent allegations of security breaches and improper trading of consumers' account details and other commercial information for profit. Indore fraud is the latest example of this alarming trend.
You might also be interested in: