Above: Many people still find it more convenient and hygienic to defecate in the open rather than in the closet-like toilet. These habits have been formed over centuries and are hard to change overnight. Photo: cdn.downtoearth.org.in
In many villages of North India, a movement is gaining ground to ensure there is a toilet in every home. It is a movement spearheaded by women which deserves funding and support 
~By Meha Mathur
A civil court in Bhilwara has allowed a 24-year-old to walk out of her marriage because her husband's family had not constructed a toilet at home despite repeated requests. The court called it "cruelty" and a valid ground for divorce.
In a village in Uttar Pradesh, a bride refused to enter wedlock when, on the day of her marriage, she came to know that her marital home had no toilet.
In Jahazpur, Bhilwara, SDM Kartar Singh has ordered that if households don't construct toilets within two weeks, their electricity supply will be cut.
In Gonda, UP, Phool Kumari's brother gifted her a toilet, on Raksha Bandhan Day, August 7. The overjoyed girl had this to say: "Mera sapna tha ki mere ghar me bhi toilet ho, aur aaj mera ye sapna sakaar ho gaya (I had a dream that my home should also have a toilet, and that dream has been realised today)." She, along with five other girls, has been declared brand ambassadors for open-defecation-free (ODF) villages by district magistrate JB Singh.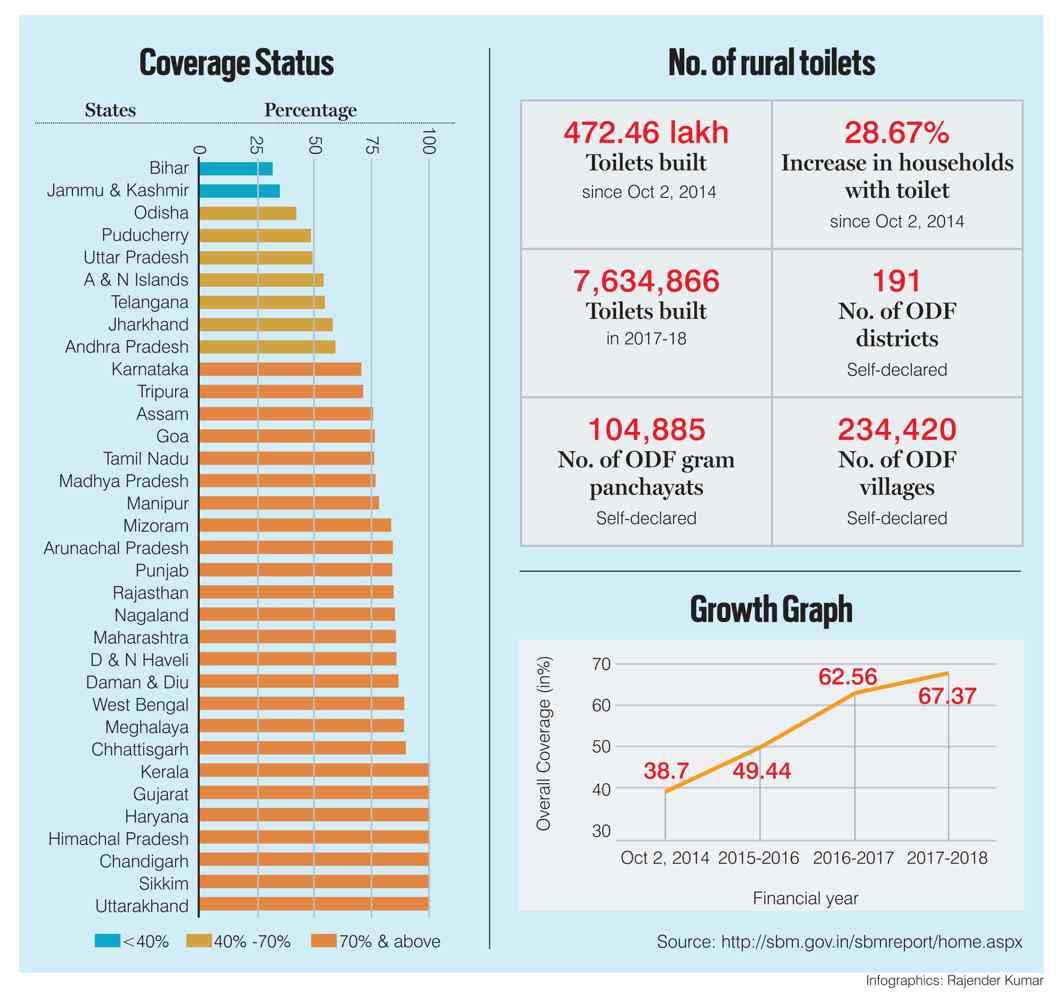 Stories like these are coming forth from village after village in Uttar Pradesh, Bihar, Haryana and Rajasthan. The move to build toilets is partly driven by the Swachh Bharat Mission, but largely by an awakening among young girls and women and the urge among village folk to lead a life of dignity. "Beti byahungi wahan, niji shauchalaya ki suvidha jahan (I will marry my daughter only to a family which has a toilet)" has become the catchphrase of a veritable movement in many villages.
This aspiration, and the inevitable conflict between modernity and tradition over as basic a need as a toilet, has been captured at the most opportune moment in the film Toilet Ek Prem Katha. It shows a woman walking out of her husband's home over a toilet, and the patriarchal father-in-law's refusal to have a defecation facility in the premises where the sacred Tulsi plant grows and is worshipped.
Not having a toilet at home is a matter of particular concern for women which is why the movement is largely driven by them in many villages. Besides being a matter of dignity, a toilet also furthers women's safety. Open defecation, involves going to the fields before dawn or after sunset, leaving women vulnerable to rape and abduction. When two sisters were found hanging in Badaun in 2014, it was alleged that they had been raped and murdered when they had gone to answer nature's call (CBI in its closure report, however, stated that it was a suicide). There is the additional risk of insect bites. Moreover, having to wait until dark to relieve oneself is also a cruelty.
WOMEN'S MOVEMENT
The biggest plus point of having a toilet at home is that it ensures better health and hygiene for women and children. Initially, this was a factor that development workers found hard to explain to rural women. But when it became clear that the biggest culprit behind the rampant problem of diarrhoea—a leading cause for child mortality—is open defecation, better sense prevailed.
It is also felt that functional toilets in educational institutions will encourage education of girls beyond puberty, because absence of toilets force many of them to remain confined at home. India Legal's sister channel, APN, visited several schools in rural Uttar Pradesh and found toilets either in a dismal condition or absent.
No wonder women have spearheaded the Open Defecation Free (ODF) drive in villages even before the Swachh Bharat Movement. This writer visited a few villages in Kurukshetra district of Haryana in 2009, which had won the Nirmal Gram Puraskar. The women in these villages would form vigilance brigades wielding lathis and torches to locate and shame anyone defecating in the open in the dark. Every household, aided by the district administration, had constructed a toilet with a soak pit.
However, attitudes are not so easy to change. Many people still find it more convenient and hygienic to defecate in the open rather than in the closet-like toilet. These habits have been formed over centuries and are hard to change overnight. Add to that the taboo of defecating in the vicinity of Gods and Goddesses, whose idols are kept in homes, and bringing about a change in the mindset becomes more difficult.
Then there is the problem of who will bear the cost of building a toilet. According to the website of the Ministry of Drinking Water and Sanitation, a BPL household is eligible for an incentive of Rs 9,000 from the Centre and Rs 3,000 from the state government for construction of toilets. In the North-eastern states and Jammu and Kashmir, the Centre's share is Rs 10,800 and the State's is Rs 1,200. The households Above Poverty Line category can construct their own toilets using their own funds or taking loans from cooperative institutions or banks. The construction and maintenance of toilets and the challenge of availability of water to keep the toilets clean is an issue. The last dissuades many from using toilets even when they have been constructed.
But one of the biggest challenges to the programme comes from the state machinery. Like most other development programmes, stories abound of funds being siphoned. Village after village that the APN team visited in Uttar Pradesh revealed a scam in construction of toilets. Some of the most glaring examples are as follows:
In Champatpur village, Bilhaur tehsil, gram pradhan Shikha Singh's husband Balram Singh whitewashed (name of beneficiary household and construction date has to be mentioned outside every toilet) the details of toilets constructed in 2014-2015, repainting them with a new date—2016-2017. Thus pocketing the money sanctioned for toilet construction in 2016-2017. Some villagers complain that instead of seven sacks of cement they were given only four and that only 700 bricks were provided. No labour was provided either.
In Chandauli, a scam of Rs 56 lakh has surfaced and the District Panchayat Raj Officer has registered a case against five village heads and three secretaries. In Bhojpur village in Azamgarh's Palhana block, the village head and secretary have been booked for a Rs 7.68 lakh fraud in toilet construction.
In Kanpur rural, a guard was mercilessly beaten up and then set on fire when he demanded back the money the village-head had extracted from him for toilet construction. He succumbed to his injuries later. The victim's family is living in fear as no action has been taken against the village-head so far.
For the toilet movement to succeed and transform India it needs to grow beyond the realm of statistics. It must usher in a change of attitude and habit. When that happens, a toilet will become a reality of every Indian home, with or without government support. Hygiene, after all, should begin at home.
—With inputs from Khurram Nizami,
Shiva Sharma and Balvirendra Shekhawat