Switching Channels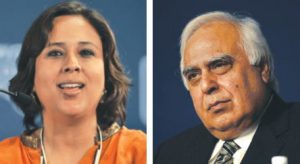 There's a huge buzz in media circles to do with a new media venture being launched shortly. The anticipation is more to do with the promoter than the potential content—it is funded by celebrity lawyer and Congress stalwart Kapil Sibal. What is known so far is that the core of the media organisation will be a television channel for which he has reportedly hired ex-NDTV anchor Barkha Dutt. That would automatically mean a question of establishing its credibility and niche, unless it is meant as a counter to pro-Modi channels Republic and Times Now. What is known is that Sibal has sunk a lot of money into the venture and hired a studio space and office in Noida. Barkha is busy hiring staff and also getting trolled by her right wing tormentors prior to the launch—her tweets mention dire threats. Watch this space.
Solid Foundation
The Foundation of Media Professionals (FMP), an all-India body, has issued a charter of demands to protect the freedom of the press. Topping the list is that Prime Minister Narendra Modi hold a press conference "without further delay, to uphold, if nothing else, the media's right to question any holder of that high office". The demand adds that "Narendra Modi is perhaps the first prime minister of India to have not held a single press conference, four years at a stretch. This could not, however, have been unrelated to a series of events that raise fresh concerns about media freedom."
Referring to "the concerted online hate campaign against Rana Ayyub and Ravish Kumar, where they were subjected to similar intimidation and cyber bullying", the Foundation said: "It's a commentary on the state of Indian democracy that the government has reacted to neither of these attacks on the Fourth Estate. This silence is despite the cautionary precedent of Gauri Lankesh's murder and the gleeful reactions to it from trolls known to be issuing murder/ rape threats and hate speech". The Foundation's members include well-known names like Madhu Trehan, Ashutosh (now with AAP), Manoj Mitta, Shashi Shekhar and Vivian Fernandes.
Paper Shredders
Newspapers reeling under the unprecedented high price of newsprint, now face one more setback affecting revenue. The Finance Ministry has decreed that government tenders and ads for government procurement will no longer be reserved for newspapers. The earlier convention was that it was compulsory for such ads to be featured in newspapers, with the pink papers benefitting the most. The ministry has described the step as being a boost to digital India, with the ads now diverted to websites only. Newspaper owners see a darker motive behind it.
The Good, The Bad And The Intolerant
Kerala chief ministers have traditionally shared a good relationship with the media, their political leanings notwithstanding. Not so, the incumbent Marxist chief minister Pinarayi Vijayan whose ties with the media, particularly the TV and digital versions, have bordered on the combative. Vijayan is the first CM to dispense with the tradition of the weekly news conference on Wednesdays, something that all his predecessors have strictly adhered to. Vijayan reasoned: "If I have nothing to say, I have no reason to meet you". Not too long ago, he ordered   journalists out of a conference hall where they had gathered to cover an event, shouting in Malayalam: "Kadakku Purathu (get out)". Last week, he again hit out at journalists after sections of the media uncharitably linked the murder of a Dalit Christian youth in Kottayam district to the police's preoccupation with arranging VVIP security for the CM who was passing by.
The media is relentless in its pursuit of the CM, and with Vijayam continuing to rave and rant against the hacks, it was left to an opposition MLA to take a veiled dig at Vijayan's yen to keep the media at bay. KN Khader, the Muslim League MLA, reminded the CM that the world would not have known so intimately about the October Revolution had Vladimir Lenin asked John Reed, the author of the book Ten Days That Shook The World, to "get out (Kadakku Purathu)".He also offered some sage advice to the CM: "Just as there are good politicians and bad politicians, there are good journalists, and bad journalists too."