Down to The Wire
It is well known that Prime Minister Narendra Modi, his ministers and supporters will target any media house, journalist or website that is critical of his government, his policies, or him personally. NDTV heads the list followed by Ravish Kumar and Barkha Dutt, along with a number of other bylines, while The Wire and Quint head the blacklisted websites. This applies to anyone who works in these organisations. Little wonder then that on a recent visit to a state in western India, he asked the governor to convince his niece to quit her job with The Wire. It is unknown whether the advice was acted on, but the niece remains in place.
Taking on the Republic
Human rights lawyer Sudha Bharadwaj, who has appeared in several cases on alleged fake encounters of Adivasis in the Chhattisgarh High Court, has directed her lawyers to send a legal notice to Arnab Goswami and Republic TV for what she says is his "false, malicious and defamatory allegations against me". She has charged the anchor and managing director of Republic TV of levelling "ridiculous, scurrilous, false and completely unsubstantiated allegations" against her in a programme, "Super Exclusive Breaking News", telecast on July 4. "It is clear that in targeting such lawyers, the state is trying to silence those who stand for the democratic rights of citizens. The state strategy is to create a chilling effect and deny equitable access to the legal system."
Bharadwaj pointed out that "Goswami has claimed that I have written a letter (identifying myself as 'Comrade Advocate Sudha Bharadwaj') to a Maoist—one 'Comrade Prakash'—stating that a 'Kashmir like situation' has to be created". Categorically denying that the letter referred to by Goswami was written by her, Bharadwaj, who is also a visiting professor at National Law University, Delhi and national secretary of the People's Union for Civil Liberties, said that Republic TV has defamed her and caused "professional and personal injury". Bharadwaj also said that while Republic TV had not revealed the source of this "letter", she found it "curious that a document purporting to contain evidence of such serious crimes should first surface in the studio of Arnab Goswami".
Lighting the Fire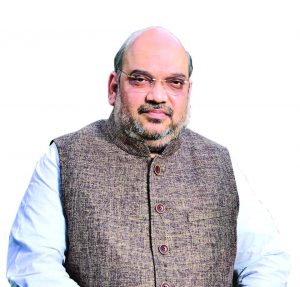 Spread like fire from Kashmir to Kanyakumari—this was the unambiguous message from Amit Shah to the saffron "cyber warriors" at a social media volunteers meet in Varanasi on July 4. The BJP's troll army, till two years ago, targeted their venom at anyone speaking against Modi-Shah and Hindutva—Rahul Gandhi, Congress and AAP leaders being the favourites. They are now unwilling to spare even the BJP's own.
Last year, Union minister Ravi Shankar Prasad was trolled for condemning the abuse hurled at journalist Gauri Lankesh after her brutal killing. Then, Home Minister Rajnath Singh faced the wrath for invoking virtues of "Kashmiriyat". The studied silence of Modi and Shah over the abuse directed at External Affairs Minister Sushma Swaraj and the fact that many of these trolls are "blessed to be followed by" the PM, leaves little doubt that the attacks had the Supreme Leader's approval. Rajnath Singh and Nitin Gadkari—the only Union ministers to speak in Swaraj's support—refrained from tweeting their condemnation. In the run up to the 2019 polls, Shah's call to his "cyber warriors" to spread like fire makes it abundantly clear that you haven't seen the worst of trolling yet.
Data Breach
In an unprecedented move, the Media Research Users Council (MRUC) has sent legal notices to eight leading publishers for using misleading IRS (Indian Readership Survey) data for publicity. The erring publications have been asked to withdraw such ads or modify the content. The action was taken after the publications were found guilty of violating the norms.
The two biggest examples are The Times of India and Hindustan Times which release full page ads each time the IRS data is released, to claim the leading slot in Delhi-NCR. The Council got into action after complaints by other publishers. The Council found that the advertisements had misused the main data.