The expansion of the Union council of ministers that took place on Sunday established at least one similarity between Prime Minister Narendra Modi and former premiers Dr Manmohan Singh and Rajiv Gandhi, though neither the BJP nor the Congress would be willing to admit to the fact. The similarity is the premium that Modi and his predecessors from the Congress placed on technocrats in actively taking up political roles and running the government as its ministers.
Rajiv Gandhi was known for his proclivity for technocrats – bringing in field experts like Sam Pitroda (a telecom engineer and entrepreneur who Rajiv brought in to set up the Center for the Development of Telematics), Mani Shankar Aiyar (who resigned from the IFS under Rajiv's influence in 1989 and joined the Congress), Arun Nehru, (a businessman) and Arun Singh (entrepreneur). Dr Manmohan Singh too relied heavily on the likes of Montek Singh Ahluwalia and Jairam Ramesh when it came to matters of policy formulation and governance.
On Sunday, Modi joined the trend started by Congress prime ministers and inducted four former bureaucrats – two of whom, KH Alphons and Hardeep Puri, are yet to be elected to either House of Parliament – into his council of ministers, even though he had ample number of party MPs to choose from for these coveted ministerial berths. Though new inductees former IAS officer RK Singh and former IPS officer Satyapal Singh had both formally joined electoral politics in 2014 when they contested and won Lok Sabha polls from Bihar's Arrah and UP's Baghpat constituencies respectively, ex-IAS officer Alphons had quit the CPM and joined the BJP in 2011 while career diplomat Puri was so far just a BJP sympathizer.
Here's what you need to know about the former babus who will now take on political robes:
Hardeep Singh Puri – a career diplomat with a political past… and future
A retired IFS officer with a distinguished four-decade long career in diplomacy, 65-year-old Hardeep Singh Puri, has served as India's Permanent Representative to the United Nations both in Geneva (2002-2005) and in New York (2009-2013). He is one of the few Indians to preside over the United Nations Security Council and the only one to have chaired its Counter-terrorism Committee.
A 1974-batch Indian Foreign Service officer, Puri, most recently served as Vice President at the International Peace Institute and as the Secretary General of the Independent Commission on Multilateralism in New York. He was also India's envoy to Brazil and the United Kingdom.
The author of 'Perilous Interventions: The Security Council & The Politics of Chaos' Puri has had a brush with politics many decades ago when, before he joined the IFS, he was a student leader at Delhi University's Hindu College and participated in the JP movement.
He is known to share excellent relations with several BJP leaders though his induction into Team Modi, sources said, was formalised after a recommendation from Union finance minister Arun Jaitley.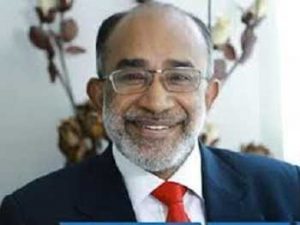 KJ Alphons –Delhi's demolition man
A retired IAS officer of the 1979 batch, Alphons Kannanthanam had made his entry into politics as an independent candidate backed by the CPM during his first election in Kerala in 2006. Though he won with the backing of the CPM, he ditched the party in 2011 to join the BJP. However, it was his stint in bureaucracy that had catapulted Alphons into the hall of fame.
Alphons had featured in Time magazine's list of 100 Young Global Leaders in 1994. During his stint in Delhi, as the as the Delhi Development Authority's land commissioner, he was known as the "demolition man" for his strong drive to remove encroachments from across the national capital.
Modi had cleared his appointment as the administrator of Chandigarh in 2016 but the order had to be withdrawn after protests from the then ruling Akali Dal government of Punjab.
Alphons has a good rapport with the politically crucial Syrian Christian community in Kerala as also with members of the Church in the state. The BJP has been desperate to make inroads into Kerala politics and the status of Alphons as a key Christian leader could bolster the BJP's poll prospects in the southern state.
Satyapal Singh – former Mumbai police commissioner who defeated veteran Ajit Singh in Baghpat
A former Mumbai Police Commissioner, Satyapal Singh was a 1980 batch Maharashtra cadre IPS officer who is credited with taking on the organised crime syndicates of Mumbai in the 1990s. In January 2014, Singh resigned from the force as Mumbai Police Chief and successfully contested the Lok Sabha elections on a BJP ticket from his home district of Baghpat, defeating Rashtriya Lok Dal chief Ajit Singh in his pocket borough.
Satyapal Singh had made headlines in 2016 with his allegations that the UPA government had wanted him to frame Prime Minister Narendra Modi in the Ishrat Jahan encounter case.
RK Singh – The babu who had ordered BJP veteran LK Advani's arrest 26 years ago
If BJP veteran LK Advani could sulk anymore over his fate ever since his acolyte Narendra Modi became Prime Minister and pushed him into political wilderness, he would possibly be sulking today over the induction of RK Singh as a minister of state in the Union council of ministers.
It was Singh who, 26 years ago while serving as a secretary in the then Lalu Prasad Yadav-led RJD government in Bihar, had placed Advani under arrest and stopped his famous Ram Rath Yatra. While the orders for Advani's arrest had been issued by Lalu Prasad, he had chosen RK Singh and IPS officer Rameshwar Oraon to stop Advani's rath yatra from Somnath in Gujarat to Ayodhya in Uttar Pradesh in October 1990.
Singh and Oraon were flown in a state government chopper early in the morning from Patna to Samastipur where Advani was putting up. It was RK Singh who knocked on the door of the Circuit House where Advani was staying and told the top BJP leader that he had a warrant for his arrest. Singh and Oraon then flew Advani to Patna and from there to the Masanjor guest house in Dumka district of what is now Jharkhand state.
Advani's rath yatra to demand a Ram temple in Ayodhya changed India's political landscape, just as the demolition of the Babri Masjid had and when, six years later, the BJP first came to power at the Centre, Advani served as the country's Home Minister and then deputy Prime Minister.
RK Singh went on to become the union home secretary under the Congress-led UPA government, and was known to enjoy the confidence of then home minister P Chidambaram, though the two often had differences on how the issue of terrorism and naxalism should be dealt with. Singh often advocated an all out aggressive approach to flush out and execute terrorists and naxalites.
After retiring from the IAS, Singh promptly joined the BJP in 2014. He contested and won from the Lok Sabha constituency of Arrah in Bihar.