Above: Illustration (Anthony Lawrence)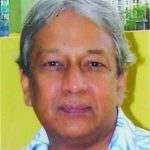 ~By Dilip Bobb
The phrase "Last Resort" has acquired a new meaning thanks to political brinkmanship Indian style where state legislators from one particular party are flown to a plush, secluded, five-star resort to prevent them getting poached (or scrambled, fried and boiled) by a rival party. The Congress has done it this time with its MLAs from Gujarat being hosted at the Eagleton Resort near Bangalore to keep them far from the sticky fingers of Amit Shah. Here's how they are spending their time.
Ist MLA: This is the life. Look at us, relaxing by the pool, sipping an umbrella-covered drink, our every wish fulfilled by the wave of a magic wand, being waited on hand and foot…talking of hand and foot, have you tried the spa? They have a special massage for us MLAs. It's called emassage.
2nd MLA: Does that mean it's a digital massage or something?
Ist MLA: No, they massage your ego, they assume all us politicians want our egos massaged.
2nd MLA: So they massage your head till it's sufficiently swollen?
Ist MLA: No, they have a team of people who bow and scrape and sing your praises, even carry a photo of you so it is visible through their shirt pocket…
2nd MLA: Sounds familiar, must try it.
3rd MLA: Thanks to the Congress party, we have created a Gujju heaven in the heart of Bangalore. I told them I could not eat dosa idli for breakfast and they served me dhoklas, the next day, tasted just like the one my mother makes.
4th MLA: This has nothing to do with the ego massage I had, but I was the one who complained about missing my Thepla, Locho and Khandvi, so they promptly flew down a Gujarati chef from a five-star hotel in Ahmedabad to make us feel at home.
5th MLA: That's nothing. I asked the Eagleton Resort people what they were offering us as live entertainment and they said they have anticipated our every need; they have flown in garba dancers. This is a riot.
1st MLA: Actually, they do not want us to riot, or revolt, which is why we are sitting here by the pool instead of jumping into the well of the assembly and throwing paper balls at the Speaker.
4th MLA: Talking of balls, has anyone tried the golf course, it's quite famous, you know.
2nd MLA: All I know about the game is that it is a great leveler. We are VIPs, so obviously it is not a game suited to our temperament. You also need to walk a lot carrying a large bag…
3rd MLA: I saw in the brochure that golfers have drivers.
5th MLA: That is something they hit the ball with, and not a chauffeur. This is a five-star golf resort, so they do provide electric golf carts you can move around in.
2nd MLA: Are the carts fitted with sirens and flashing lights?
4th MLA: You can always ask and it will be delivered, that's been our experience so far.  It can be confusing. I happened to say Kem Cho to one of the managers and a tray of Korean food arrived in my suite. He thought I wanted kimchi.
Ist MLA: We are so used to VIP treatment, like we are getting here, that I was so surprised to see the resort managers bowing and scraping in front of some guests who arrived today. Frankly, they didn't look like the types who stay in five star resorts; they even arrived in Ambassador cars!
2nd MLA: I was told they are Income Tax officials, must be on a tax holiday.
3rd MLA: The only jarring note is that they took away our cellphones when we checked in.
Ist MLA: Yes, it was to check our recent phone records to ensure there were no calls from and to Amit Shah. Unfortunately, my brother-in-law is also named Amit Shah and he's always calling me to complain about my sister who keeps badgering him, asking him when he will be as powerful as the original Amit Shah and why his assets have not increased by 300 percent in two years. I had to call him and put him on speaker so the Congress handlers could see I was telling the truth.
2nd MLA: Did you mollify your brother-in-law?
Ist MLA: I had to bribe him
2nd MLA: How?
Ist MLA: I promised him a free stay in Eagleton Resort…