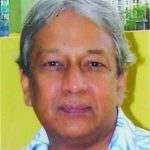 ~By Dilip Bobb
There's magic in the air these days, and Gogia Pasha and PC Sarkar, both lamentably late, have nothing to do with it. The new magic has extraordinary powers which are more temporal than spiritual although it does create mass hypnosis which convinces mass gatherings, like election crowds, for instance, to blindly believe in the superhuman powers of the performing artist. A visit to a Magic Mall reveals the secret props that magicians use.
Visitor: What are these strange objects you are selling? They look like miniature round tables.
Stall Owner: You have excellent eyesight, these are also called toadstools, but the tables have turned. What you see here are magic mushrooms.
Visitor: Mushrooms sound much better than toadstools, but what's so magical about them?
Stall Owner: Fair question. You need to consume just five mushrooms a day and you will acquire a wheatish complexion, like in the matrimonial ads. Forget Fair and Lovely, magic mushrooms are the best way to turn dark skin into fair.
Visitor: How much do they cost?
Stall Owner: The magic ones are imported from Taiwan and they cost Rs 80,000 a piece.
Visitor: Rs 4 lakh a day! Who can afford?
Stall Owner: Prime Ministers. Those who want to appear fair.
Visitor: What's your name, I need to report you to the Consumer Protection Agency.
Stall Owner: Alpesh Thakore, a humble OBC from Gujarat.
Visitor (moving on): What is on sale here? They look like instruments of torture.
Stall Owner: Chest expanders. In no time, you will have a 56 inch chest.
Visitor: Imported?
Stall Owner: Make in India. A 56 inch chest gives you added confidence and stature and allows you to rub shoulders and pump fists with the most powerful people in the world.
Visitor: Why 56?
Stall Owner: It's the magic number. You are certified as a political heavyweight.
Visitor: What stall is this, all I see are empty bottles?
Stall Owner: These are empty vessels, they make the most sound, ideal for campaigning. These ones look empty but they are full of hot air, also ideal for campaigning.
Visitor (moving on): These little blue pills look familiar.
Stall Owner: They are for energy, you can keep going for hours.
Visitor: That's what I use them for, at my age…
Stall Owner: No, they are not what you are thinking. These allow you to sleep just four hours a day, alone, be in Hyderabad in the morning, hold four rallies in Gujarat, attend an official lunch in Delhi, afternoon tea in Mumbai and be back in Delhi by midnight, all without any sweat and still full of energy.
Visitor: This is not a Patanjali product is it?
Stall Owner: No, it is Make in India but it's all to do with magic, as in magic potion.
Visitor: And what is this stall? Those look suspiciously like life-sized targets used by special forces while training in a shooting gallery?
Stall Owner: Yes, it's for attacking your enemies, no holds barred. The shooting gallery has specific targets and underground platforms so you can stoop as low as you want. Magical stuff.
Visitor: This is an interesting stall. I see some sort of potion or liquid swirling around in glass beakers. Is this a science lab?
Stall Owner: No sir, this is called the Amit Shah collection. The liquid is called the Magic Formula, with this, you can win any contest, eliminate any enemy, see into the future…
Visitor: What are those objects, I see a bit of curved steel and a wanted poster…
Stall Owner: Winning by hook or by crook.
Visitor: Now this is interesting, a seaplane?
Stall Owner: Yes, it's never been seen in India before. Like the bullet train, it will revolutionise transport in the country, or in Gujarat at least.
Visitor: Can't we first fix the transport we have, the railways, the buses…
Stall Owner: It's called leapfrog technology. With the seaplane, you can leap over frogs, dogs, dams, Election Commissions, anything that comes in your way.
Visitor: Now this is the most interesting stall I have seen so far. It looks like the office of a political party. Tell me, what are you selling?
Stall Owner: Modi magic. It's in great demand these days.