The Supreme Court will pronounce its order tomorrow in a batch of petitions seeking a court-monitored investigation into the alleged Pegasus snooping scandal. 
On September 23, the Supreme Court had said that it was planning to set up an expert committee to investigate allegations that the Central government snooped on political leaders of opposition parties and journalists using Israeli spyware Pegasus.
Chief Justice of India N.V. Ramana had also disclosed that some experts had expressed their inability to be part of the committee due to personal reasons, which had led to the delay in passing an order by the apex court in this regard.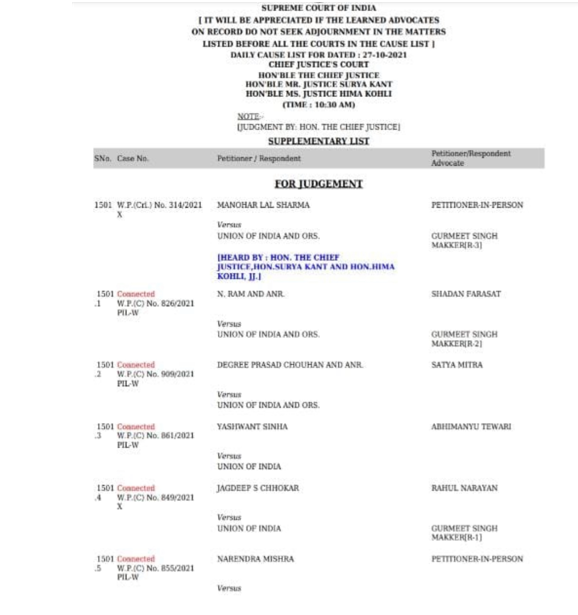 The apex court had reserved its interim order in the matter on September 13. Israel-based spyware firm NSO had earlier claimed that it sells its Pegasus spyware only to "vetted governments" and not to private entities, while refusing to provide details regarding the governments, which bought the controversial product.
An international consortium, including Indian news portal The Wire, had released a series of reports indicating that Pegasus may have been inserted into the mobile devices of several persons including Indian journalists, activists, lawyers, officials, a former Supreme Court judge and others.
The reports further revealed a list of phone numbers that were selected as potential targets. Upon analysis by a team from Amnesty International, some of these numbers were found to have traces of a successful Pegasus infection, while some showed attempted infection, the reports had said. A slew of petitions were filed before the top court, seeking a probe into the allegations.
On August 17, the Court had issued notice to the Centre in the pleas after the Union submitted that it was willing to give details regarding the controversy to an expert committee, but will not make it public before the Court for fear of national security implications.
While doing so, it had questioned the Central government as to why a detailed affidavit could not be filed in response to the petitions filed before the Court. The Court had eventually reserved its order, saying that it will pass orders without the Centre's affidavit.