With the Gandhi scion likely to take over the presidentship in October, it waits to be seen if he can enthuse party workers and give the BJP a run for its money in the 2019 general polls
~By Kalyani Shankar
Rahul Gandhi was elected vice-president of the Congress Party in Jaipur on January 20, 2013, with much fanfare. His acceptance speech at the AICC meeting was rare and emotional. "The Congress Party is now my life. The people of India are my life," Gandhi declared, adding: "And I will fight for the people of India and for this party. I will fight with everything."
Amidst applause, he also highlighted the problem of over-centralisation of power, brazen corruption, women's rights and alienated youth who are "excluded from the political class" as they watch from the sidelines. But nothing has changed so far.
There has been speculation every few months that Rahul will be elevated as party president. After Sonia Gandhi fell ill in 2016, it has intensified. Now he is likely to take over after completion of the party elections in October. Sonia has been the party chief since 1998, creating a record in the party history. If and when Rahul takes over (it is only a matter of time), he will be the fifth member of the Gandhi clan who will hold the reins of the party. For the past 70 years since Independence, the Gandhis, be it Jawaharlal Nehru, Indira Gandhi, Rajiv Gandhi or Sonia, have headed the party for 59 years. The Gandhi family treats the party as its fiefdom because it gets the votes but this magic is disappearing slowly.
So why is there a delay in making Rahul the party president? Ever since Modi came to power, many observers fear that the Congress is on the verge of extinction and only a strong and inspiring leader can save it. Some want Rahul's charismatic sister, Priyanka, to take over the reins. The old guard prefers continuance of Sonia Gandhi, while Rahul's supporters want him to take over soon. Others want an end to the Gandhi family's control of the party.
As a seasoned politician, Sonia is acutely aware of the reluctance of the old guard to wholeheartedly accept Rahul as the party chief. There are about 150 leaders holding important positions and she is trying to strike a smooth transition without upsetting the applecart. There was certain unease amongst the veterans over Rahul's elevation. But they are now resigned to his taking over the party and he too appears to have realised that he cannot jettison them.
While Sonia Gandhi took over the party in 1998 when it was downhill and brought Congress to power in 2004 and 2009, Rahul has missed several opportunities to prove his mettle since he joined politics in 2004. Unlike Sonia who managed to overcome the hurdles with persistence and hard work, Rahul has not shown the same determination to learn on the job. For that, he needs to become a 24/7 politician, connect with the masses, dig deeper into some big ideas he touched on in his acceptance speech in 2013 and talk in real terms about how to solve India's challenges. He has failed so far.
Rahul also keeps disappearing now and then, leaving the party confounded. He has again done the disappearing act for an undisclosed period of time when many issues are rearing their head, including the presidential elections and farmers' agitations.
If Rahul takes over, can there be more disadvantages than advantages? No doubt he is young and has grown up listening to discussion of politics at the family dinner table and has several other advantages over the younger leaders in the party. Moreover, the Gandhi family is seen as a uniting factor. He has the advantage of a united party behind him with no challengers.
However, many Congressmen are not confident that Rahul's elevation will politically, organisationally and electorally benefit the party. It is his fault that he has not been able to enthuse the party and voters. The Congress has been slipping and is now ruling in only six states while the BJP has captured 17 states. Since 2013, the party has lost key elections in almost all states except Bihar and now Punjab. These include Maharashtra, Haryana, Assam, Gujarat, Jharkhand, West Bengal, Jammu and Kashmir, Andhra Pradesh, Telangana, Odisha, Tamil Nadu, Uttar Pradesh, Uttarakhand, Manipur and Goa.
Rahul has virtually been in control since 2013 and his decisions had often been passed off as Sonia Gandhi's orders. It was he who decided on tickets, appointments and even strategy. It was Sonia's goodwill, her experience, her maturity and her comfort with the rank and file which helped the party so far. Even the old guard fell in line. But once Rahul takes over, all this will change as he will have to take responsibility for all his experiments—good or bad. Sonia is expected to play the role of a mentor only.
Also, opposition parties have been rallying around Sonia on major issues till today. Senior leaders from other parties like M Karunanidhi (DMK), Jyoti Basu (CPI-M), Sharad Pawar (NCP) and AB Bardhan (CPI) had accepted her as the UPA leader in 2004. Rahul does not have the same advantage as most opposition leaders are much senior to him and they also do not have the same confidence in him. Rahul is seen as a failed politician. He could have become a minister in the Manmohan Singh government and even prime minister after the 2009 victory. Sadly, he has not even emerged as a good opposition leader since 2014. He is not even a good parliamentarian. He has poor communication skills, does not choose the right issue at the right time and his attempt to develop the image of an angry young man has not clicked.
In December 2013, soon after the Congress lost four key states in assembly elections, Rahul promised a transformation of the organisation "in ways beyond imagination". Today, four years later, after the party's rout in Uttar Pradesh, he declared that the Congress needs to make structural and organisational changes. But nothing has changed. After the loss of UP this year, he spoke of bringing about "structural changes". In the recent assembly polls in five states, though the party emerged as the single-largest party in Manipur and Goa, it could not form the government largely due to poor negotiations. Punjab emerged as a consolation prize.
So what should Rahul do to succeed and will he succeed at all? The first thing is to boost the morale of the party workers and choose a balanced team. He should check the erosion of senior leaders to the BJP and get rid of the rootless wonders like Sanjay Nirupam, Madhusudan Mistry and Mohan Prakash and develop good second-rung leaders in states.
He also needs to be clear about what the party stands for, where it is going and what more needs to be done to emerge, first as an effective opposition, and then, capture power in the 2019 polls. Meetings like Chintan Shivar in Shimla or Pachmarhi might help. As Modi-bashing and secular/communal planks have not worked so far, the party has to change its narrative. It needs to rewrite its ideological agenda.
Also, as a good general, he should prepare the party for the upcoming polls to eight states in the next two years, including Gujarat, Himachal Pradesh, Madhya Pradesh, Rajasthan, Chhattis-garh and Karnataka where the Congress is in direct fight with the BJP. Of these, Karnataka is a Congress-ruled state, while in others anti-incumbency is staring at the BJP chief ministers.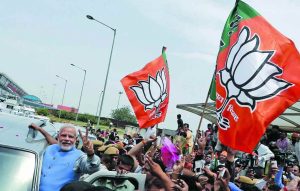 The Congress also has to decide whether it should go for coalition partners or go it alone. If it is the former, the Congress needs to not only keep the present allies in good humour in the UPA, but also look for credible new ones for the future.
Rahul should also decide about an effective poll strategy to deal with the burgeoning BJP. There have been several worrying factors for the Congress, including the BJP's sustained efforts to woo the poor and Dalits who have traditionally supported the Congress. It is also making deep inroads into Congress bastions in the North-east in the last four years. It is going to be very difficult for the Congress to match its organisational skills, money and muscle power and good communication strategy. Rahul's magic is nowhere near Modi's magic and the next two years are crucial for the Congress.
Rahul has age on his side and if he can learn from his past mistakes, he can still emerge as an effective leader. Though he wears a crown of thorns presently, he needs luck to be on his side.