Illustration: Anthony Lawrence
In a landmark judgment, the Uttarakhand High Court has abolished the practice of solitary confinement of death row convicts
~By Usha Rani Das
On a February night in 1998, Mohammad Aamir Khan was just 18 years old when the police in Delhi picked him up. They slapped 19 cases against him; the charges included murder, terrorism and waging war against the nation. It wasn't until 14 years later that Khan was able to prove his innocence and walk out of the prison a free man. He was often placed in solitary confinement in the Tihar and Ghazia­bad jails; his only encounters with the outside world were when he was escorted out of the prison for court hearings. "I saw the lights of the tower and heard the sound of the boots of the guards and I thought my entire life would pass within these walls," he writes in his book, Framed as a Terrorist: My 14-Year Struggle to Prove My Innocence.
Solitary confinement—"the hole" as it is referred to in jails—has been internationally recognised as a form of torture and experts, legal, behavioural and medical, believe it can lead to more problems rather than remedies. Now India, too, is taking steps to abolish the appalling practice.
In a landmark judgment, the Uttarakhand High Court on April 28, 2018, abolished the practice of keeping death row convicts in isolation immediately after their sentencing. The division bench of Justices Rajiv Sharma and Alok Singh noted that solitary confinement was an "anarchic and cruel practice which amounts to torture and can cause immense pain, agony and anxiety" to inmates. It added: "The convict shall not be segregated till the sentence of death has become final, conclusive and indefeasible which cannot be annulled or voided by any judicial or constitutional procedure." It further said that the period to keep a convict sentenced to death in isolation should be for the shortest possible time i.e. two to three days before execution of the sentence and should be done only after the convict has exhausted all the possible options to the highest levels including an appeal in the Supreme Court and a mercy petition to the president.
Nelson Mandela Rules for solitary confinement
The United Nations Standard Minimum Rules for the Treatment of Prisoners (the Nelson Mandela Rules), adopted by the UN General Assembly on December 17, 2015, after a five- year revision, states:
In no circumstances may restrictions or disciplinary sanctions amount to torture or other cruel, inhuman or degrading treatment or punishment. The following practices, in particular, shall be prohibited:
Indefinite solitary confinement;
Prolonged solitary confinement (confinement for a time period in excess of 15 consecutive days);
Placement of a prisoner in a dark or constantly lit cell.
Solitary confinement shall be used in exceptional cases as a last resort, for as short a time as possible, subject to independent review, and only pursuant to authorisation by a competent authority. It shall not be imposed by virtue of a prisoner's sentence.
The imposition of solitary confinement should be prohibited for prisoners with mental or physical disabilities when their conditions would be exacerbated by such measures.
Just a week earlier, in another case involving solitary confinement, Neeraj Bawana, an undertrial gangster, was shifted from solitary confinement to a regular ward under a Delhi High Court order. The Court on April 20, 2018 directed the Tihar Jail administration to shift Bawana as it felt that complete and constant isolation of a prisoner could drive him to total insanity.
Additional Sessions Judge Tarun Sherawat noted that Bawana had been kept in "the hole" for more than six months without any order from competent authorities. "It is a matter of common knowledge that complete and constant isolation of a prisoner may lead his mind to total insanity, and it can actively cause disaster to his physical and mental health…" He directed the jail administration to shift "the accused immediately from his separate confinement to some other secure ward, so that he could move, talk and share company with other co-prisoners."
Supreme Court advocate Ajay Verma told India Legal: "A prisoner is kept in solitary confinement abiding by all the rules which are mentioned in the Prison Manual." But there have been lapses by the jail authorities in several cases where prisoners have been kept in solitary confinement without following any proper procedure.
Khan writes in his book that he was tortured and was not allowed to meet anybody for months while in solitary confinement. Bawana, who has been chargesheeted in various cases including offences under the Maharashtra Control of Organised Crime Act (MCOCA), has also alleged being kept in inhuman conditions in the prison. He went on hunger strike on March 19 and filed an application in the Court asking the jail authorities to provide him facilities including proper food, medicines, a TV set or else shift him from his solitary cell in the high-risk ward of the jail.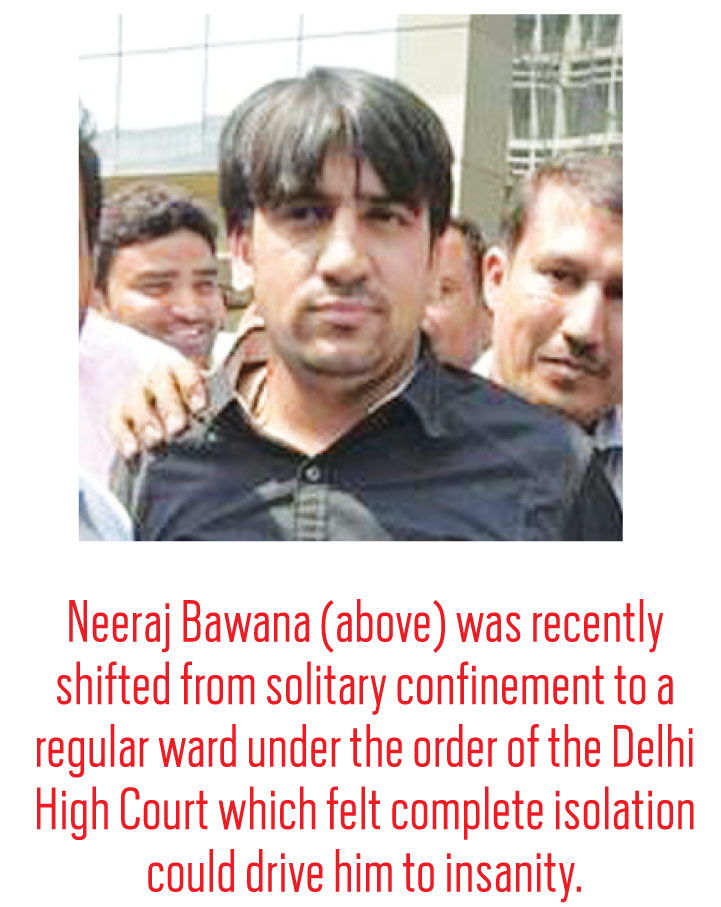 Only last month, the National Human Rights Commission, in a report on allegations of torture of SIMI men by officials in Bhopal jail, said that "the prisoners testified to being kept in solitary confinement in 5×8 feet cells without fans, from where they were let out for only a few minutes a day for filling water and cleaning the area outside. This had led to behavioural disorders like anxiety, depression and frustration, resulting in some of them turning aggressive." These incidents point to gross violation of the fundamental rights of the prisoners.
Dr JM Wadhawan, psychiatrist at Sir Ganga Ram Hospital, told India Legal: "A prisoner in solitary confinement is deprived of any stimuli from the outside world. We as a human being need to have some social contacts. It has been reported that they crave to share anything with anybody and anything. There have been incidences where people lie on the floor for days, trying to feel any vibration. They try to listen to anything. They often suffer from anxiety, stress and depression. Isolation affects them psychologically and physiologically also."
Delhi Jail Manual on solitary confinement
No prisoner should be placed in solitary confinement until the medical officer certifies on the history-ticket that he is fit to undergo it.
The execution of a sentence of solitary confinement need be postponed on account of an appeal having been lodged.
Every prisoner undergoing solitary confinement shall be visited daily by the Medical Officer.
Any prisoner undergoing solitary confinement shall, under the orders of the Medical Officer on the ground that continuation of such confinement would be likely to prove injurious to mind or body, be forthwith removed from the cell or place in which he is confined. The Medical Officer shall make a record of the order in his journal.
If a prisoner sentenced to solitary confinement be declared by the Medical Officer to be permanently unfit to undergo such confinement, the fact shall be reported to the court which awarded the sentence.
Each cell for solitary confinement should have a yard attached where the occupant can have the benefit of fresh air without the means of communicating with any other prisoner and suitable means for ablution and sanitation should also be provided.
Even the Uttarakhand High Court order cited studies which found convicts in isolation suffered from palpitations, insomnia, back and other joint pains, deterioration of eyesight, poor appetite, diarrhoea, weakness, schizophrenia, and self-harm and suicidal tendencies.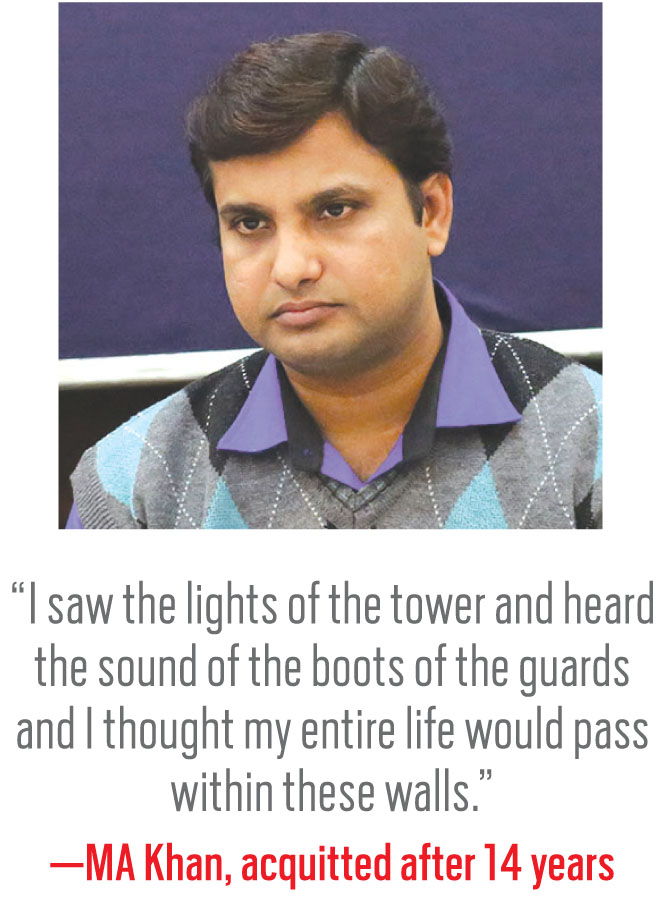 On March 31, 2014, a Supreme Court Bench consisting of the then Chief Justice of India, P Sathasivam, and Jus­tices RM Lodha, HL Dattu and SJ Mukhopadhaya commuted the death sentence of Devenderpal Singh Bhullar, convicted in the 1993 Delhi bomb blast case that targeted the then Youth Congress President, Maninderjeet Singh Bitta, on grounds of delay of eight years in disposing of his mercy petition and his mental illness. Medical reports say that Bhullar suffers from schizophrenia.
Referring to the apex court's ruling in Shatrughan Chauhan & Anr vs Union of India and Ors that "unexplained and inordinate delay in deciding the mercy petition is a ground for commutation of death sentence to life imprisonment", the bench also took note of his mental illness. It said: "The patient has been diagnosed with severe depression with psychotic features (treatment refractory depression) with hypertension with dyslipidemia with lumbo-cervical spondylosis with mild prostatomegaly. He is currently receiving anti-depressant, anti-psychotic, anti-anxiety, anti-hypertensives, hypolipaedemic, anti-convulsant (for neuropathic pain) and antacid drugs in adequate doses along with supportive psychotherapy and physiotherapy. Patient has shown partial and inconsistent response to the treatment with significant fluctuations in the severity of his clinical condition."
In January 2014, a three-judge bench headed by Sathasivam had commuted the death sentence of 15 death row convicts. One of the reasons cited was "death-row prisoners lost their mental balance on account of prolonged anxiety and suffering experienced on death row" due to solitary confinement.
Bhupendra Singh, Additional D-G, Prisons, Rajasthan, told India Legal: "A prisoner is kept in solitary confinement when he is a possible danger to himself or to others. Though I do not have much experience with solitary confinement, there have been reports where a person commits suicide in the solitary cell. This might have an impact on others."
"Arrests have to be minimised"
Prof NR Madhava Menon, Founder Director of National Law School of India University, Bengaluru, outlines a key reform in the criminal justice system
An October 2017 report in The Times Of India stated that over 300 aged inmates continue to languish in Tamil Nadu's jails with several health problems. Some had become blind and deaf, some suffered from chronic illnesses and others were paralysed. Compassionate, medical, or geriatric prisoner release laws have been around since the 1980s but are rarely used.
Prof NR Madhava Menon told India Legal: "Reforms needed here are minimising arrest, not to arrest without a warrant unless it is a very serious offence, make bail as liberal as possible and ensure that undertrials, senior citizens and disabled prisoners who are entitled to leave are released on time."
There is a view that those who are 75 years and above and are not charged with any heinous crimes and are not serial offenders should not be arrested and put in jail for their first offence. There is also the issue of the high medical costs that prisons have to bear to support aged inmates.
But the fact that it is often carried out as a form of torture cannot be denied. Sana Das, coordinator of the Prison Reforms Programme at the Commonwealth Human Rights Initiative, wrote in a newsletter: "Solitary confinement is a shortcut to the socio-psychological 'death' of prisoners. It has severe, adverse and irreversible psychological impact. It induces a psychiatric disorder characterized by hypersensitivity to external stimuli, hallucinations, panic attacks, cognitive deficits, obsessive thinking, paranoia, and a list of other physical and psychological problems… It is counter-productive to the purposes of both prison discipline and correction. Inmates become more aggressive and are more prone to commit violent crimes post-confinement, thus increasing recidivism. Moreover, it undoes the correctional spirit by which modern prison systems are to conduct themselves."
In a report in the Economic and Political Weekly on April 7, 2018, the Persecuted Prisoners Solidarity Committee (PPSC) condemned the arbitrary and illegal manner in which the undertrials arrested following the crackdown on the Mazdoor Sangathan Samiti (MSS) were kept in solitary confinement in Giridih Central Jail. The MSS, a registered trade union, was banned on December 22, 2017 by Jharkhand, following which people were arrested and kept in solitary confinement since March 23, 2018. The prisoners went on a hunger strike following which the jail authorities have allowed them to mingle with others twice a day for two hours. The report states: "This continues to be in violation of the constitutional and statutory rights of prisoners as guaranteed by the law of the land. According to information received from the relatives of these prisoners, the cells in which they have been kept are unclean and without any basic facilities. Relatives have been prevented from giving them basic items like mosquito repellents, food and clothes. The number of visitors and frequency of visits have also been arbitrarily curtailed."
Internationally, solitary confinement is recognised as a form of torture and India is a signatory to the Convention against Torture and Other Cruel, Inhuman or Degrading Treatment or Punishment, 1987. In 2011, United Nations experts called on all the countries to ban solitary confinement of prisoners except in very exceptional circumstances and for as short a time as possible. But the practice continues unabated around the world.
Said Das of the Commonwealth Human Rights Initiative, "The power to place a prisoner in excessive hours of lock-up, deprived of any form of communication, mobility and access to amenities and facilities provided in prison, solitary confinement is a dehumanising power. It places unbridled power in the hands of prison authorities to apply excessive use of force on a person consigned to safe custody under their supervision. It dehumanises a prisoner and prevents his treatment as a 'person'. In short, solitary confinement violates the very right to life with dignity."
Going by the book
Convicts are kept in solitary confinement under Sections 73 and 74 of the Indian Penal Code under the order of a court
Section 73 states: "…the offender shall be kept in solitary confinement for any portion or portions of the imprisonment to which he is sentenced, not exceeding three months in the whole, according to the following scale, that is to say—a time not exceeding one month if the term of imprisonment shall not exceed six months; a time not exceeding two months if the term of imprisonment shall exceed six months and 1[shall not exceed one] year; a time not exceeding three months if the term of imprisonment shall exceed one year."
Section 74 states the limit of confinement: "In executing a sentence of solitary confinement, such confinement shall in no case exceed fourteen days at a time, with intervals between the periods of solitary confinement of not less duration than such periods; and when the imprisonment awarded shall exceed three months, the solitary confinement shall not exceed seven days in any one month of the whole imprisonment awarded, with intervals between the periods of solitary confinement of not less duration than such periods."
In 2016, the then President of the United States, Barack Obama, wrote in The Washington Post: "The United States is a nation of second chances, but the experience of solitary confinement too often undercuts that second chance. Those who do make it out often have trouble holding down jobs, reuniting with family and becoming productive members of society. Imagine having served your time and then being unable to hand change over to a customer or look your wife in the eye or hug your children… How can we subject prisoners to unnecessary solitary confinement, knowing its effects, and then expect them to return to our communities as whole people? It doesn't make us safer. It's an affront to our common humanity."
It is high time prisoners are treated as human beings and given the freedom to live their lives with dignity in jail. The Uttarakhand HC has taken a step in the right direction.