The Gogoi Factor
Law Minister Ravi Shankar Prasad's statement not to doubt the government's intention in selection of the next Chief Justice of India, and his clarification that the choice of who succeeds him would be left to the incumbent, Justice Dipak Misra, seemed reassuring. By convention, that would mean Justice Ranjan Gogoi, the senior-most Supreme Court judge. Yet, doubts have risen after Gogoi joined three other judges to hold an unprecedented press conference attacking Misra and the way the Supreme Court was being run. Now it appears that the government's decision to steer clear of the issue is more to do with the 2019 elections—Gogoi is a role model and hugely popular in Assam and any move to deny him the post of CJI will have a negative effect on the BJP's electoral performance. In fact, as the first judge from the region to become CJI, his elevation will have a favourable impact on the entire north-east. This was the advice given to the Prime Minister and Amit Shah by Assam chief minister Sarbanana Sonowal which prompted the clarification by Prasad.
Split Spat
Who is in charge of the finance ministry? Officially, and on the ministry's website, it is Piyush Goyal who has been given charge by the prime minister. Unofficially, it is Arun Jaitley who has his loyalists in the ministry and refuses to relinquish what he considers his turf. In fact, when Goyal was given charge, he had the nameplate on the office door removed, intending to replace it with his own. Jaitley's loyalists quickly had the nameplate restored. Since then, Jaitley, who is confined to his bedroom while recovering from his kidney transplant, has been highly active on social media, commenting on the economy and firing digital broadsides against the Congress. The turf battle has reached epic and hilarious proportions. For every conference or meeting that requires the presence of a senior bureaucrat from the finance ministry, two turn up, one sent by Goyal and another representing Jaitley. Jaitley will be out of action for another month at least, so till then, it will be split infinitive.
Twitter War
An apologist for Narendra Modi till not so long ago, Madhu Kishwar has become a vocal critic of the centre and its policies. However, her criticism, much like her praise for Modi's handling of the 2002 Gujarat riots and its aftermath, seems to be based on bizarre notions. This, even as her ideological affiliation remains firmly in line with the hardline Hindutva agenda of the BJP-RSS combine and she continues to target liberal voices of all political hues in the most vile manner on Twitter.
External Affairs Minister Sushma Swaraj was Kishwar's latest target on Twitter after she failed to get a British visa to travel to London for some lectures starting June 20. Consistent with her habit of peddling fake news, Kishwar tagged Swaraj and went on a rant about how she "discovered" that the British government had frozen all (Indian) visa applications "because of some khit-pit between GOI and Britain" without forewarning the Indian citizens about this decision. Kishwar wondered if this stalemate over her visa application was the result of "hugplomacy" (a reference to Modi's style of hugging all foreign dignitaries) and demanded that she get a refund of the visa fee.
Kishwar's lie was nailed by the British High Commission which pointed out that there was no freeze on processing Indian visa applications for Britain but high volume of such applications due to the summer vacation rush was causing delays in the process.
Priyanka's Passion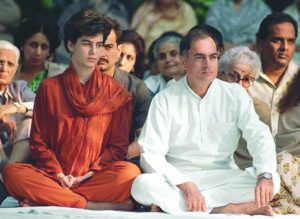 Her absence is being keenly felt at a politically sensitive time, but there is a good reason why Priyanka Gandhi has been missing in action. She has been busy putting together a coffee table book on her late father, Rajiv Gandhi. She has already collected some rare photographs of him as a family man, father, husband and Indira Gandhi's son, and added quite a few from his political life that have not been widely seen. It is not a new project. She started work on the book three years ago and has spoken to many of Rajiv's friends, schoolmates and colleagues for their memories of the former Prime Minister, the youngest to ever hold the post. Publishers got a whiff of what she was up to and there was frantic lobbying and tempting offers made to Priyanka who was only interested in dealing with a professional publisher who would ensure that the quality of printing met international standards. Penguin finally got the nod and initial work has already started. The book will be ready for release in December. The grape­vine has it that the book will be released by the late PM's widow, Sonia, Priyanka's mother, in front of a very select gathering.
Absent While Present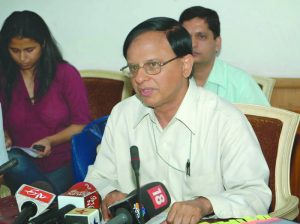 Even before the recent red flag was raised by the SPG over the security threat to the prime minister, which advises restricting his movement and even meetings with politicians, ministers of the NDA government were being avoided anyway. It seems that for the last few weeks, ministers who sought an audience with the prime minister were given a date and time, only to find that when they reached his office, they were met by PK Mishra, designated as additional secretary in the PMO but the most powerful bureaucrat in the country. It is Mishra who hears them out and then they leave without any sign of the PM, just an assurance from Mishra that their message/complaint/suggestion will be passed on. Such a situation is typical Modi—under him, bureaucrats run the show and are more powerful than any minister. Mishra, who served under Modi in Gujarat, is his eyes and ears, and his clout is unquestioned.
Outsider Job
There is never a dull moment in the affairs of the Congress party in Kerala, whose leaders are known to be more keen to fight each other than their political opponents. What has got partymen locking horns now is the appointment of one Srinivasan Krishnan as an AICC secretary and given charge of a crucial state like Telengana.
Srinivasan who? Most state party leaders wondered. It turns out the worthy is a close aide and business associate of Robert Vadra, brother-in-law of Congress President Rahul Gandhi. The appointment has raised the hackles of Kerala party leaders with the former state Congress chief VM Sudheeran alleging that Rahul Gandhi had appointed him on the recommendation of his brother-in-law Robert Vadra. "Srinivasan had worked as a director for many years in Vadra's company, and he was given the Congress post as a 'gift'," said Sudheeran, who was once a close ally of Rahul.
Healthy Competition
The war between the Congress and the BJP as the 2019 polls approach has acquired strange dimensions. This time, the competitive politics is to do with a multi-specialty hospital in Rourkela in Odisha. The Prime Minister had promised to build the hospital during his 2014 election campaign but then forgot about it. A local resident brought the issue into focus when he walked 1350 kilometers from his village in Rourkela to New Delhi, to remind Modi of his 2014 election promise. Media channels were quick to highlight the unique protest and it gave the Congress an ideal weapon. Party president Rahul Gandhi announced on Twitter that his party "will keep the PM's promise for him". The Congress plans to raise at least Rs 20 lakh through an online campaign and leaders Ahmed Patel, Jyotiraditya Scindia, Milind Deora, Jitin Prasada, Randeep Surjewala have tagged potential donors. If they can raise the money and start work on the hospital, it will be embarrassing for Modi and the BJP, especially in Odisha where the Congress is hoping to make a comeback in 2019.