The protest meeting on Press Freedom at the National Press Club on June 9 turned out to be a huge affair, with some of the best media names of the country lashing out at not just the CBI raid on NDTV, but also on the atmosphere of suppression in the country at the moment.
The general consensus was that silence was not an option today and the media should not again "crawl" as LK Advani had described it once during Rajiv Gandhi's time. The doyen of legal India, Fali S Nariman, said: "Freedom after speech is what freedom of speech is all about."
Here are some special comments from the meeting:
Rajdeep Sardesai (senior journalist): "I believe in the present atmosphere, silence is not an option… we have to be on the right side of history."
HK Dua (Former Rajya Sabha Member): "Last time, most of the press community did not stand up. They crawled, as Advani famously said. Then came the defamation bill. We got together, it became a national movement. Rajiv Gandhi sought talks but we refused. The unity of the press won the battle. The bill had to be withdrawn as the people were against it. Similar signs are visible now… This is a wake-up call, we have to be vigilant and cautious of such attacks."
Fali S Nariman (eminent jurist): Freedom after speech is what freedom of speech is all about… No one is immune from being prosecuted under a criminal offence, but the manner, circumstances give me reason to believe all of this is unjustified attack on press and media freedom. On June 2, an FIR is lodged by the CBI, seven years after the event… Not on any discovery of its own, but information supplied by one individual Sanjay Dutt… Why was it not brought to light earlier, was not mentioned earlier in the complaint? The CBI did not bother to find out.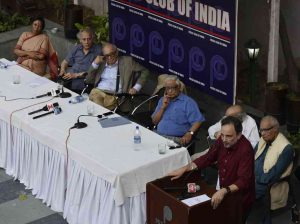 "The first thing the CBI is expected to do, once such a  complaint is filed, is seek NDTV's response. But that wasn't done. When any government agency files a complaint against a media company, it must first enquire from the owners what they have to say in the matter before conducting raids… This is not a matter of courtesy or favour, but a constitutional duty.
"It is important to mark the events preceding the letter and raids. On June 1, when Sanjay Hazarika was speaking on an NDTV show, Sambit Patra interrupted and said: 'I interrupt people only on NDTV, and I need to do that because NDTV has an agenda.' It was after these allegations by Patra that the offices and residences were raided.
"There were similar attacks on the media under Mrs Indira Gandhi. About 120 criminal complaints were filed against The Indian Express for not filing returns. Ultimately we won in the Supreme Court… Whenever there is a majoritarian government, there is this tendency. We must resist it."

Aroon Purie (Editor-in-Chief, India Today Group): (The message sent by him was read out at the meeting) "I strongly believe the freedom of the media is inviolable in a democracy… Such a move also undermines basic tenets of free speech."
Kuldip Nayar (senior journalist): "During the Emergency, nobody had to tell anybody what to do. Everybody knew what to do… The Indian Express became the symbol at the time… Today, when we are facing more or less the same situation—not to that extent—all of us have to ensure we don't allow anybody to muzzle free speech.
"Press is the foundation of democracy. Idea of India is democratic and secular. Let us commit ourselves to the idea of India."
Raj Chengappa (senior journalist): "We are deeply concerned of what has happened. Any attack or raid is a serious threat particularly if residences and offices are being raided in such a manner."

Arun Shourie (former minister, and former editor): "I must express deep gratitude to Narendra Modi. He has brought so many friends together… I have a couplet for him: 'He who was occupying this throne before you. He also had a similar belief that he was God.' First they used incentives like ads, then a subterranean atmosphere of fear. Now, they are using a third instrument of overt pressure.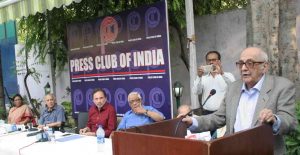 "They have made NDTV an example of that. This will intensify in the coming months because of the nature of the regime—its genes are totalitarian. Anybody who has tried to lay a hand on the press in India, has had their hand burnt… The CBI has not been able to answer the facts put out by NDTV. There is even an article on The Wire. The facts are irrefutable… You must help your friend because they will try to divide. Do not become instruments… Nothing demoralises more than not having the support of the peers. I have seen this in civil service… It is my grievance against my colleagues in the press that we haven't been as vigilant as we should have been… It is very sad we have not reacted the way we should to the choking of the RTI.
"Raj (Kamal Jha) told me almost all RTI applications of The Indian Express are being rejected these days. Only in appeal stages do they get access… Narendra Modi has a whole team in his office led by a boy called Hiren Joshi who keeps a watch on social media. That is his weakness… You must raise your voice on social media…
"Some people think by giving ministers air time, they will have protection during a crisis. But this is not true… This government is not a government of ministers. Yeh dhai aadmio ki Sarkar hai… During the Defamation Bill struggle, we effectively used boycott as a useful approach against Rajiv Gandhi's ministers… Thatcher said publicity is the oxygen of terrorists. I say it is also of ministers… Every time something inconvenient happens, the government tries to distract the attention. Don't become instruments of distracting your readers and viewers.
"Redouble the work that is annoying the government. We have only three protections: our solidarity, the court, the protection of our own readers and viewers.
"One day people will understand the difference between what the government advertises and what it does on the ground. And that is the reason why it suppresses all dissenting voices.
"We should stand up against every attempt at suppression of the media anywhere in the country.
"Report any attempt by the government to undermine the judiciary."
Om Thanvi (senior journalist): "If the media is not united today, this can happen to anybody… What has happened is not new. Has happened a lot during the Congress days, Atalji's days… When Modi government completed 3 years, Ravish Kumar did an entire show to call out their lies… The time to fight has come. And journalists should fight by themselves."

Shekhar Gupta (senior journalist): "It is one of those times when we have to forget our organisational and institutional affiliations. This is an issue that concerns the mother of all our institutions—the free press. This is an assault on the free press… Please stop self-flagellating. Social media got us all disoriented.
"Per capita there are far better people in journalism than other professions… Nobody is a presstitute. Don't get intimidated by this storm of abuse… When the IE was being bombarded by cases, Ramnath Goenka's response to all cases was, 'What difference does it make? We have broken all laws except murder.'
"I hope NDTV will continue to do what it is doing. Our job is to speak truth to power. Too many of us have become megaphones for power."
Prannoy Roy (co-founder, NDTV): "I really hate doing this. My arm was twisted by my boss. I have the same boss at home and at work… We are here today because of these gentlemen. We grow in their shadow… Once I went to China, they asked me aren't you a bit jealous of our skyscrapers? I said we have the best skyscraper: free space.
"This is not just a flimsy case against NDTV. It is a signal to all of us: we can suppress you even if you haven't done anything… Free press is the best thing about India. Their message is: crawl, or we'll come for you. I say: Stand up and they'll never do.
"We are not fighting the agencies. They are institutions of India. But it is the politicians. The officials tell us why they have to do this… Our fight is also not against Sanjay Dutt. He is also a tool and a person being used…Sanjay Dutt's mother is a wonderful human being. She called five of us together, including Sanjay. She said, 'Beta, these are good people. You have made a mistake. Fix your mistake. When I pray, I pray more for them than for you'.
"Please don't believe there cannot be smoke without fire. Politicians can make smoke without fire… I am ashamed of our politicians that we can make such allegations (GE money laundering)… We will answer to all charges. We only request for a time-bound charges… In three years, the government has requested for 21 adjournments… I commit to you here Radhika, I, NDTV have never touched one rupee of black money have never bribed any official… I want to say we will die knowing we have never touched black money and most importantly we will live happily ever after."
—India Legal Bureau