Above: Lawyers protesting outside the Jammu and Kashmir High Court in Srinagar. Photo: UNI
A recent J&K High Court order providing lifelong security for retired judges has been challenged by the state. However, protection must be provided when there is a genuine threat
~By Justice Narendra Chapalgaonkar 
The Supreme Court is considering a challenge to an order of the J&K High Court, which directed the state government to provide lifelong security to all retired judges of that high court.  The state government's contention is that this order is erroneous. Security provided by the state to certain office holders has been a delicate issue arising often and at times creating misunderstanding between the state and the courts. Some larger issues need to be considered here.
First and foremost, right to life is not a mere declaration in the Constitution. The state is bound to protect the life and person of each individual and arrange for preventive action when there is a known threat. Various provisions in the CrPC and other statues empowering the state to take preventive action are a step towards this direction.  Those who hold public office and are asked to do certain duty are likely to earn displeasure, hate and anger of the person or group against whom a court or that public functionary takes some action on any ground.
We have lost two prime ministers and the Father of the Nation to brutal acts of individuals who had not approved their actions. Similarly, a judge who finds some individual popular with the masses guilty of some heinous crime and punishes him, earns a strong feeling of hatred amongst the individual's followers.
Those who perform their duties fearlessly will have to be protected by the state since they are performing the state's duties.
In the first few years following Independence, the Prime Minister and some other top leaders/officials were provided security but it was not very visible. It is true that they were more popular with the people as compared to the present generation of politicians and therefore, there was lesser danger to their life. But in the last two to three decades, the situation has deteriorated.
Inciting violence and creating hatred have become self-assigned political work of some individuals and groups.  In such an atmosphere, security becomes a necessity. To whom the security should be provided and what should be the nature and quantum of that security will have to be decided by state agencies on the basis of verified intelligence. It should be an objective assessment irrespective of the office, a party or political opinion which the person holds. In recent years, a presumption appears to have emerged that every person appointed to a specified office will have to be given security as soon as he assumes that office. Security is a matter of necessity and not a status symbol. If a judge of the high court travels outside his state enjoying a vacation with his family, security would be an obstacle rather than a necessity. However, there may be exceptions.
I remember a visit to Gurudwara Huzoor Sahib in Nanded. Justice Ahmadi, former Chief Justice of India, was attending a function in Nanded to which I was also invited. Both of us were staying in the same guest house. I inquired whether Justice Ahmadi would like to visit the Gurudwara. He reminded me that he had confirmed the death sentence of two accused in the Gen Vaidya murder case. I immediately withdrew my suggestion and went alone. Given such circumstances, some retired judges also may require security.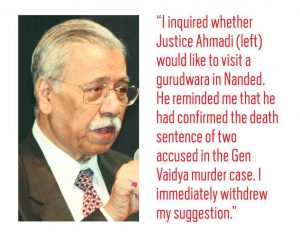 Normally, the duty of the judge is to decide the case according to the law and pass judgment. Litigants do not cultivate any grudge against the judge, although there are exceptions. Mentally disturbed persons or persons with radical political views may not take judgment against them lightly. Therefore, minimum security for the sitting judges and to retired judges for a certain period may be necessary. If terrorism is rampant in a particular area, a judge residing there may need protection.
Well-known police officer KF Rustumji as chief security officer moved with prime minister Jawaharlal Nehru like a shadow. It was relatively a peaceful world then.
Today, you have Z or Y category security. But is it always necessary that four or five black cats with AK rifles in their hands should surround a politician? If experts say that it is necessary and it really helps, nobody can have an objection. Security cover need not be protruding and prominently visible. It is not a symbol of power.
The proper use of security is always dependent on the impartial and objective assessment of the agency providing the security and the efficiency and reliability of the intelligence assessment.
—The writer is a retired judge of the Bombay High Court