Above: Grihalakshmi's cover that has created a stir
A bold photo in a well-known magazine has led to a case being filed under the Indecent Representation of Women (Prohibition) Act and has done little to create awareness about breastfeeding
~By Lilly Paul
"Moms tell Kerala—don't stare, we want to breastfeed," read the caption of a photo used on the cover of one of Kerala's leading women's magazines, Grihalakshmi. The photo shows actress and model Gilu Joseph staring into the camera as she breastfeeds an infant. The cover was part of the magazine's campaign—"Breastfeed Freely"—timed to release around International Women's Day, which fell on March 8.
The photo created quite a stir, both in Kerala and outside. Some saw it as a progressive and much-needed step towards increasing awareness about breastfeeding, while others felt it was an offensive business move to increase circulation as they argued that Kerala had never looked down on breastfeed-ing mothers.
However, Vinod Mathew Wilson, a Kochi-based lawyer, filed a criminal case against the magazine at the chief judicial magistrate's court in Kollam under Sections 3 and 4 of the Indecent Representation of Women (Prohibition) Act of 1986.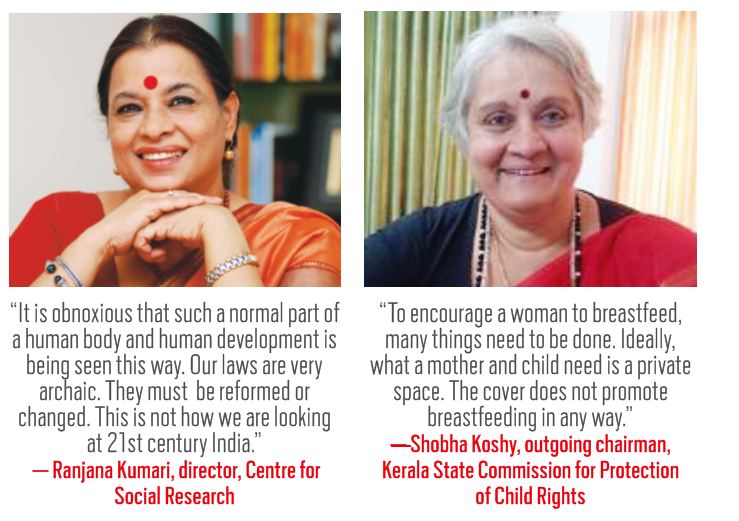 The managing director of Mathrubhoomi publications, PV Gangadharan, the managing editor of Grihalakshmi, PV Chandran, the editor-in-charge, MP Gopinath, and Joseph were made accused in the complaint.
Section 3 of the Act reads: "No person shall publish, or cause to be published, or arrange or take part in the publication or exhibition of, any advertisement which contains indecent representation of women in any form". Section 4 reads: "No person shall produce or cause to be produced, sell, let to hire, distribute, circulate or send by post any book, pamphlet, paper, slide, film, writing, drawing, painting, photograph, representation or figure which contains indecent representation of women in any form."
However, the Act provides some exceptions for material, the "publication of which is proved to be justified as being for the public good on the ground that such book, pamphlet, paper, slide, film, writing, drawing, painting, photograph, representation or figure is in the interest of science, literature, art, or learning or other objects of general concern".
INCREASING RATING?
The question that arises is whether a cover aimed at promoting breastfeeding can be seen as being for the public good. Wilson told India Legal: "This does not fall under the exceptions of the Indecent Representation of Women Act. The exception given is that of good faith. But is there good faith in this cover? As a father and as a husband, I felt there was no such good intention in this cover. It is simply an act to increase their rating."
But is this yet another case of moral policing? Wilson says no. "I am not at all a person who wants to do moral policing in this entire incident, nor do I want to punish the magazine. I don't want society to move according to my wish. I am free to express what I feel in this case and I have done that," he said.
Wilson alleges that the magazine took up a noble cause and instead of creating awareness about breastfeeding among mothers, turned it into a gender issue with the focus being on men staring at breastfeeding women, which is a false perception. He said Kerala had never had such a problem. "Can you find any such complaint or petition from any part of the state? Even after the case was filed, all those who spoke to me about this issue said women had never been subjected to such stares," said Wilson.
PRIVILEGED WOMEN
He also alleged that the magazine had interviewed only privileged women. But it is ordinary women who actually form the reader base of the magazine and move around the state using buses and trains. He referred to the entire incident as a "disgusting trend" wherein a non-issue was being hyped and made a ruckus about. He gave the example of Amritha, a 23-year-old whose photo of breastfeeding her child had gone viral after her husband put it on the internet. Wilson said that "there was no objection against that photo. It was a picture showing a mother breastfeeding her child. But this magazine chose to publish an actual breastfeeding photo inside the magazine, whereas it used a model on the cover."
When the magazine received flak from various quarters, it gave the explanation that it had approached real mothers but could not find any who agreed to pose. Wilson said that if the magazine could find a photo of an actual mother for its inside pages, why couldn't that be used on the cover?
Strangely, a case was also filed with the Kerala State Commission for Protection of Child Rights. The objection here was that Joseph was not the real mother of the infant shown and therefore it was a violation of the child's rights in using the photo. Shobha Koshy, outgoing chairman of the Commission, said that there was nothing from the child's perspective to comment on. Koshy told India Legal: "If you look at the picture, you will see that a sleeping baby is being held. I don't know which right is being violated here."
DEBATE TRIGGERED
Intentionally or not, Grihalakshmi's cover has definitely started a debate on breastfeeding in India. The stigma around this natural act has to be removed. India at present ranks lowest among South Asian countries in breastfeeding practices. Koshy said: "As far as breastfeeding is concerned, Kerala is somewhere in the middle position, so breastfeeding needs to be encouraged. What the cover has conveyed is that nobody should scare women from breastfeeding in public. If a woman happens to feed her baby in public, she should not feel awkward. It is her right to feed her baby; why should anybody stare?"
However, she also said that the magazine's approach has been rather shallow in terms of promoting breastfeeding. "To encourage a woman to breastfeed, many things need to be done. Ideally, what a mother and child need is a private space. The cover does not promote breastfeeding in any way."
The sensibilities of Indians, however, seem to be far different from people abroad. GAP, the retail giant, recently put a breastfeeding photo on its Face-book page and in contrast to India, it received much appreciation. The picture showed a woman of colour breastfeeding her child, wearing a GAP T-shirt. It was later revealed that the photoshoot was not organised but accidentally taken as the model started breastfeeding her hungry child on the sets of the shoot. Compared to this, Koshy found the Grihalakshmi cover artificial. She said: "I have never seen a woman breastfeed a baby in that particular pose."
NEGATIVE REACTIONS
What seems to have triggered so much  negative reaction, besides the commercial aspect of the cover, is that the model is looking straight at the camera without any emotion of a mother—sacrifice or love—on her face.
However, three decades back, India was much more open and accepting as is evident from a postage stamp released in 1984. The stamp shows a rural woman breastfeeding her child and makes it clear that India has always supported such a cause. Moreover, recently, the government published an image of a breastfeeding woman in an advertisement aimed at marking the launch of a nationwide breastfeeding programme called "Mother's Absolute Affection" or MAA.
Ranjana Kumari, director, Centre for Social Research, told India Legal: "It is obnoxious that such a normal part of a human body and human development is being seen this way." She vehemently objected to a case being filed in this regard. "Our laws are very archaic. They must be reformed or changed. This is not how we are looking at 21st century India. It is unacceptable that such an issue should be taken to court," said Kumari. She referred to parliamentarians in the West who breastfed their babies inside parliament. Larissa Waters, an Australian MP, gained wide popularity for breastfeeding her 14-week baby inside parliament. Waters even addressed the House while she was breastfeeding her child.
But it is a moot question whether such bold moves would go down well in India.