It would be ideal if all Indians have the attributes and qualities of soldiers so that they are physically fit, motivated and armed for leadership and managerial roles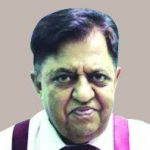 ~By Praful Bakshi
When the word "military" is mentioned, the civilian mind goes into turmoil—is my liberty at stake, am I being bound to undemocratic methods and practices? A civilian is attuned to the idea of democracy and the army is seen as an entity that can be a barrier to enjoying the fruits of democracy.
Nothing can be further from the truth. Each and every soldier contributes towards building and shoring up the democratic infrastructure of the State. Unfortunately, we have conditioned our minds into thinking that a uniformed soldier is the complete opposite of what is required to support a democratic machine, without knowing that it is through his sacrifices that liberties and rights are secured and strengthened.
Equally, the average citizen wants capable and strong people to run the country. It would perhaps be ideal for every citizen to have the attributes and qualities of soldiers who guard the nation. He would be physically fit, motivated and armed with the right qualities for leadership and managerial roles. If these citizens then become political leaders, it would be against this background.
This can be done in a systematic manner if compulsory military training is imparted to every school and college student. The country will then have a vast stock of soldier-citizens ready to face challenges which now appear to be insurmountable.
NCC ROLE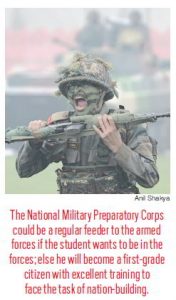 This brings us to an issue staring us in the face—the existence of the National Cadet Corps (NCC). In the late 1960s, NCC participation was compulsory in schools and colleges. In fact, NCC cadets contributed very effectively during the 1962 and 1965 wars as escorts of military logistics trains and trucks carrying military equipment, and in helping refugee columns as a support to local police and administration. This practice over the years got diluted and now is hardly in existence. There is an urgent need to revive it in an amended form and with definite parameters.
The core centre for this should be a strengthened and upgraded version of the NCC, renamed the National Military Preparatory Corps (NMPC). The NMPC could be a regular feeder to the armed forces if the student wants to be in the forces,; else he will become a first-grade citizen with excellent training to face the task of nation-building.
The NMPC should be headed by an officer of lieutenant general rank from any of the three services and be placed under the Integrated Defence Staff. Like the NCC, this would naturally turn out to be a tri-service organisation. State-level NMPCs could be headed by a major general or equivalent rank officers and they could control district-level areas through NMPC battalions and squadrons. Full advantage could be taken of local military formations of the army, air and naval bases.
The three services could be allotted extra funds to meet the increase in logistics and training.
Besides the three services, there could be officers and men from the Border Security Force (BSF) and the Indo-Tibetan Border Police (ITBP) on deputation. Compulsory military training would hold good if the student has a fair understanding of national security, the meaning of the nomenclature and role of the armed forces, military and national industrial capability, dependence of military development on national industry, handling and management of disaster situations, study of various philosophies and development and requirement of modern weapons systems. This special subject must be from Class VIII till college. The syllabus can be jointly worked out by a team of service officers and those from the ministry of education. The physical training on ground, sea and air can be the responsibility of the service groups, exposing such students to weaponry and necessary technology. 
WORK OUT SYLLABUS
However, no cadet of the NMPC should be allowed to be part of any political activity. This would be allowed only after leaving college. For the additional subject of military study and security, the syllabus should be worked out by a special committee formed by officers of the services, education ministry and the University Grants Commission (UGC). Camps can be held in every state, using the help of service formations. But for Class XII and college students, the camp should be at one location.
The training syllabus must include military studies, all aspects of internal security, threat from various quarters to the nation, anti-terrorism operations, along with subjects like indigenisation of defence and other industries. All subjects could start from a basic level, according to the student's age and stage.
The defence budget must be suitably upgraded and the education ministry and state governments must be asked to contribute monetarily, logistically and through manpower. This reservoir of capable manpower would not only become the second line of defence, but contribute towards nation-building, governance, law and order, regional security and protection of vital points and areas, rural development programmes, upgradation of environmental health and cleanliness, and tasks such as flood and earthquake management.
The organisation of Home Guards could become a part of this to give the force added punch. India has a vast reservoir of youth power waiting to be harnessed. This is one way to imbue discipline, fitness, military training and mental toughness along with a greater understanding of challenges and responses at the national level.