Fire safety has never been a priority in India. Though fire causes an average of 62 deaths per day, safety norms are flouted with impunity and the guilty, more often than not, get away with light punishment
By Usha Rani Das
The crowded Lajpat Nagar Market in Delhi is typical of the bustling bazaar we see in every Indian city. The narrow lanes normally buzzing with customers are relatively empty thanks to the crunch caused by demonetization. At a cloth store, three salesmen come rushing to attend to us. When we enquire whether the shop complies with fire safety norms we are suddenly unwelcome. At another shop, we are shrugged off with "the concerned person is not here and will not come this week". A simple question: "Do you have a fire extinguisher?" elicits an angry response wherever we go.
On a typical day, the crowds converge on Lajpat Nagar's central cloth market oblivious of the fact that they are walking into a dormant fire pit. With fire safety rules flouted with impunity, even a minor fire can spark off a major disaster.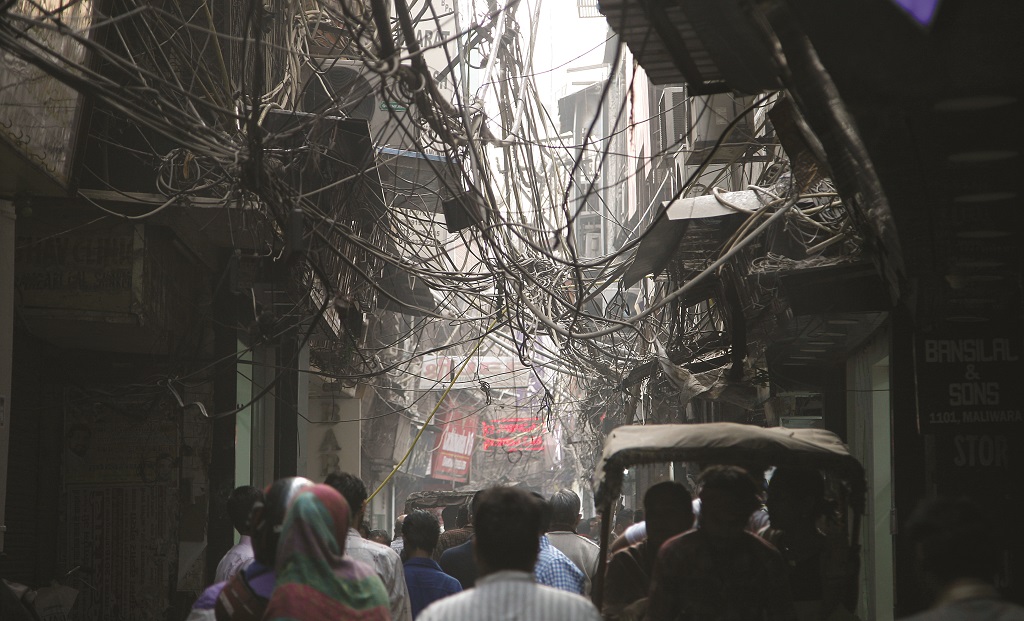 Ironically, many shopkeepers will have a story to narrate of a fire that broke out in their shop and how they were lucky that nothing disastrous happened. And yet, they do not even keep a fire extinguisher which is mandatory under the fire safety codes and standards in the country.
In the last five years, fire accidents across the country caused an average of 62 deaths per day. In 2014 alone, 19,513 cases of deaths by accidental fire were reported. According to the National Human Rights Commission (NHRC), several lives lost in minor fires go unreported. In the past 20 years, India has witnessed some of the gravest fire tragedies in the world. In the 1995 Dabwali fire incident near Sirsa, Haryana, 442 people, including 258 children, were killed, the 1997 Uphaar Cinema fire tragedy in Delhi claimed 109 lives, the 2011 AMRI hospital fire in Kolkata killed 90 people and the 2016 Puttingal Devi Temple fire in Kollam, Kerala, left 106 dead. Despite such disturbing statistics, fire safety is still not accorded the priority it demands.
COMPLIANCE IN DEFIANCE
It is not as if the laws are not in place or the judiciary lax. But enforcing and complying with regulation and guidelines is the exception than the rule. Take the Supreme Court ruling of November 25, 2016, which banned the sale of firecrackers in Delhi's National Capital Region (NCR). One does not know how successfully it is being implemented but there have been numerous bans on the sale and use of firecrackers which have not been complied with.
[vc_custom_heading text="Major Fires"]
History is replete with fire safety lapses that have caused tragedies in schools, temples, hospitals, markets and cinema halls and led to the loss of precious lives. When will the culprits be brought to book?
December 23, 1995
Dabwali school, Haryana     
442 people were killed, including 258 children, and over 150 injured when a fire broke out at a school function. The canopy where the function was held was packed beyond capacity with 1,500 people. The school management had locked the main gates of the compound to stop entry. A spark caused by a short circuit in an electric generator set the synthetic tent alight. Most of the deaths were caused by the resultant stampede.
June 13, 1997
Uphaar Cinema, Delhi    
The fire claimed 59 lives. Most of the victims were asphyxiated to death inside the cinema hall. As the gangways were blocked with extra seats, the exit to the right corner staircase was blocked. As a result, all had to exit from a single staircase. The owners of the cinema hall, Sushil and Gopal Ansal, got away by serving a year in prison and paying a fine of Rs 30 crore each.
April 10, 2006
Victoria Park, Meerut
Fire from a short circuit claimed 64 lives at a consumer electronics fair at Victoria Park and left more than 150 injured. The fire engulfed three large canopies that housed the exhibition. After nine years, a one-man commission of Justice SB Sinha was formed to probe the matter.
April 10, 2016
Puttingal Devi Temple, Kollam, Kerala
There, 106 people were killed and 383 injured during a fireworks display. There have been no convictions till date. Justice N Krishnan Nair, retired judge of the Kerala High Court, heading the one-member-commission enquiring into the mishap, resigned on November 28 protesting the state government's apathy in allocating necessary facilities or funds for the Commission to launch an inquiry.
October 17, 2016
SUM Hospital, Bhubaneswar
A fire at SUM hospital in Bhubaneswar killed 29 people. A short circuit in one of the wards caused it. A detailed probe found that the last fire safety audit was done in 2013 and the hospital authorities failed to implement the required changes. According to an NHRC report, of the 568 hospitals in Odisha, only three have got clearances from the department of fire safety.
The Puttingal Devi Temple fire incident in Kollam, Kerala, was caused by a fireworks display. Though the Temple authorities were denied permission for the show by authorities, they still went ahead.
In October 2016, Chinese firecrackers were banned nationwide. But in many cities and towns, including even in Delhi, Chinese brands were being openly sold.
If court rulings are ignored, then the less said the better of government efforts in ensuring implementation of fire safety codes and standards in the country. Tanveer Ahmed, a small shoe shop owner at Lajpat Nagar reasoned: "There is no space to keep a fire extinguisher in small shops." However, a constable in the area claimed: "There are regular checks done by beat officers to ensure there are fire extinguishers in all the authorized shops." And though he said that hefty fines were imposed on the defaulters, no one has ever been fined.
There are also low-hanging high tension cables that would make it impossible for a fire engine to enter the narrow alleys of the market. A single spark from one of the cables could burn down half of the market.
As per the norms fixed by the Standing Fire Advisory Council (SFAC) in high hazard areas, a response time of a maximum of three minutes should be aimed at. In other areas, the response time should not exceed five minutes. But Navin Kumar, another small shop owner, said it would take 15-20 minutes for a fire engine to reach a fire in Lajpat Nagar market.
Rules are flouted, officials bribed and judgments in cases that come to court "are overshadowed by the power of money", allege Neelam and Shekhar Krishnamoorthy. The couple lost both their children in the Uphaar Cinema fire tragedy 20 years ago and know about the travesty of justice better than anybody else. At the launch of their book, Trial by Fire, Neelam had this to say of the tragedy: "Safety codes and standards were violated… Trials were delayed… Evidence was dampened."
According to her, the Uphaar management failed to comply with the Delhi Cinematograph Rules and false affidavits were filed from time to time in courts to prove that deviations had been removed.
Sultan Singh, lawyer of the Association of Victims of the Uphaar Tragedy, said: "Fire safety laws in the country are complete but compliance is in defiance."
Senior Supreme Court advocate KTS Tulsi told India Legal that licenses are sold at the bidding of big businessmen. "No Objection Certificates (NOCs) are given when the official is on leave. They are given on Sundays or after the officer is transferred." He added: "Look at the cinema halls in Chandni Chowk. Nothing has changed. If any accident occurs, people will die of a stampede."
Delhi is also full of small crowded market places where people come in hundreds every day without being aware of the numerous fire safety rules flouted there.
STATE OF FIRE-SAFETY
Fire is a state subject and it has been included as a municipal function under the XIIth Schedule of Indian Constitution under Article 243-W. The government, under a centrally-sponsored scheme, provided funds to the tune of Rs 176.56 crore during 2009-2013 for strengthening of fire and emergency services to states/Union Territories (UTs). In addition, a sum of Rs 30 crore was allocated to states during 2014-15 and Rs 4 crore to the two UTs with a legislature. During 2015-16, under the "Modernization of Fire Services in the Country (2014-16)", additional monies were also provided. Based on the recommendations of the 10th, 11th and 13th Finance Commission, Rs 80 crore, Rs 201 crore and Rs 404 crore respectively were also released to the states by the center.
CRITICAL SHORTAGES
Despite allocation of funds and annual meetings being held at the state and central levels of the fire safety department, analysis done by the SFAC found that funding is insufficient and the fire departments are ill-equipped. According to a Home Ministry report, there ought to be 8,559 fire stations in the country when they are only 2,987. Many of these lack equipment, which is a major source of concern. The lack of turntable ladders, crash tenders and rescue vehicles are surely felt in many fire stations.
According to the National Disaster Response Force and Civil Defence (NDRFCD), urban fire services suffer deficiencies of 72.75 percent in fire stations, 78.79 percent in manpower and 22.43 percent in fire fighting and rescue vehicles.
The NDRFCD also noted in a report that in 144 towns having a population more than one lakh, there is huge deficiency of fire fighting infrastructure. As of now, the Fire Service needs 1,257 fire stations, 2,230 water tenders, 61 rescue tenders, 1,633 ambulances and 1,633 extra heavy water tenders to bring adequate fire fighting facilities as per norms fixed by SFAC.
SAFETY CULTURE
According to Tulsi, unless a "safety culture with no corners cut" is inculcated, India will not become a fire safe country. And to begin, all those responsible—government, fire officials, judiciary and citizens—should be made accountable. The culprits should be brought to book speedily.
Neelam and Shekhar Krishnamoorthy's crusade for justice has been long and hard and is yet not over. The Dabwali Fire Tragedy Victims Association secretary Vinod Bansal has lost count of the number of times he had to visit court and he is not very hopeful about the future. It took five years for a judicial magistrate court to even frame charges against the hospital authorities for the AMRI hospital fire. Added Tulsi: "There is no rule of law. There is rule of money."
Reacting to the Supreme Court judgment earlier this year that allowed the Ansal brothers  (owners of Uphaar Cinema) to walk free because of them being "fairly aged", Neelam had this to say: "It is a bad judgment. It would embolden other corporates to compromise on fire safety norms."
Tulsi agreed that it was the failure of the judiciary. "It's been one of the greatest failures of my life that we could not persuade the Supreme Court to convict the culprits. The Court's judgment was disappointing. The judiciary is in a bad state in India right now. The burden of cases is so heavy that it is easy to delay proceedings. Justice becomes a casualty when pending cases pile up."
According to him, culprits should be adequately punished. "In most of the cases, gross negligence is huge but damages awarded are miniscule. As no severe sentences are awarded, people get away with murder. The corporate biggies operate in networks. Their income surpasses several crores of rupees. The court needs to assess these networks while awarding penal damages. Unless stern punishment, immediate conviction and exemplary fine and long sentences are pronounced in such cases, the ones at fault will get away."
Lead picture: In the last five years, fire accidents across India caused an average of 62 deaths per day. Photo: Anil Shakya