Hecklers turn into troll terrorists in a free-for-all war in cyberspace that occupied excessive media attention
~By Parsa Venkateshwar Rao Jr
Twenty-year-old Gurmehar has had enough of it. On Facebook, she declared that she wanted to be left alone and she was done with her fight. She confessed that it was more than her 20-year-old self could take. But the timeline of Gurmehar's protest is muddled and muddied because television news channels, newspapers, and fellow-Facebookworms and fellow-Twitterbugs, the detractors as well as seconders, have added to a crescendo of confusion.
Newslaundry, the media website, has deconstructed the sequence. There have been three distinct events on Gurmehar's social media timeline. Her silent video declaring her plea for peace between India and Pakistan, because, she argued through her series of placard, that her father would have been alive had there been no war between the two countries. The video was done in May 2016.
The second point was that she was not there when there was a scuffle between the students at Ramjas and those belonging to the Akhil Bharatiya Vidyarthi Parishad (ABVP), who disrupted a cultural event at the college, and attacked the students. She heard about it and how her friends were roughed up by the ABVP members. She tweeted her anger and condemnation of the ABVP students' act of violence. The third point is when she revealed during an NDTV discussion on how she got a rape threat. It was natural to infer that the threat came from the ABVP quarter.
But who is Gurmehar Kaur? How did the girl from Jalandhar become the heroine/vixen of the social media? Gurmehar Kaur had turned out to be a sensitive, passionate girl who wanted to engage with the world in a meaningful way in the way her father did.
She declared herself to be a soldier for peace. As a young girl she showed the fire of idealism. Barkha Dutt of NDTV interviewed her then, and there were many who admired and applauded her act of coming to terms with her father's death at the border in 1999 when she was barely two years old.
So, it was not surprising that she spoke out against ABVP students' show of violence at Ramjas. She was herself again when she declared in a Facebook post and picture that she was not afraid of the ABVP, and when she mocked those who sent the rape threat telling them that they must learn to argue and debate instead.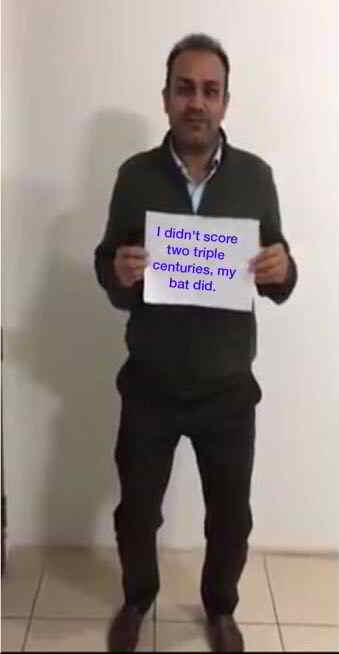 Former India cricketer Virender Sehwag and Hindi film actor Randeep Hooda were literally barking up the wrong tree when they talked about the video of her plea for peace between India and Pakistan. They did not understand the spirit of her appeal or its background. She was coming to terms with her father's death and her hatred of Pakistan and Muslims. She had to exorcise the sorrow and hatred, and she did it the right way. Following Sehwag and Hooda, the trolls, most of them self-proclaimed nationalists and Hindu fanatics in disguise, taunted, mocked and insulted Gurmehar.
Many of them, including Haryana's award-winning wrestler-sisters, the Phogats, criticised her stance while standing by her against the rape threat. The sisters could not understand the complicated inner struggle that Gurmehar went through before she emerged as an eloquent peacenik. Gurmehar was not speaking for everyone. She was pleading and not preaching. So, the intelligent hawks on the social media got her wrong while deluding themselves that they caught the young girl on the wrong foot.
The constant verbal fencing, thrust and parry, is on constant display on the social media between the undisguised devotees of Prime Minister Narendra Modi (it can be argued that there is nothing much that he can do about the raving fans and their violent way) and the unsparing critics of the prime minister and the right-wing organisations, including the Bharatiya Janata Party (BJP) and its ideological mentor, Rashtriya Swayasevak Sangh (RSS). There are many who are not affiliated to either the BJP or the RSS but who believe in unthinking nationalist euphoria and who consider anyone who differs from them as anti-national. The din that is created as a result of this clash is both ugly and deafening.
The social media is being accorded the status of a legitimate battlefield of ideas, and the winners in the virtual world are declared winners in the actual world. The results of elections where millions declare their real preference has nothing to do with what passes for support in the social media. But Modi in his enthusiasm for the digital frontier and in his bid to outflank traditional media which he perceived to be hostile to him, created this illusion that social media is the real world and it is the world that counts.
There are no protocols on the social media. Everyone has an opinion and it is as good as anyone else's. There is a perverse sense of a level-playing field, where it is not necessary to argue. All that you have to do is to say your pennyworth of unthinking piffle. Trading of jibes is the order of the day, which soon degenerates into a language of accusations and threats, expletives and rowdiness. It spins out of control and everyone is caught in verbal blows.
Many in Modi's cabinet take to social media with alarming alacrity and they legitimise the storm-troopers in their ranks and by the time they realise the need for restraint it turns out to be too late. The harm has been done and they are dragged down into the pit along with the ruffians in the train.