Above: Capt Chand Singh (retd) with Murti Devi after a hearing at Tis Hazari courts. Photo: Bhavana Gaur
An embattled wife gets succour after a Delhi court orders her octogenarian husband, who reportedly married two more women, to pay her maintenance
~By Sucheta Dasgupta
A Delhi court has asked an alleged trigamist, a former Army captain, to pay his first wife, who now lives separately, an interim monthly maintenance of Rs 50,000. Captain Chand Singh (retd) has been married to Samjho Devi under the Hindu Marriage Act, 1955, for over 50 years. Since 2015, Samjho Devi has been living with her second daughter, Suraj, in Delhi, as she was being constantly abused and assaulted in her matrimonial home, even by her stepchildren. The case was argued on her behalf by Vinay Vats from India Legal Research Foundation.
In his order dated September 19, Dharmesh Sharma, principal judge of Tis Hazari district courts, said: "The maintenance will be payable from February 2017, the date of filing of the application (by Samjho Devi). The payments pending till date may be made in three installments, payable on October 31, November 30 and December 31, respectively."
RICH MAN
Despite his unkempt and humble appearance, Singh, 86, owns over 10 properties in Jaipur and Dadri tehsil, Bhiwani district, Haryana. The properties were bought with profits made from running a Hindustan Petroleum petrol pump in Jaipur, which he acquired as an ex-serviceman in 1983. They include two double-storey houses in Jaipur, a one-bedroom flat and five shops in the same locality, a farmhouse in Amer on the outskirts of Jaipur, two more shops and a couple of plots in Dadri, in addition to his ancestral property in Bhagvi village in that tehsil. His monthly income from these properties is close to Rs 10 lakh. Samjho Devi has demanded a monthly maintenance of Rs 1-2 lakh.
Singh, who was with the Maratha Light Infantry on short service commission and released from service in 1975, has had a rather colourful life. According to Samjho Devi, Singh married Manorama Solanki while in service, had a live-in relationship with Preeti Yadav in 1988 and married Murti Devi in 1990. While Solanki is a teacher from Ajmer and Yadav is an Agra-based advocate, Murti Devi, a housewife, is from a neighbouring village. She had been deserted by her husband and was chosen by Singh's sister for the match in order to produce a male heir for Singh. As Samjho Devi was not present during either of the weddings and came to know of them much later, she could not object to them.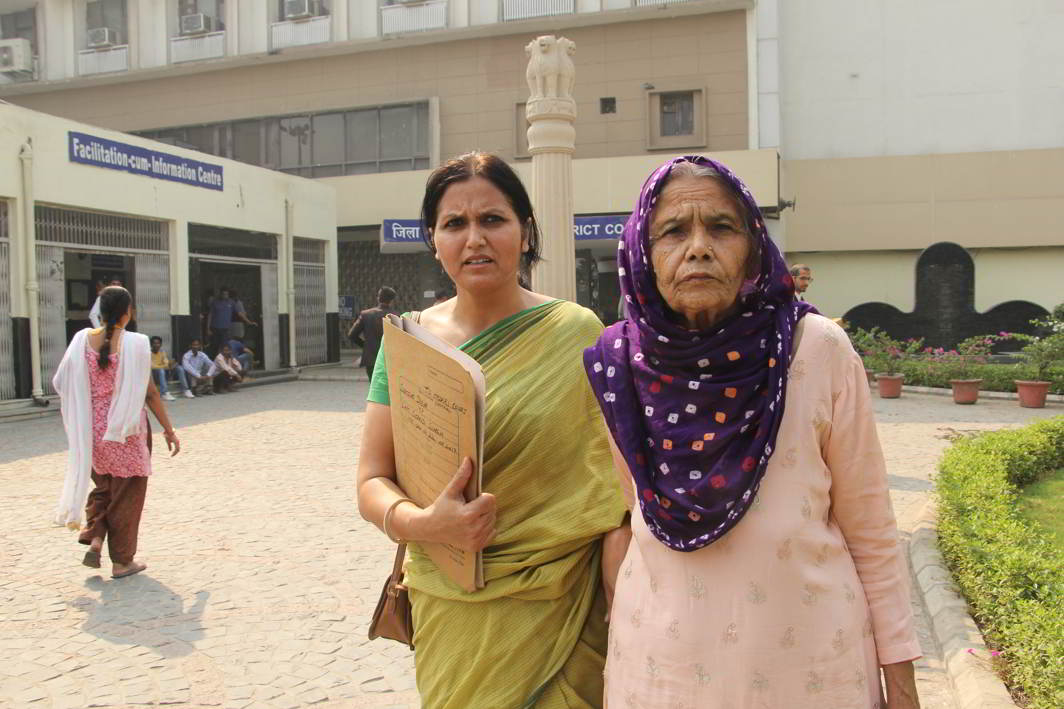 However, after she came to know of the last marriage, she lodged an FIR in Jaipur police station against it. She had been beaten and sent to her parents' house during the wedding so the family could welcome the new bride home. 
ILLEGAL ACT
Under the Hindu Marriage Act, a second marriage, during the subsistence of the first, is illegal from the outset (void ab initio) and any relationship arising from the same does not have any validity. Section 494 of the Indian Penal Code makes such a marriage punishable by a prison term of up to seven years and a fine. Under Section 495, concealment of such a marriage is punishable by extension of that term up to 10 years.
However, Singh denies the marriage to Solanki. He says he is currently in a live-in relationship with Murti Devi, the cook, and has three offspring by her. He says she has been in his employment for the last 27 years. "Samjho Devi is unlettered and easily influenced by those around her. She is now being misguided by her daughter and her husband, who are after my property. As I don't like the food prepared by her, I had hired Murti Devi as a cook in the household," Singh told India Legal.
Incidentally, Murti Devi was seen accompanying Singh to all the hearings and his sister introduced her as "chhoti bhabi" while in conversation with India Legal. While Singh has three daughters, Madhu Bala, Suraj and Bharti with Samjho Devi, he has two daughters and a son (Tara, Nisha and Aakash), with Murti Devi.
He is also paying a monthly sum of Rs 500 to Yadav, whom he had reportedly deserted after coming to know that she was a divorcee with a son. A case filed by Yadav against him is currently pending in Allahabad High Court.
MANY ALLEGATIONS
Singh has made Murti Devi the owner of most of his properties, including his Jaipur houses. According to daughter Suraj, he made Samjho Devi work as a mason to construct these houses in order to "save labour charges".  Suraj, who has no dearth of horror stories to narrate, also alleges that she and her sister were made to walk from Delhi to Haridwar bearing kanwars so that a son might be born to her father and Murti Devi who, she says, keeps arms in her home. She also says she had earlier let Aakash stay in her Delhi home so that he could go to a reputed school.
However, Singh says Suraj is only trying to extract money from him through her mother and is after his properties, citing how she had asked for Rs 4 lakh per month for looking after Aakash during his one-year stay. Surprisingly enough, he had complied with her request.
Singh has, meanwhile, fought property wars with his brother over the ownership of his petrol pump business and is quite close-fisted about his wealth.
He wants to reconcile with Samjho Devi and take her to live with him in a joint family arrangement, along with Murti Devi and her children.
Singh's parental family too is accused of torturing Samjho Devi for not bearing him a male heir. When Madhu Bala was born, Singh's parents tried to get rid of Samjho Devi, first by poisoning her and then pushing her into a well. She was saved by Master Surajmal, a schoolteacher, and an eyewitness. Singh had left for his Army posting at that time.
The next hearing of the case is in November. For all her efforts and her pains, Samjho Devi has earned herself a moral victory.