By Sujit Bhar
So this is end of a long, acrimonious battle between the Delhi government led by AAP supremo Arvind Kejriwal and the Lieutenant Governor of Delhi, Najeeb Jung. Jung has suddenly resigned, 18 months shy of the end of his tenure, saying he is returning to his "first love, academics".
A statement from his office was cryptic and short. It said: "Lt Governor Shri Najeeb Jung has submitted his resignation to the Government of India. He thanks the Hon'ble Prime Minister for all the help and cooperation he received during his tenure as the Lt. Governor of Delhi. Shri Jung also thanks the people of Delhi for all their support and affection, especially during the one year's President Rule in Delhi, when he got unstinted support from them and which in turn helped run the administration in Delhi smoothly and effortlessly."
That was an expected line from Jung. Then the statement goes on to say: "He also thanks the Hon'ble Chief Minister of Delhi for his association in the last two years." Thank officialise, or the height of being proper, this was a great way to leave no doubt, for the 65-year-old former diplomat.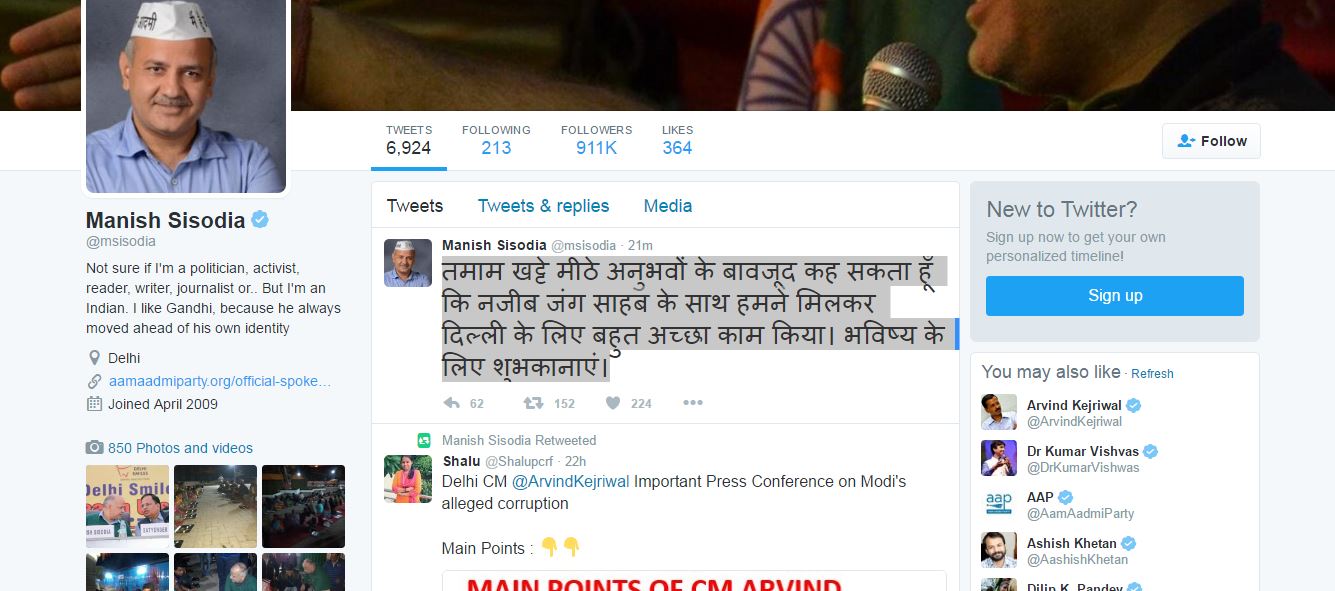 Incidentally, reactions from the AAP leadership were also proper and sort of muted, keeping to the Indian tradition of not saying bad things about a leader past. Said chief minister Kejriwal from Ranchi: "Shree Jung's resignation is a surprise to me. My best wishes in all his future endeavours."
His deputy Manish Sisodiya ventured out just a little more, saying: "Even after all the sweet and sour feelings, I can say that we have done a lot of good work in association with Najeeb Jung sahaab. Best wishes for Jung."
The responses were mute, to be modest. There could have been three reasons. Firstly, shock, before immense relief, probably, and then apprehension as to how the Lieutenant Governor would be. Technically, the resignation would be valid if the ministry accepts it. Reports say that Ministry of Home Affairs held a discussion whether to give the former Vice-Chancellor of Jamia Millia Islamia, additional charges or appoint a new Governor.
AAP and Jung were at each other's throats every other day, with Kejriwal calling him an agent of the BJP.  Kejriwal fought tooth and nail over the precincts he "ruled", trying to push his position as elected chief minister of the state from the position of no more than a "mayor" to a respectable head of an elected body.
The Delhi High Court, earlier this year, scotched Kejriwal's hopes by recognising the Lt Governor as the administrative head of the Delhi government. It was a prompt that Jung used to set up a committee to look into 400-plus files of the Delhi government, which it called "illegal".
This move has remained contested, with AAP moving the Supreme Court against the High Court decision. It hopes to get a favourable decision at the apex court in 2017.
Lead picture: Delhi Chief Minister Arvind Kejriwal (Centre) with Lt Governor Najeeb Jung (Left) during an occasion in New Delhi. Photo: UNI