Above: ABVP activists outside St Mary's PG College, Vidisha/Photo Courtesy: ANI
With Christian community under increasing attack in Madhya Pradesh, the Catholic Association has moved the Jabalpur High Court seeking protection for its educational institutions
~By Rakesh Dixit in Bhopal
According to Census 2011, Christians in Madhya Pradesh comprise barely 0.3 percent of the state's population as against over 90 percent Hindus. Yet, this small community of over two lakh members is under increasing attack from saffron outfits for what they call "posing a threat to Hindutva" and three recent attacks on them have hit national headlines.
In one of the incidents, saffron activists went on the rampage because a college run by Christians in Vidisha district, St Mary's PG College, disallowed them from singing a prayer inside the campus on January 16.
In the second case, carol-singing priests and seminarians in Satna were attacked by right-wing groups ahead of Christmas and accused of religious conversion. The police detained the priests instead of taking action against the attackers. The third incident took place in Ratlam district on January 15 when Hindutva organisations called a bandh to protest a missionary school's decision to penalise 20 students for "showing disrespect to patriotic songs". The protesters, however, alleged that the students were punished for chanting "Bharat Mata ki jai".
It was such attacks that forced the Madhya Pra­desh Catholic Diocesan Schools' Assoc­iation to move Jabalpur High Court on January 15 seeking protection for their educational institutions. It alleged that the students' body affiliated to the ruling BJP was trying to whip up communal tension. The secretary-general of the Catholic Bishops Conference of India (CBCI), Theodore Mascarenhas, said that institutions run by the Christian community were being increasingly targeted by the Akhil Bharatiya Vidyarthi Parishad.
ABVP activists' attempt to target St Mary's PG College in Vidisha has added significance because the district is under the parliamentary constituency of Union External Affairs Minister Sushma Swaraj. This Lok Sabha seat is considered a strong BJP fortress and in the past sent former prime minister Atal Bihari Vajpayee and Madhya Pradesh Chief Minister Shivraj Singh Chouhan to parliament.
However, neither Swaraj nor Chouhan have spoken about the in­cident, much less as­sured the college ad­min­istration of protection. The area has a minu­scule Christian population and no history of religious conversion.
More significant, the attacks in Vidisha occurred just a few days after a delegation of the CBCI led by its president, Cardinal Baselios Cleemis, had called on Union Home Minister Rajnath Singh in Delhi to seek action against the policemen who had detained the group of 30 carol singers in Satna. "We pointed out that there was no FIR lodged in relation to what happened to the priests and seminarians while the arrest (of a priest) was undertaken on the basis of a false complaint. The home minister then assured us that the matter would be dealt with as per the provisions of law," Cardinal Cleemis said.
After Christian organisations moved the high court on January 15, the state government assured the Court that it would provide full protection to Christian institutions against any attempt of vandalism. The following day, the Vidisha police arrested Updesh Rana, a self-styled member of a hitherto unknown organisation, Vishwa Sanatan Sangh, and 24 activists of the ABVP when they tried to enter the area to participate in a pre-announced programme of Bharat Mata Aarti in St Mary's Col­l­ege. Prior to his arrest on the Bhopal-Vidisha border, Rana said he had no intention of disrupting campuses and was only trying to galvanise support for the aarti to develop a feeling of patriotism among the youth.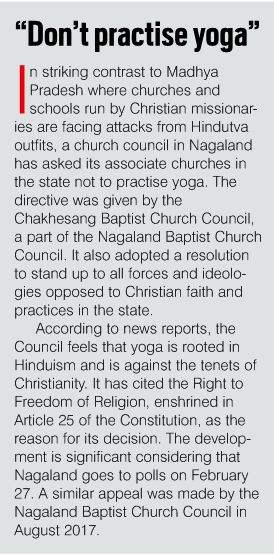 Earlier on January 4, the ABVP had performed the aarti in many schools and colleges in the district but was stopped from performing it inside St Mary's College by the management on the grounds that communal tension was being incited in the garb of performing aarti. Fr Shaju Devassy, the principal, said the activists wanted to force the school to carry out the aarti. "When denied permission, they became furious and threatened that they would complete the ritual even by force," he was quoted as saying.
In the Satna incident, more than 30 priests and seminarians singing carols were detained by the MP police on December 14, 2017, after activists of the Bajrang Dal lodged a complaint against them for forcible conversion. The priests, belonging to the St Ephrem's Theological College in Satna, had been conducting a carol-singing programme, which, according to CBCI, has been a routine practice during the Christmas season for the past three decades. In addition, when eight other priests went to the Civil Lines police station to enquire about their detained brethren, they were also held and their car set on fire outside the police station. They were surrounded by Bajrang Dal activists and beaten up. The policemen remained a mute witness. Later, six of the accused were booked under Sections 3 and 4 of the Madhya Pradesh Freedom of Religion Act, 1968.
It all began when 21-year-old Dharmendra Dohar, a resident of Bhumkahar village, alleged that he had been offered Rs 5,000 for converting to Christianity. When the policeman asked him who had baptised him, he pointed a finger at Fr George Mangalapilly, one of the priests in the Satna seminary. However, when he was asked his name, he could not answer. Yet, Fr Mangalapilly was charged under Section 295 of the Indian Penal Code and the Madhya Pradesh Freedom of Religion Act. The court granted him bail the next day.
Madhya Pradesh has strict anti-conversion laws and is one of the five states in India where missionaries need permission to convert individuals. Churches, missionary schools and priests are often soft targets for saffron outfits and the minuscule Christian community is too frightened to take them on. Also, given the stringent anti-conversion law in MP, churches are wary about converting even willing Hindus.
Therefore, raising the issue of conversion to harass priests has become less convenient for Hindutva elements. Instead, they are putting missionary schools/colleges to the test over patriotism. In Ratlam, the decision of a school, St Joseph's Convent, to bar entry to a group of students on January 11 roused controversy, with right-wing groups claiming that the students were punished for chanting "Bharat Mata ki jai". Hindu groups, including the Bajrang Dal, called for a "voluntary" bandh to protest against this action of the school and seek its de-recognition.
However, a Catholic Church spokes­person has refuted these allegations and said that after the national anthem was sung during the assembly on January 11, a group of students from Class IX started chanting "Vande Mataram" and dancing. The school said the students were punished for showing disrespect to the national song. However, they have not been rusticated or barred from writing their exams, the school explained.
A police official said initial investigations suggested the school was not at fault, but added that further investigations were on. According to Christian organisations, these three incidents are not isolated ones but are part of the design of Hindutva organisations to whip up communal tension ahead of assembly elections in Madhya Pradesh in 2018.
A leader of the Christian community said on condition of anonymity that he feared more attacks on churches, missionary schools and priests. "Chief Minister Shivraj Singh Chouhan has changed. Earlier, he used to sympathetically consider our complaints of harassment by fringe Hindutva elements as his government was on a sound footing. Now, he too seems to be eyeing electoral gains by whipping up communal passion. We are worried."
Are there troubled times ahead for the Christian community in MP?