The Supreme Court verdict in the Jayalalithaa case is a severe indictment of the unholy nexus between politicians-civil servants-police, as well as the judicial system. It's time we introspect on the judgement and address corruption more effectively
~By MG Devasahayam
February 14, 2017 will go down in Tamil Nadu history as the day justice finally prevailed and the late Chief Minister, J Jayalalithaa (JJ) and her confidante, VK Sasikala, among others, were finally convicted by the Supreme Court under the Prevention of Corruption Act (PCA) for possessing assets disproportionate to their known sources of income.
With that, the apex court rung down the curtains on a controversial case that lingered on for 21 years since BJP leader Subramanian Swamy (then in the Janata Party) first filed a complaint against Jayalalithaa on June 14, 1996.
In the aftermath of the verdict, there was political chaos in Tamil Nadu. Sasikala's bid to take over as chief minister was thwarted by the verdict. She is now cooling her heels at a jail in Bangalore while her nominee, E Palaniswami has been invited by Governor Vidyasagar Rao to form the next government. But many believe the turmoil in the AIADMK, which surfaced after Jayalalithaa's demise last year, is not quite over. There might still be a new twist in the tale.
Political intrigue and controversy was nothing new to Jayalalithaa. In fact, she came to power in 1991 thanks to a conspiracy-of-sorts hatched between her and Rajiv Gandhi. It was thanks to this that on January 31, 1991, the DMK government headed by M Karunanidhi was dismissed by the Congress-propped Janata Party Prime Minister Chandrashekhar. That was followed by a drama-tic turn of events when, on May 21 of the same year, Rajiv Gandhi was assassinated by a suicide bomber at Sriperumpudur. In the elections held in June 1991, due to a massive sympathy wave, the AIADMK-Congress alliance romped home with a huge majority. The DMK could manage only two seats out of 234. That was how Jayalalithaa became Chief Minister.
[vc_custom_heading text="KLEPTOCRATIC GOVERNANCE" font_container="tag:p|font_size:20px|text_align:left" google_fonts="font_family:Open%20Sans%3A300%2C300italic%2Cregular%2Citalic%2C600%2C600italic%2C700%2C700italic%2C800%2C800italic|font_style:700%20bold%20regular%3A700%3Anormal"]
An overwhelming majority in the assembly, coupled with her being the "Queen Bee" to the motely crowd of AIADMK "slave bees", turned Jayalalithaa's head as well as that of her confidante VK Sasikala. What followed was a despotic and whimsical rule sans democratic norms or scruples. Soon enough, Tamil Nadu morphed from democracy to autocracy. Jayalalithaa became Saint Mary, Mother Teresa and Goddess Durga all rolled into one and the citizens who voted her to power became her "subjects". Under her, Tamil Nadu adopted the kleptocratic form of governance—government of the thieves, by the thieves, for the thieves.
During the run-up to next assembly elections in 1996, Shekhar Gupta, then with India Today, had accompanied Jayalalithaa for three days while she was campaigning in north Tamil Nadu. Before leaving for Delhi he dropped in for lunch. I asked him for his take on the election. His reply was curt: "JJ will lose". I asked him why and he answered in one word: "hubris". That was precisely what happened. AIADMK was trounced by the combination of DMK and the Tamil Manila Congress (the breakaway faction of the Congress) with Jayalalithaa managing just 4 of 234 seats!
The corruption case which the Supreme Court finally settled in February 2017 goes back to 1996, soon after Jayalalithaa was voted out of power. Subramanian Swamy had filed a complaint that she had amassed wealth and property disproportionate to her known sources of income. Subsequently, Prof K Anbazhagan, general secretary of the DMK, joined the complaint which was investigated under the special court's direction. During the investigation, large amount of incriminating evidence was found and a charge-sheet filed in the special court in Chennai.
In 1997, the special judge issued summons to Jayalalithaa, Sasikala, VN Sudhakaran and J Elavarsi and charged them under the IPC and PCA. These charges were denied and the accused sought trial.
Meanwhile, the Vigilance and Anti-Corruption department conducted further investigations and gathered evidence of disproportionate wealth amassed outside the country in Sri Lanka, Dubai, Malaysia, Singapore and Hong Kong, and an additional charge-sheet was filed. During the course of investigation and trial, 258 witnesses were examined.
Jayalalithaa returned to power in 2001. In November 2003, the Supreme Court moved the case to Karnataka, with the direction to constitute a special court in Bangalore and conduct the trial on day-to-day basis. The objective was to have a speedy trial conducted in an impartial manner as demanded by the accused.
[vc_custom_heading text="LONG DRAWN CASE" font_container="tag:p|font_size:20px|text_align:left" google_fonts="font_family:Open%20Sans%3A300%2C300italic%2Cregular%2Citalic%2C600%2C600italic%2C700%2C700italic%2C800%2C800italic|font_style:700%20bold%20regular%3A700%3Anormal"]
It was on September 27, 2014, that the special court judge in Bangalore, John Michael D'Cunha passed a judgement convicting Jayalalithaa, her "non-biological sister" Sasikala and two others for possessing disproportionate assets. They were sentenced to four years' imprisonment and a heavy fine. The AIADMK supremo, who immediately stepped down as chief minister, was also barred from contesting elections for a period of 10 years. On May 11, 2015, the conviction was set aside by the Karnataka High Court which acquitted her of all charges.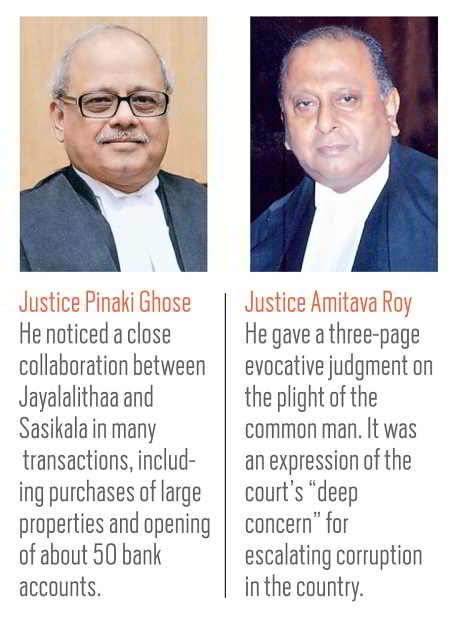 It had take 11 years for the trial court judge to pronounce the judgment. This is what D'Cunha said of the inordinate delay: "It is borne out from the records that, after the trial resumed before this Court, the accused moved application after application before this Court at every stage of the proceedings raising different interlocutory issues purportedly to vindicate different facets of their right to a free and fair trial and virtually every order passed by this Court was carried in Appeal or Revision to the Hon'ble High Court of Karnataka and then to the Hon'ble Supreme Court of India resulting in considerable delay in the progress of the case."
The case mainly involved Jayalalithaa, who became the first serving CM to be convicted under the PCA. She was the main accused and those who lived at her Poes Garden residence in Chennai during her first tenure as CM were the co-accused namely—Sasikala, Sudhakaran (proclaimed by Jayalalithaa as her "foster son") and Elavarasi (niece of Sasikala). Jayalalithaa, along with Sasikala (accused No 2), floated companies that had both of them as partners. Property, assets and money were acquired and transferred in the name of these companies though no actual business activity was carried out.
After 1991, around 31 firms were floated in the name of Sasikala, Sudhakaran and Elavarasi, for which no income tax returns were filed and no assessment for commercial tax was done. Jayalalithaa's assets and funds were found to be disproportionate to the extent of around Rs 66 crore.
The trial court convicted and sentenced Jayalalithaa under the PCA to simple imprisonment for a period of four years and asked her to pay a fine of Rs. 100 crore. Sasikala, Sudhakaran, and Eavarasi were sentenced to simple imprisonment for a period of four years and to pay a fine of Rs. 10 crore each. After her conviction, Jayalalithaa stepped down as Chief Minister and nominated O Panneerselvam as her successor.
The conviction was appealed against in the Karnataka High Court, and the verdict was quashed by the special vacation bench of Justice CR Kumaraswamy. Jayalalithaa returned triumphant as chief minister and died in office on December 5, 2016, as a "guiltless" person. However, the Supreme Court's verdict will cast a long shadow over her reputation and legacy.
[vc_custom_heading text="BIZARRE LOGIC" font_container="tag:p|font_size:20px|text_align:left" google_fonts="font_family:Open%20Sans%3A300%2C300italic%2Cregular%2Citalic%2C600%2C600italic%2C700%2C700italic%2C800%2C800italic|font_style:700%20bold%20regular%3A700%3Anormal"]
The judgement by Justice Kumaraswamy of the Karnataka High Court acquitting all the accused is bizarre and defies all logic. The Supreme Court has rightly torn into this perverse judgment. Justice PC Ghose, in his elaborate judgment, has examined every facet of the case in detail. He lauded the trial court for being "meticulous, sensitive, vigilant and judicious in appraisal"; by contrast, he deplored the failure of the High Court "to appreciate the evidence in the correct legal context".
Justice Ghose observed that the High Court's finding on the percentage of disproportionate assets being 8.12 percent was "based on completely wrong reading of the evidence on record compounded by incorrect arithmetical calculations". He noticed a close connection between Jayalalithaa and Sasikala and their collaboration in many transactions, including purchases of large properties and opening of about 50 bank accounts. The trial court's judgment was restored in toto and this is a severe censure for Justice Kumaraswamy.
Justice Amitava Roy, the second judge gave a three-page evocative judgment on the plight of the common man, the upright and the honest who find themselves in the minority in a society where corruption has spread its "malignant" hold over every strata of society.  He pointed to the Jayalalithaa case as a "startling" example of how corruption has a stranglehold over both the perpetrators and the sufferers.
If Justice Roy is true to his words, the Supreme Court must take a closer look at the manner in which Judge Kumaraswamy conducted the case. He allowed the Tamil Nadu government headed by Jayalalithaa, the main accused, to appoint the public prosecutor whereas this was the responsibility of the Karnataka government. By the time Karnataka appointed a prosecutor, Kumaraswamy had completed oral hearing and gave just a day to the prosecutor for written submission which he ignored while "writing" his judgment. This warrants high-level enquiry and stringent action. The least Justice Roy should have done was to order a CBI enquiry as part of his judgment.
[vc_custom_heading text="MISPLACED TRUST" font_container="tag:p|font_size:20px|text_align:left" google_fonts="font_family:Open%20Sans%3A300%2C300italic%2Cregular%2Citalic%2C600%2C600italic%2C700%2C700italic%2C800%2C800italic|font_style:700%20bold%20regular%3A700%3Anormal"]
There is a strange quirk in the whole episode. Jayalalithaa continues to be a deity and her grave at the Marina has become a place of pilgrimage. The Tamil Nadu Assembly even passed a resolution strongly recommending the conferment of Bharat Ratna on her. All AIADMK legislators continue to swear by her and wannabe chief ministers are pledging to carry on her "Golden Era". It appears that Tamil Nadu is still under the kleptocratic grip—an affront to the Supreme Court verdict.
"Kleptocracy" is a system characterised by rampant greed and corruption with politicians, civil servants, police, as well as the judicial system in the orbit. In such a system, the "rulers" develop the mentality of the conqueror and function as petty autocrats. State kleptocracy is a joint venture between the politicians, power brokers and the bureaucracy. This was the case in Tamil Nadu during Jayalalithaa's chief ministership and continues to be so.
The big question then is: will this far-reaching Supreme Court judgment stem the rot and jolt the state kleptocracy? The jury is still out on this.
—The writer is a former bureaucrat and political commentator