The Piyush Push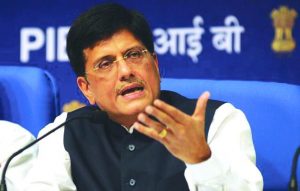 Governments usually appoint a cabinet minister to interact with the media. Venkaiah Naidu had a good equation with the media but now that he is no longer available, that job has gone to Piyush Goyal who seems to be overstepping his brief. He summoned a press conference to defend a private citizen—Jay Shah, son of the BJP President. He not only defended a businessman with no official connection to the party but also announced that Shah would be filing a Rs. 100 crore defamation suit against The Wire and its reporter. He forgot to mention that as Energy Minister, it was his ministry that cleared a loan by IREDA, the department for renewable energy, for Shah's wind energy plant. His defence on behalf of the government on job losses raised eyebrows as well. He said job losses were a "good thing", hastily adding that the youth of the country wants to be job creators, not job seekers.
Promotion Guaranteed
Like Goyal on the political front, the current star on the bureaucratic front is Revenue Secretary Hasmukh Adhia. Not only is he a Gujarat cadre officer trusted by the Prime Minister, he is the government's star performer in calming the nerves of India Inc., in the light of prevailing economic tailwinds. Instead of the finance minister or a cabinet minister, Adhia was deputed to meet with leading exporters and inform them that the government will clear their pending GST refunds by end-November and over the next six months, no tax will be levied on exports as the GST Council has decided to revert to the pre-GST era. Adhia also interacts with the  media to defend the government's economic policies. As reward for his efforts, it is believed that he will be appointed as the next finance secretary.
The Wrong Nudge
The BJP's IT cell has been working overtime and their hyperactive presence on social media is evidence of that. That can also lead to situations where they jump the gun or set out to deliberately mislead as was the case when US economist Richard Thaler was announced as the winner of this year's Nobel Prize for Economics. The moment his name was announced, IT cell head Amit Malviya, Union Minister Giriraj Singh and Malviya's predecessor Arvind Gupta, tweeted joyfully, quoting from Thaler's statement supporting demonetisation when it was introduced. Thaler had said he supported the "nudge" towards a less-cash economy which is what the BJP, desperate for a celebrity endorsement of the policy, had tweeted but they disingenuously neglected to mention the full sequence. When he was informed that the Rs 500 and Rs 1,000 notes were going to be replaced by Rs 2000 notes, Thaler's reaction was: "Really? Damn!" That key word "Damn", which conveys his disappointment, was conveniently left out. Only Piyush Goyal, who had also tweeted initially, deleted his tweet but Malviya's stayed online.
Shell Search
The government's ongoing crackdown on shell companies, allegedly used as conduits for illicit fund flows and tax evasion, is hitting some sensitive spots. It is learnt that the information gathered from banks pertaining to transactions made by account holders post-demonetisation, has revealed that 169 shell companies with transactions worth Rs 89,000 crore, all belong to one individual. The crackdown has allegedly identified over two lakh shell companies but the 169 accounts controlled by one individual are causing headaches, presumably because it involves someone in a position of power. On October 7, the finance ministry ordered a probe into a further 5,800 shell companies which had over 13,000 bank accounts. The  information came from banks which are in the process of gathering information on suspicious transactions and shell companies.