Above: Illustration: Anthony Lawrence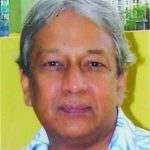 ~By Dilip Bobb
It is generally used in the context of high society and celebrities, where status and ranking moves up and down, quite like the Sensex. Under the present dispensation, the ups and downs in terms of priorities have meant that the criteria on which these things are judged have undergone a dramatic change. Here's the latest, updated list of ins and outs.
What's In
Hugs: As non-verbal communication, the hug is about as touchy feely as one can get. Especially on a first date which was the case when Narendra Modi and Donald Trump met at the White House. Under Modi, chest thumping has become a national sport in India, which basically means hugs are in.
Ghungats: The garment used to cover the face in Hindi-speaking areas where it essentially puts women in their place—if you can see them, that is. Haryana, which is always banging on about being a progressive state, has now lifted the veil on its non-progressive face. Its official magazine says that the ghungat is the state's ''proud identity.'' The Manohar Khattar government has been tom-tomming its beti padhao campaign. Now, it's the beti chhupao campaign that has become the face of its new campaign. There is a hidden message there.
Dalits: They have been "out" for 70 years, but in India, political expediency always comes to the rescue of the underdogs. Suddenly, Dalits are in, and one is just about to step in to the grandest mansion in Lutyen's Delhi. Ram Nath Kovind may evoke the reaction, "Kovind who?" but Dalits are the flavor of the season—till 2019 one presumes.
Saffron: Saffron is the new black, just as the lotus has emerged smelling like a rose. Wearing a saffron band is the latest fashionable statement; it allows you to commit a multitude of sins. Saffron ideology elevates non-entities to positions of power, and then, there are the saffron revisionists who are busy rewriting history books to celebrate the heroism of Hindus against villainous, barbaric raiders from the North. Finally, there are those who use saffron-tinted glasses to view a new India where, apparently, syncretism and diversity are anti-national acts.
Mithali Raj: Captain Cool used to be the tagline for MS Dhoni, but now that crown clearly belongs to Mithali Raj, captain of the Indian women's cricket team, currently competing in the Women's Cricket World Cup in England. In the opening match, against favourites England, she was seen with her feet propped up while India's openers were batting, nose buried in a fat volume. Considering she was padded up and next to come in, it was the ultimate   in cool. More so, considering she was reading The Essential Rumi, the poetry of the 13th century mystic. After that, to go out and notch up a record sixth 50 in succession, will be tough to beat, which can be said for her team as well.
OUT
Rahul Gandhi: He's out, literally. One politician who manages to time his holidays abroad with important political developments back home. We have a Presidential election, lynchings, GST, and the Congress vice-president is on an extended holiday in Italy—the pasta is more important than the present. Actually, it is not so surprising. Even when he's in, partymen say he's the odd man out.
Intercourse: Like the famous peacock, intercourse is not permitted. So says Pahlaj Nihalani, chairperson of the Central Board of Film Certification in reference to the word being used in an upcoming film by Imtiaz Ali. This is the same man who produced a film called Paap ki Duniya, but is better known in contemporary history, for having made a YouTube video titled Har Har Modi, Ghar Ghar Modi,  just before the 2014 general elections. Such ardent hero worship could have given him a license to ban intercourse, even though that subject comes under the Ministry of Family Planning.
Air India: Officially out and with a For Sale sticker. Or Tata, in a manner of speaking. The government may have finally bitten the bullet to end the jumbo-sized losses but the ones weeping in the aisles are the ministers and bureaucrats who got to fly First Class or avail of a free upgrade. Not to mention Aviation Ministers in the past who have become maharajas.
Nitish Kumar: Who is in and out at the same time.