Hors de Combat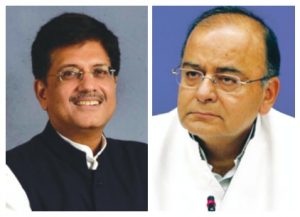 The speculation as to why Finance Minister Arun Jaitley did not show up to be sworn in as a Rajya Sabha member was because he was in a special unit at the All India Institute of Medical Sciences in New Delhi undergoing tests for a serious medical condition related to his kidneys. Jaitley has now admitted he is unwell but his latest medical problem is more serious and connected to his long-time Type 1 diabetic condition.
In the run-up to the Lok Sabha elections, the prime minister will not like to keep such a key ministry headless, so Piyush Goyal (far left) will be shifted from Railways to handle the finance portfolio. The problem is that Jaitley's surgery could involve a transplant and he is consulting with Amar Singh who had a similar operation in Singapore. Doctors say he could be out of action for as long as 60 days, which would leave two key portfolios, finance and corporate affairs, in unfamiliar hands, and at a politically sensitive time.
Fake Author
A new controversy has arisen over the fake author of a book on the prime minister's radio show, Mann Ki Baat. Ex-minister Arun Shourie told a news channel that the man listed as author, Rajesh Jain, had nothing to do with it. To add to the embarrassment, Jain himself told the channel that he was not the author. Last year, two books were released in Rashtrapati Bhawan by the President. One was Marching with a Billion: Analysing Narendra Modi's Government in Mid-Term by India Today journalist Uday Mahurkar who had written an earlier hagiography on Modi. The second was Mann Ki Baat: A Social Revolution on Radio. The Press Information Bureau release said it was authored by Rajesh Jain, "a former aide to Prime Minister Narendra Modi". Jain says he was told to be present at the function and has no idea who wrote the book and why he was asked to stand in for the author. Despite his denials, the PIB site and narendramodi.in (Modi's website) continue to present him as the author. There is, however, a connection here with the PM. Jain works with Bluekraft Digital Foundation that used to organise the Mann Ki Baat broadcasts. Bluekraft is also listed as "the technology and knowledge partner" to Exam Warriors, the second book authored by the prime minister.
Opulent Fare
The engagement celebrations of Akash Ambani and Shloka Mehta in Goa recently were in keeping with the status of his father, Mukesh Ambani, as India's richest individual. The family had flown down 100 guests from Mumbai in the two private Airbus aircraft they use for personal purposes. Nita Ambani had flown in a day earlier. The family had taken over the entire Taj Holiday Village and the adjoining Taj Fort Aguada Resort, coordinated by industrialist Raj Salgaonkar, who is married to Mukesh's sister and lives in Goa. The decorations in the lobby and party areas—huge hearts made from wine coloured roses and gold balloons—were the most ostentatious that money could buy, and the three-tiered cake was cut to the strains of a harp played by a professional. The ceremony ended with a spectacular fireworks display that also featured hearts exploding in the sky.
Privacy Issues
The composition of the Advisory Committee on Ministry of Defence Capital Projects is questionable. Apart from retired bureaucrats and members of the armed forces, it has two civilians, Amber Dubey of Ernst & Young and MH Rehman from KPMG. The committee tracks the progress of defence projects over Rs 500 crore. Many of these are sensitive "Mission Mode" projects that include a guided rocket for the Pinaka multiple rocket launcher, a medium-range surface-to-air missile system, long-range SAM systems for India's indigenous aircraft carrier and a submarine-launched cruise missile.
Both civilians are from leading accounting companies; one is British and the other is headquartered in Holland. If defence firms from those two countries are bidding for any of the projects under review of the committee, there could be conflict of interest issues.