House Calls
There seems to be a turf war brewing between Arun Jaitley, now confined to his bedroom to recover from his transplant, and railway minister Piyush Goyal, who has been handed charge of the finance ministry in Jaitley's absence. Jaitley is clearly not happy with being sidelined and missing in action so he has been using the social media to comment on the economy and related issues, apart from taking his usual pot shots at the Congress. Goyal, it seems has got the message—all his comments and social media output is strictly confined to affairs of the railways. No derailments allowed here.
Rahul's reverse kick
When Rahul Gandhi made his remarks on the founders of famous companies and their humble backgrounds, he was being somewhat economical with the truth. He claimed, in front of a large gathering in Delhi that the founder of Coca-Cola started by selling "shikanji" or lemonade and McDonald's was born from a dhaba. "You know McDonald's. It is everywhere. Who started it? He ran a dhaba (food joint) but we all have seen the brand's progress. You show me one person who runs a dhaba and has set up a Coca-Cola in India. Ford was a mechanic, so was Honda." The point he was trying to make was that this government did not support talent and banks were unwilling to offer loans, but his half-truths were exposed on social media when fact checkers revealed that Coca-Cola's inventor was a pharmacist who had discovered the recipe while trying to wean himself away from morphine and one of the ingredients he experimented with was carbonated water, which could loosely be translated into "shikanji". Similarly, McDonald's was started by two men, not one, who ran a hamburger stand which again, loosely equates with a dhaba. In politics, social media has become the great leveller.
Mamata's three fronts
Quite some time back, one MP from Trinamool Congress (TMC), Kunal Ghosh, had sold a dream to West Bengal Chief Minister Mamata Banerjee: You can become Prime Minister as head of a third front. Mamata was so swayed that she promoted Kunal, a failed journalist, to the top echelons of the party. Kunal fell from favour through his involvement in the `2,000 crore Saradha scam but Mamata clearly kept the dream alive. She is looking ahead to the 2019 general elections, and has taken pro-active steps to distribute key state activities to different people, including her trusted nephew Abhisekh Banerjee.
Just before she flew to Karnataka to meet the opposition party leaders gathered for the "coronation" of the new Chief Minister HD Kumaraswamy, she sat down with TMC leaders in Kolkata and created three clear sections in the party. Rural minister Subrata Mukherjee, education minister Partha Chatterjee, finance minister Amit Mitra and power minister Sovandeb Chattopadhyay will look after state affairs. The party organisation at the state level will be overseen by MP Subrata Bakshi, Partha Chatterjee, youth minister Arup Biswas, urban minister Firhad Hakim and transport minister Suvendu Adhikari.
Mamata herself will be in charge of national strategy.
Fitness Politics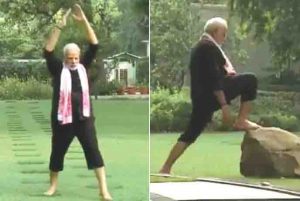 The fitness challenge started by Information and Broadcasting Minister Rajyavardhan Rathore has not only gone viral but has also now become a political football thanks to Prime Minister Narendra Modi. Earlier, it was a fun thing, confined to sportsmen and celebrities—only Rahul Gandhi used it to take a dig at Modi even though he had not been tagged. Once Modi got tagged (by Virat Kohli), he quickly used it to score some political points by posting a video of his morning exercises in the lawns of 7, Race Course Road and tagged Karnataka Chief Minister HD Kumaraswamy, who had just inflicted an embarrassing defeat on the BJP in the recent elections. Kumaraswamy is clearly not into fitness and Modi was hoping to score some political points but the former cleverly sidestepped the snare by responding that he was focused on the fitness of development programs. Touche.
Reserved Rights
There are clear signs that the Reserve Bank of India and the Modi government are not on the same page. The central bank's interest rate rise recently was the first since Modi became PM. It could not have come at a worse time for the government. Rising oil prices have left the government grappling with economic constraints, so no more sops to ease voter discontent in rural India.
Economists predict that the rate hike, the first in over four years, is likely to be followed by more this year, putting a dent in the economy. It affects revenue collection but the big problem for Modi is that the government was looking at a huge PR exercise leading up to the 2109 elections which involved a huge financial outlay. There is also the fact that the government has to bite the bullet and cut taxes on fuel products. Another rate hike will be the worst possible news for the government.
Cost of Security
The BJP's most spectacular political coup was when it became part of the Meghalaya government with just two MLAs. The government is led by Chief Minister Conrad Sangma of the National People's Party (NPP). Three months down, he is realising that there is no such thing as a free lunch in politics. Last week, his highly regarded state director general of police, Swaraj Bir Singh (above), who is also a playwright and Sahitya Akademi Award winner, quit abruptly. The reason: the BJP-proposed appointment of former police officer, Kulbir Krishan, as "security advisor" to the state government. Singh, who the Sangma government gave an extension of service as DGP last April, has reportedly refused to work with Krishan. The reasons are obvious: Krishan is widely known as a BJP supporter, apart from the black marks in his personal file. In the early 2000s, then Intelligence Bureau (IB) chief Shyamal Datta had him transferred out over allegations relating to his personal life. Sangma is reluctant to lose Singh and has decided to lock horns with the BJP. The order is doubly strange since militancy has been officially declared as over some years ago and the orders about Krishan's appointment came well before the recent communal outbreak in Shillong.
No Suicide Watch
The suicide of several farmers across India and the Opposition's attacks on the BJP government and state chief ministers have revealed a shocking fact: the government of India is yet to publish data on farmer suicides that took place in 2016 and 2017. The last available data is for 2015. Government officials say that this is due to problems with the data sent in by a few states.
But there is clearly more to it than that. The maximum farmer's suicides took place in 2016-17—there were six in May 2018 alone. An RTI inquiry has shown that the National Crime Records Bureau, entrusted with collecting and summarising data on farmer suicides across the country, publishes the data under the head—Accidental Deaths and Suicides in India. Farmer suicide data was introduced as a separate section for the first time in 2015. In that report, the figures showed the reasons for suicides ranged from farming-related issues (19.5 percent of total suicides), bankruptcy or indebtedness (38.7 percent), while poverty, family problems, illness and marriage-related issues accounted for the rest. In 2015, 8,007 farmers and 4,595 agricultural labourers committed suicide. There is no official report on farmer suicides published after that, which means farmer suicides from 2016 and 2017 and the major agitations by farmers that followed across the country in these two years, in which some farmers died, have found no place in published government data.